One Year Later: Are College Sports Changing for the Worse?
Caleb Polking takes a look at how college athletics have continued to change since his 2021 opinion piece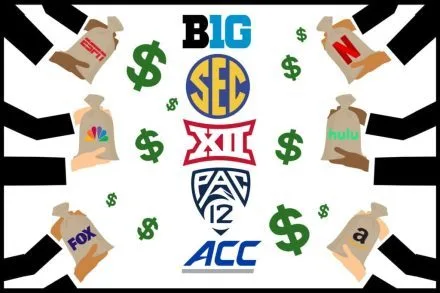 The buzzer sounded. Zeros on the clock. The college basketball world was shocked. Little fifteen-seeded Saint Peter's erupted in celebration as John Calipari's mighty two-seeded Kentucky Wildcats were sent home with an 85-79 overtime upset. 
The Saint Peter's Peacocks pulled off the unthinkable. A tiny school from Jersey City, New Jersey walked into the NCAA Tournament and stunned one of the most dominant programs in college basketball history. It was only the tenth fifteen seed over two seed upset in the 37 years since the tournament expanded to 64 teams. Saint Peter's improved the 15 seed against 2 seed record to just 10-135 all time. These guys made it to the Elite Eight, for that matter. It was a team that most people hadn't heard of before. I know I didn't.
And it's not just a difference in program tradition. The contrast of basketball department wealth between these two schools is absurd. In the 2019-2020 season, Kentucky hoops spent $18.3 million while Saint Peter's spent just $1.6 million. In fact, it's believed that some of Kentucky's top assistants are paid more than three times the annual salary of Saint Peter's head coach Shaeen Holloway. It's the biggest financial upset in the history of the NCAA Tournament. 
I encourage you to check out pictures of both Kentucky's Rupp Arena and the Saint Peter's Yanitelli Center. It's incredible how different these venues are. On paper, Kentucky simply has an advantage at every aspect by an extreme margin. Saint Peter's had no business winning this game. 
But it did. And that's the beauty of not just March Madness, not just college basketball, but college sports in general. 
Sadly, however, that magic of college sports may be fading before our very eyes.
Ok, enough with the intro. Let's get to it. 
A little over a year ago, I published a story of this exact nature. In fact, it had virtually the same title. I evaluated the current state of college sports and the future in which I felt things were headed after a summer full of changes which included new transfer portal rules, NIL legislation, and conference realignment.
Now, one year later, and after another wild summer full of new headlines, I can continue to assess the direction college sports are headed. 
As a quick side note, I will spend the majority of the time discussing football as it is the biggest say in these recent changes, but other sports will be referenced as well.
We'll start with the one constant in the matter: money. That was the same root cause of the rapid changes we are seeing in which I mentioned in last year's story. In some ways, the quest for money can be beneficial for college sports. However, from what we've seen so far, it seems as if the recent surge in the hunger for money throughout college sports has been overall negative.
The most significant headline of the summer was the announcement that long-time PAC-12 Conference members USC and UCLA would be leaving for the Big Ten.
Wait, the Big Ten? Yes, the Big Ten, famously a midwestern conference which has now poached schools on both coasts: Maryland and Rutgers when they joined in 2014 and now USC and UCLA.
The conference now spans across all four time zones. Four time zones! The geographical basis of conferences is quickly becoming a thing of the past. But why is this move by the schools a bad thing?
Well, it's harmful for a number of reasons. You may remember that it was just last summer when Big 12 members Oklahoma and Texas announced they would depart for the SEC by 2025. And this move was based on…you guessed it. Money!
The TV industry is taking a seat at the college sports table. Oklahoma and Texas recognized they could accumulate far more in TV money in the SEC than the Big 12, and it's the same with USC and UCLA recognizing more opportunities in the Big Ten than in the PAC-12.
This is damaging on many levels. The lack of foresight from these schools shows their disregard for the future of college sports. For starters, conferences like the Big 12 and PAC-12 are now in jeopardy given their biggest brand schools are leaving. TV companies don't like conferences in which big brands like Alabama, Texas, and USC don't exist.
Think about Kansas's men's basketball program, for instance. The Jayhawks are right on the heels of a national championship victory, yet the school has been told for a few years now that there is a chance it doesn't find itself in one of the future power conferences. That doesn't seem sensible at all. 
The same goes for UConn women's basketball, a dynasty for so many years. With TV companies narrowing in on football and, in particular, the Big Ten and SEC, some of these phenomenal athletic programs have a gray future.
It is also clear now that the regional charm that college sports once boasted about is in the rear-view mirror. The Texas and Oklahoma move last year made somewhat of geographic sense given they are borderline in the southeast portion of the United States.
However, USC and UCLA moving to the Big Ten simply makes no sense geographically. For a fan of one of these schools to travel to a conference road game that isn't cross-city, they would have to journey halfway across the nation to Lincoln, Nebraska, almost 1,500 miles. That can't be a good thing for the future of team-specific fans.
To put it into even more perspective, let's imagine a scenario where Elkhorn North and Scottsbluff are in the same athletic conference. It's just not logical on so many levels. That is why high schools in Nebraska are separated into conferences predominantly based on geography.
And on top of that, what happens to the smaller athletic teams that have to travel across the country? For example, USC's football team will be just fine, but what about when the smaller sports that don't receive as much funding embark on these long travels? The idea of USC's tennis team making the trip from LA to New Brunswick, New Jersey just doesn't seem viable.
Moving on, let's discuss the happenings in the world of NIL and the transfer portal since last year. For those who don't know, NIL (name, image, and likeness) legislation was enacted by the NCAA in the summer of 2021 and it states that players can essentially monetize their athletic profiles and the hope is that they do so while giving back to the community. 
I don't think NIL is a bad thing. It's a fantastic concept which can be for the benefit of college sports under one condition: that the NCAA would more specifically define what NIL is and crack down on situations where it is used in the wrong manner. 
Again, football is the heartbeat here so that is what we'll focus on. Currently, it is clear that several schools have been utilizing boosters to formulate a "pay-to-play" system. Essentially, these huge donors and boosters are laying massive sums of money on the table for recruits and transfers with zero ramifications from the NCAA. Sounds a bit like professional sports, huh?
You may be fine with this if you enjoy a Nick Saban vs. Jimbo Fisher feud like what happened this summer, but you aren't a fan of this stuff when these coaches begin taking away players from your favorite college football team with enormous amounts of booster money.
Here's an example, and this isn't even about college football. I'm an Iowa State sports fanatic, and they recently had a very successful men's basketball season in which they reached the Sweet Sixteen. However, about a month after the tournament ended, star freshman point guard, and, presumably the linchpin of the team for the future, Tyrese Hunter, announced he was transferring.
It became public knowledge very quickly that Hunter was transferring for NIL money, but not the NIL money in which NIL is supposed to entail, especially after it was announced that Hunter would continue his career at conference rival Texas who has far more booster money than Iowa State.
Now, I'm not saying I disagree with his decision. Hunter had a difficult upbringing and the ability to make more money was enticing to him given the circumstances of his family. That is a perfectly valid reason to transfer given what NIL is intended to be.
However, it's the "pay-to-play" model that is significantly damaging college sports. It was clear that booster money would be the driving source of money for Hunter, and that's not the intention of NIL.
And again, following the common pattern, this unsanctioned booster money will, and already has, harmed small schools just like conference realignment. With the stark financial differences, it becomes harder and harder for a school like Saint Peter's to even have the slightest chance against Kentucky.
I'll use a hypothetical example. Let's say a really low-rated recruit decides to go to Saint Peter's. He gradually develops to become an elite basketball player by the time he's a senior. Schools would attempt to lure this player with money, including schools like Kentucky.
Now, I know players like this would probably transfer anyway in order to improve their professional outlook, but the booster money certainly enhances that in a huge way. 
On top of all that, the transfer portal is making the NIL world seem like the wild west due to the fact that transfers are able to play immediately. I think there are positives to being able to play right away after transferring as many transfer reasons are valid. However, it makes it very difficult to have continuity within college sports teams anymore which isn't a positive aspect. 
And what about the fans? Many of the fans of the weaker schools are already having to worry about their schools being forced into the backseat with conference realignment and now several of them are being called on to fund collectives which raise NIL money for players. It feels like fans are becoming less and less of a priority in college sports.
The last thing I want to discuss is increased coaching power. Again, it's a money issue; who could have guessed it? Athletic departments are providing coaches with wealthier contracts than ever before. This basically gives all power to the coaches because if a school fires a coach, the buyout for the contract still has to be paid.
This is proven well by a local example: Scott Frost. Frost's initial contract when he came to Nebraska was a seven-year, $35 million contract. It was eventually cut slightly, but the sheer size of this contract is forcing Nebraska to unload a colossal sum of money in order to fire Frost.
It's wild, but that's the way it works these days, and fans are being asked to fund during these scenarios as well. Michigan State's Mel Tucker was given a contract at the end of just his second season with the Spartans last year which made him the second-highest paid coach in college football, just behind LSU's Brian Kelly. 
And now, Michigan State is 5-6 on the season and sits in fifth place in the Big Ten East. That kind of lucrative contract for Tucker may have been a bit too ambitious for Michigan State to make. These days, athletic directors are giving coaches all the power by throwing them substantial chunks of money without a lot of forethought.
Ultimately, these problems boil down to money without planning. Conference realignment includes schools craving more money without realizing future problems in which college sports may face. NIL includes school boosters being able to run free with money while creating disparity in college sports. When it comes to coaches, athletic departments are paying their coaches ridiculous amounts of money with the possibility of these situations being complete disasters. 
On the outside looking in, it seems like all of these decisions are being made without the thought of future consequences. I hope I'm wrong. I hope people are taking these things into consideration.
I do believe the problems with boosters will be gone before too long. Even while the NCAA has been unable to corral the troops in recent years, I think they will create boundaries for what exactly NIL is and how schools can act on it. If I had to guess, this will probably happen and the booster craziness will die down sometime next summer, but we will likely have a couple more cycles of never-before-seen transfer rates prior to this happening. 
On the other hand, I don't have a whole lot of hope that the NCAA will take action on conference realignment. In my opinion, conference realignment is damaging in so many ways. However, there aren't any adults in the room making adult-like decisions to stop the immaturity that is conference realignment. 
We're simply living in a new world of college sports. We're living in a world where the possibility of a Saint Peter's beating a Kentucky is becoming less and less likely. 
Who knows what the future holds, but it is in the best interest of us as fans that decisions are made with the future of college sports taken into consideration.
Leave a Comment
About the Contributor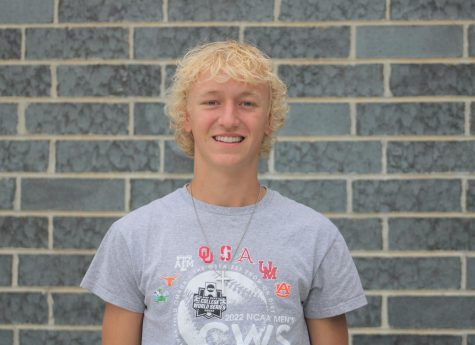 Caleb Polking, Sports Editor
Caleb Polking is a senior in his third year on staff. He's a STRIV guy and helps run the Howler's sports scene. He also loves to jump on desks and put peanut butter in the ceiling.