Entergalactic Takes Viewers Out of this World
Movie review over Kid Cudi's adult animated music special "Entergalactic."
December 13, 2022
From the mind of Kid Cudi and executive producer Kenya Barris, Entergalactic is a unique animation experience audiences have never seen before.  
Entergalactic is an adult animated music television special created by American musician and actor Kid Cudi that serves as a visual piece for his album of the same name, "Entergalactic." The special premiered on September 30, 2022, on Netflix, simultaneously with the album.
The special was promoted as a television event and an animated story. The animated special has a 92-minute running time and is divided into sections that appear as chapter titles instead of complete episode breaks.
Plot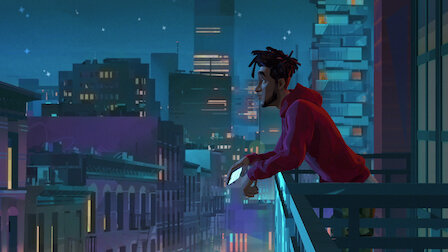 Ambitious artist Jabari (voiced by Kid Cudi) attempts to balance success and love but falls for his neighbor when he moves into his dream Manhattan apartment. Jabari made a name for himself through large murals of a black-and-white character called Mr. Rager. This character references Cudi's famous song "Mr. Rager." 
The story of Entergalactic depicts a couple being pushed together by fate and learning to set aside their doubt about loving and trusting each other. 
"I wanted to showcase what young modern dating looks like today," Cudi said. "I felt a void regarding black love stories in the industry."
Cast
The cast for this show was some of Cudi's true real friends who wanted to participate in this project with him.
Kid Cudi (Scott Mescudi) as Jabari.

Jessica Williams as Meadow Watson and Jabari's love interest.

Timothée Chalamet as Jimmy, Jabari's friend and drug dealer.

Ty Dolla $ign (Tyrone William Griffin Jr.) as Ky, Jabari's friend.

Laura Harrier as Carmen, Jabari's ex-girlfriend.

Vanessa Hudgens is Karina, who is Meadow's pregnant best friend.

Christopher Abbott is Reed, an art dealer who is Meadow's friend.

070 Shake (Danielle Balbuena) is Nadia.

Jaden Smith is Jordan, a local skater.

Keith David as Mr. Rager.

Teyana Taylor is the Boxing Coach and Meadow and Karina's boxing instructor.

Arturo Castro is Len, Jabari's co-worker.

Macaulay Culkin is Downtown Pat, a local skater.
Animation, Design, and Influences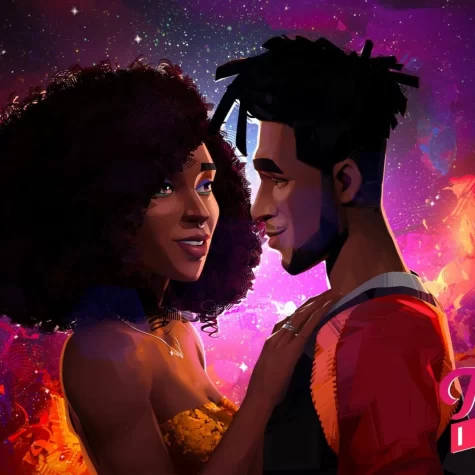 Entergalactic uses an impressive blend of 2D and 3D animation. In addition, the animation style was heavily inspired by another popular animated film, "Spider-Man: Into the Spider-Verse." 
The stunning animation presents a mix of comic book and street art aesthetics. This look reflects the protagonist's worldview as a graffiti muralist turned comic book creator. Audiences see the world through his eyes, with dashes of the other characters' perspectives in Entergalactic.
The animation style for this Netflix special has new and unique colors and soundscapes.
"I wanted it to be a new type of animation," Cudi said. "This is something that visually hasn't been seen before."
Cudi based the character designs on his friends who voice those characters, adding a personality to the show. When creating the characters' layout, Cudi wanted to ensure that the characters were fresh and had looks resembling actual people. 
Cudi approached this project like it was live-action. The animation of the character's movement is similar to stop motion, which adds a new viewing experience for the audience. 
"This [is a] love story we're telling; I wanted to make sure it looked like a moving painting," Director Fletcher Moules said. 
Music
Entergalactic is Cudi's new eighth solo album, and it doubles as a soundtrack for the animated rom-com of the same name. 
The album glides through songs about letting go of fear and enjoying the moment.
"One of the things that makes this project from the beginning special was there has never been an album associated with his project," executive producer Kenya Barris said. "I think this makes it one of a kind."
Soundtrack
The album consists of original songs performed by Cudi. However, three songs on the Netflix special are not by Cudi.
"Entergalactic Theme" by Kid Cudi

"By Design" by Kid Cudi featuring André 3000

"New Mode" by Kid Cudi

"Inside My Love" by Minnie Riperton

"Do What I Want" by Kid Cudi

"In My Bed (So So Def Mix)" by Dru Hill

"Angel" by Kid Cudi

"Ignite the Love" by Kid Cudi

"In Love" by Kid Cudi

"Willing to Trust" by Kid Cudi featuring Ty Dolla $ign

"Can't Believe It" by Kid Cudi featuring 2 Chainz

"Livin' My Truth" by Kid Cudi

"Maybe So" by Kid Cudi

"Can't Shake Her" by Kid Cudi featuring Ty Dolla $ign

"She's Lookin' for Me" by Kid Cudi

"Feudal Castle" by Derek Fiechter and Brandon Fiechter
Overall Thoughts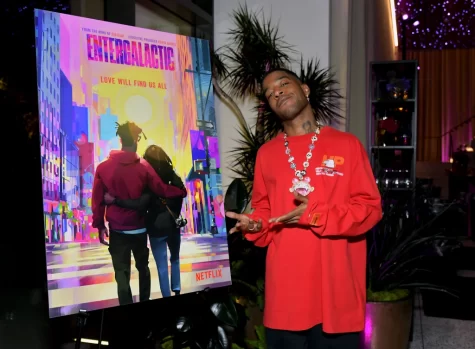 Audiences became fully immersed in the world of Entergalactic. It is interesting to intertwine an album with an animated series, having a story told through stunning visuals and music, elevating each other simultaneously; never seen this done before. The songs capture the ups and downs of romance and the search for identity and are relatable to all.
"Entergalactic is about finding a new way to release music out into the world," Moules said. "Finding a way to release an album with a narrative and concept makes it special." 
Entergalactic is expressive, beautiful, and intelligent as an art piece. The animation style is what makes this animation so unique. It is neat to see how this animated special captured the inaudible feeling of falling in love.
Entergalactic asserts a progressive point of view. Jabari and Meadow are flawed, dynamic people who have to compromise and grow to find happiness—both are equally human.
"Love is the answer, and that is what Entergalactic is all about," Cudi said. "This connection that these two people have it's magical; it's entergalactic."