SZA – Comeback Album of the Year
An in depth look into the top songs of SZA's new album, SOS.
After a long five years of waiting, SZA  finally dropped her new album which quickly took over the music industry within minutes.  
On December 9th SZA became a trendy and positively talked about subject on social media with the dropping of her long awaited album, SOS. It immediately became one of the most anticipated and talked about albums this month. 
SZA's new album is very unique and diverse compared to her first album Ctrl, which came out in the summer of 2017. She incorporates a mixture of genres into her new album including R&B, trap, hip-hop, and soul.
SZA shares her highs, lows, and fair share of heartbreaks that she has experienced over the years in her album. The album opens with a very laid back, smooth beat while SZA reintroduces herself back into the music industry following her five year absence. While the whole album is 70 minutes long, there are some songs that stick out more compared to others.
Kill Bill
Kill Bill is personally one of my favorites because of the hidden message that is told through the lyrics. It is a darker sounding song that shows SZA's ability to go up and down the octave multiple times. It all comes together in the end and is by far one of the best sounding songs on the album.
Seek & Destroy
While it's hard to follow one of the best songs on the album, Seek & Destroy is one of those songs that people can listen to while cooking, doing chores, or even homework. It sounds really good and it's pretty catchy after listening to it a couple of times. 
Low
Low is very upbeat and is definitely more on the hip hop side of the album. It also gives off some trap beat energy with the background singing done by SZA cuts in at the perfect moments. The bass drop, yet small, has a really good effect on the way the song makes people feel. While my first time listening to this song made me feel a little off, now listening to it multiple times the song has grown on me a lot. 
Love Language
This song is the definition of a great R&B song mixed with a little bit of soul. It's very melodious and smooth while having the perfect beat to tie it all together to create a lyrical masterpiece. The chorus sounds amazing and SZA's voice just flows as the song progresses and the lyrics are so moving which is why this song is one of my personal favorites. 
Blind
Blind is a slow but progressive song that gets better as the song proceeds. Once the song gets to the chorus it becomes easily one of the best songs on the album which is why this song is on this list. While the chorus only consists of the word "Blind", she gives it a different personality each time she sings the word. It not only sounds amazing in the studio but it would sound even better live.  
Used feat. Don Toliver
Used is a great song and the use of Don Toliver in the chorus solidifies it as the best feature in the album. The uniqueness of Don Toliver's voice is what makes this song sound so good. His ability to sing high is what makes this song so enticing and SZA did a great job with featuring Don Toliver and I personally can't think of a better option of a feature for this kind of song. 
Smoking on my Ex Pack
This song has a very revenge kind of sound with the lyrics talking about all the things to hate about someone's ex. The background voice in the song which is sped up and pitched higher actually makes the song sound way better and more impactful. While it is one of the shortest songs on the album it actually works out for the better since it is not overdone. 
Nobody Gets Me
Nobody Gets Me is a sad song that expresses someone's love for someone but they can't be together. The guitar compliments the whole song and makes SZA's voice sound more clear and powerful. This song has yet to get old no matter how many times I have listened to it. It's a great song to listen to when on a long late night drive but beware because it'll be on repeat the whole time.
Shirt
Even though Shirt came out over a month before the album was released, it is still one of my favorites so it was hard to not put this song on the list. Shirt actually has a really interesting history dating all the way back to late 2020 when she teased the song on Instagram. Shortly after the song was teased fans went crazy and later produced a TikTok dance. Two years later the song was finally released and debuted at number 11 on the Billboard Hot 100. 
Overall, SOS is a solid album filled with a variety of genres which makes it a contender to be one of the best albums this year. SZA showed her empowering lyrical skills in almost every song which is why she is considered to be the queen of R&B. Let's just hope it doesn't take another five years for SZA to come out with another great album.
Leave a Comment
About the Contributor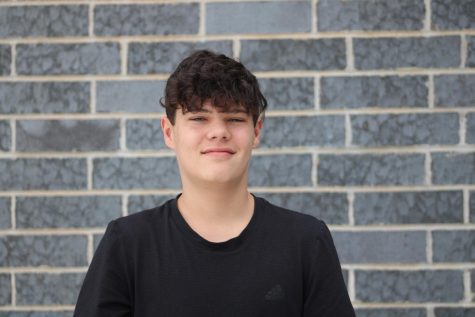 Landon Mahnke, Reporter
Landon Mahnke is a junior reporter for the Howler. He also runs for the cross country and track teams.