Hollywood's Comeback Season
Tara's Reaction to the 95th Academy Awards
March 14, 2023
This year's Oscars marked a comeback from not just several of the nominees, but also from the Academy themselves. Hoping to move forward from "The Slap," the Academy has stepped up its game; from the amazing performances to even putting a crisis team in place if anything were to happen, this year proved to be one of the best in recent years. 
Everything Everywhere All at Once and All Quiet on the Western Front swept the Oscars as both movies won seven out of their eleven and four out of their nine nominations respectively. Films such as Elvis and The Banshees of Inisherin were completely shut out, even though the two movies had several nominations. While other movies such as Top Gun: Maverick and Avatar: The Way of Water picked up some wins here and there, it was Everything Everywhere All at Once and All Quiet on the Western Front completely dominating this year's Oscars race.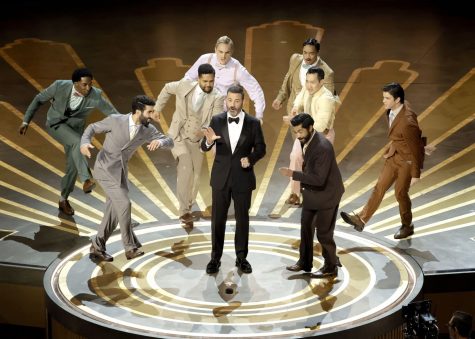 Three time host Jimmy Kimmel returns to the 95th Academy Awards after last year's trio of hosts: Wanda Sykes, Regina Hall, and Amy Schumer. I thought he did a decent job in hosting this year's Oscars; Kimmel was pretty hilarious in his monologue, but was dull during other parts of the ceremony. His monologue joked about actor Tom Cruise not showing up to the ceremony, pointing out the irony of Cruise's recent plea to the public to return to theatres when he didn't even show up to the Dolby Theatre for his own nominated movie, Top Gun: Maverick. Kimmel also tackled last year's infamous Will Smith slap, stating "If anyone in this theatre commits an act of violence at any point during the show, you will be awarded the Oscar for Best Actor and permitted to give a 19 minute long speech," referring to the aftermath of Smith's slap, where he won the Oscar for his role in King Richard right after slapping Chris Rock. 
In my opinion, performances throughout the Oscars are a vital part of the ceremony. It keeps the nervous audience alive throughout the three and a half hour show. Some incredible performances came from Naatu Naatu, which electrified the Dolby Theatre with its upbeat music and energetic dance moves, and Rihanna, who gave a phenomenal performance for her song Lift Me Up. Lady Gaga gave an unexpected performance where she delivered an emotional and raw rendition for her song Hold My Hand. 
The musical performances and Kimmel's hosting was definitely a cut above from last year. However, this year's Oscar winners were definitely some of the best I've seen recently. Even though I thought most of the winners were absolutely deserving, there were two that caught me by complete surprise in a bad way.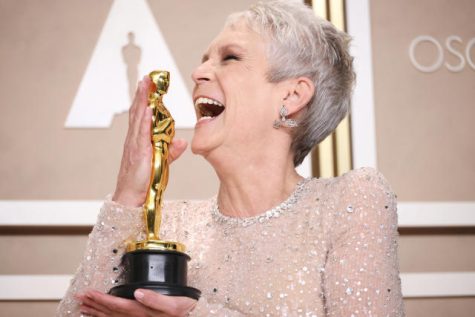 My first surprise was seeing Jamie Lee Curtis win the Best Actress in a Supporting Role award. Although Curtis won the SAG award for the same category and was gaining some momentum heading into the Oscars ceremony, I still thought Angela Bassett had it in the bag. Bassett was way above Curtis by a long shot. She gave such a riveting performance as Queen Ramonda in Black Panther: Wakanda Forever as compared to Curtis who I thought was very mediocre as the IRS agent in Everything Everywhere All At Once. I thought that out of the five nominees, Curtis was the most under-performed. Curtis's win is causing lots of controversy as many others also pointed out her undeserving win and Bassett's snub. 
My second surprise of the night was Volker Bertelmann's All Quiet on the Western Front winning Best Score over Justin Hurwitz's Babylon. Although I thought Bertelmann's score was very haunting and was able to complement the surreal war scenes superbly, Hurwitz's score was much more original and different, as Hurwitz featured intense instrumentals as compared to the typical subtle and classy scores. His score featured a sensational and catchy 1920s tune and, just like Bertelmann (probably even better), fitted perfectly with the obscene and insane Babylon scenes. Although I wasn't happy with Hurwitz's snub, I can't be too mad; Hurwitz already has an Academy Award win as a 32 year old for La La Land, compared to Bertelmann who won his first Academy this year at age 57. That's just crazy impressive. Unlike the previous two, this next surprise is definitely not a snub, but an absolutely deserving one. In my Austin Butler and Brendan Fraser matchup, I predicted Butler winning the Oscar over Fraser. When Halle Berry announced Fraser's name, tears welled up in my eyes, not for my failed prediction, but for Fraser's win. After years of being kicked out of Hollywood and dealing with family issues, Fraser made his comeback and won his first Oscar for his gut-wrenching performance in The Whale. In his speech, thanked the cast of the movie in an emotional yet humble fashion. Personally, Fraser was a huge part of my childhood movie experience and to see him finally getting the recognition he deserves warms my heart immensely. 
While there was the Butler and Fraser matchup, there was also the Cate Blanchett and Michelle Yeoh race to look out for. Blanchett and Yeoh had such tough competition between them, but it was Yeoh who came out victorious. Yeoh, who also won her first Academy Award at the age of 60, makes history as she becomes the first Asian woman to win an Oscar in this category. I thought Yeoh 100% deserved her win. Her role as Evelyn Quan Wang in EEAAO was so moving and would've been a huge upset if she didn't win. The highlight of her win was definitely her speech as she honored aspiring Asian actors and actresses to always work for their dreams and to never give up.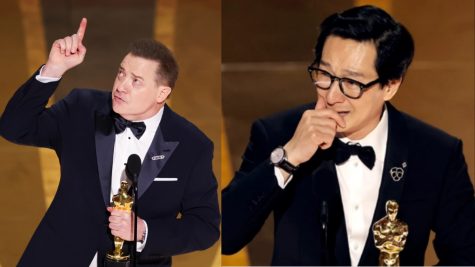 Similar to Fraser, actor Ke Huy Quan also made his comeback performance as Waymond Wang in Everything Everywhere All at Once. Quan, who was mainly known as a child actor in Indiana Jones and the Temple of Doom and The Goonies prior to his EEAAO performance, was jobless for three decades. His very lack of movie roles almost prompted him to leave the big screen forever. Fortunately, EEAAO was a career-definining moment for Quan as he finally cemented his place in Hollywood. Quan was gaining lots of momentum heading to the Academy Awards, and thus, was pretty much expected to win the biggest prize of them all. Even with all the support behind him, Quan still gave such a humble and modest speech upon winning, thanking his family and cast members. The cherry on top of this Ke Huy Quan craze was when EEAAO won Best Picture, Quan was the first person to get up on stage and was reunited with his Indiana Jones co-star, Harrison Ford, who was presenting the award. I mean, you can't hate this man. Quan deserved every ounce of that win. 
The biggest prize of the night, Best Picture, went to Everything Everywhere All at Once, deservedly so. This movie stole the hearts of millions. While the plot was overall very, very, very bizarre (it needs at least eight more very's to encapsulate the weirdness of it all), the base of it was so powerful. It tackles the unconditional love a mother has to her child and also the struggles of being an immigrant family in such an original perspective that EEAAO is something we have never seen before and thus, very much deserves the win. EEAAO ends their award season by becoming the most awarded film of all time. 
The 95th Academy Awards saw a 12% increase from last year in terms of viewership, which makes sense as this featured lots of deserved wins and amazing performances. This year's Oscars have been a breath of fresh air as finally, we see representation in both nominees and winners. The Asian community in the movie industry is finally getting the recognition they deserve. In addition to the tremendous amount of minority representation this year, the Oscars had a whopping 16 out of 20 first time nominees in the acting categories. This is a promising statistic, as with so many new talents getting recognition this year, the future of Hollywood is in good hands. All in all, the 95th Academy Awards is one for the books. It was highly entertaining, full of rightful wins, and most of all, taking the right step towards the future: representation towards minorities. It took the Academy 95 years, but finally, we're making progress in the right direction and I'm absolutely pumped to see what the Oscars have in store next year. 
Check out my predictions and how they fair here!