NSASSP honors Mr. Radicia: Outstanding High School Principal of the Year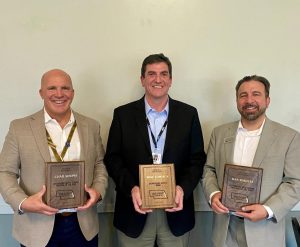 Principal Dan Radicia was awarded 2022-23 Outstanding High School Principal of the Year at the Region II meeting on Wednesday, April 26.
"I joined the ranks of hardworking principals that do their job every day," Radicia said. "I'm humbled and appreciative of the honor. It's time to pause and reflect about some of the things I've done in my career; I can show some deep appreciation and reflection of some of my work. And I like to think that I've made a difference."
Metro area administrators nominate then vote to select a principal of outstanding leadership. This honor is awarded by the NSASSP (Nebraska State Association of Secondary School Principals) each year to one middle school and one high school principal. 
"Somebody took the time to write the nomination thinking that my work matters," Radicia said. "Then to be voted by my peers and colleagues, these are the people that do the job with me and share with me and know the struggles of the job. So I appreciate the fact that it's coming from my peers. But my first immediate thought was like, I'm just getting older here."
Radicia served as the principal of Elkhorn High School before opening Elkhorn North in 2020.
"I think being a principal is ridiculously difficult," assistant principal Dr. Emily Christensen said. "[Radicia] navigates that every single day without making a big deal or telling anyone how long it takes or how hard it is. His main focus is to keep the learning and education continuing in the classroom and to take as many of those distractions out. I think he has done that incredibly well."
Members of Radicia's wolfpack commend him on the honor
"He may have won the award this year, but it's really, I think, a culmination of the last three years and the amount of work that goes into that especially with opening a school in the middle of a global pandemic," English teacher Sarah Schoenrock. "He really cares about kids and their successes and he cares about everyone reaching their potential and that includes the staff."
"He is always really fun at sporting events because he always has a smile on his face and encourages the students to do their best," freshman Delaney Phalen said.
"I'm really proud of him," senior Johnny Radicia said. "Something that was mentioned at the ceremony was that he's always defending the defenseless. He's always picking the side for the weaker guy. That's really cool."
"Mr. Radicia is deserving," English teacher Chloe Healy said. "I have worked with him for five years now, and I appreciate his willingness to have open and thoughtful conversations. I've seen growth from him, and he has encouraged growth from me."
"Radicia makes high school a little more bearable with the way he engages with students," sophomore Lydia Pruch said.
"Dan has made my first year at Elkhorn North very memorable and comfortable," English teacher Jeff Lacey said. "I am grateful for how he is very thoughtful about decision making and I feel very supported by him."
"He cares deeply about kids and their education," counselor Martha Dowd said. "Probably more than the students know."
"He genuinely wants to get to know the students at his school," senior Megan Sorenson said. "It makes me feel like he cares about more than just my education and that he cares about me as a person." 
"Mr. Radicia encourages us to do our best," junior Reese Booth said. "He's very supportive and he's always at our sports events and other activities going on."
"We nicknamed him POTY: Principal of the Year," School Resource Officer Adam Weaver said. "He is the consummate professional leader and dedicated practitioner. He will even come in on Saturdays to help kids get service hours."
"He's been a supporter of the arts and he's always helped our classes get what we need as far as materials which helps us out a ton," art teacher Nicole Lucks said. "We've always been very appreciative of his support for the art classes and always being willing to get us what we need to help our students." 
"There wasn't a better principal to open a brand new building than Mr. Radicia," social sciences teacher Anthony Dunn said. "His strongest quality is that he cares deeply about students and staff, and his expectations for the building allowed us to do some great things in the first three years."
"He is an all-in leader for both students and staff," media specialist Jessica Ethridge said.
"He is really nice and always smiles at people a lot, which brightens up their moods," freshman Brooke Franzen said.
"From a teacher's standpoint, he gives us the freedom in our classroom to do what we want," math teacher Erin Kasner said.
"Radicia has always been very passionate about his relationships with his students," sophomore Ava Kloster said.
"I appreciate Mr. Radicia as a principal because he really does care about his staff and students," English teacher Amber Sims said. "He listens to his teachers and tries to do what's best for everyone."
"He's had a profound impact on me," assistant principal Dr. Emily Christensen said. "I was a brand new administrator at Elkhorn High seven years ago. When we opened North together, I got to have this experience with him and just numerous times of him trusting and believing in me when maybe even I wasn't sure. So he's had a huge impact on my growth. He has often reminded me that the people you love the most or care the most about, you're usually the hardest on. He's not one to overpraise people. So when he actually does say, 'Hey, you did good on that,' it means a lot. He doesn't give that out just to anyone."
Leave a Comment