Hassler Presents…
Senior Jacob Hassler has profound directorial debut in one year.
Art takes shape in many forms. From the soft yet intricate brush strokes of the iconic Mona Lisa painting to classic movies that transport the audience into a world filled with thrilling journeys, art influences not just how we perceive the world, but it also shapes the way we view ourselves.
Senior Jacob Hassler has fully embraced the beautiful art form of theatre.
"It was sophomore year when COVID hit. My school's play had to quarantine so many people that the director of the play saw me sitting at the lunch table alone," Hassler said. "He went up to me and was like, 'Hey do you want to be in the play?' just cause I was waiting for my mom to pick me up. Then, they put me in a cow costume and dragged me across the stage."
And thus, Hassler's journey into theatre began.
Hassler's theatre career was going smooth and steady, until he found out he was moving away from his hometown in Kansas during the summer before his senior year. New to Elkhorn North, Hassler had to adjust to a large student body and the new landscape of school theatre.
"There's a lot more focus on theatre in Elkhorn," Hassler said. "Unlike in Kansas, Elkhorn North has the spring play, the play in the fall, (and) the musical."
Being a new student especially as a senior can be daunting. Hassler took this on with style and humor to forge new relationships and make a place for himself in the theatre department.
"Jacob gets a little shy, but once he warms up to you, he's really funny," senior Kaitlyn O'Brien said.
Hassler's soft-hearted and goofy attitude towards his peers also caught the attention of school staff. "Jacob makes everyone laugh. He wants to make a lot of people feel included, and he is extremely passionate about theatre," art teacher and One Act sponsor Maddie Rosonke said.
Even though Hassler had to relocate to a new school and build new friendships, Hassler brought his strong passion with him and shared his love for theatre to the students in his new school.
"Whenever he was acting on stage, everyone was just looking at him and we were amazed by how good he was," O'Brien said. "He's just one of those people and you can tell that he really loves acting."
Hassler showcased his talent in the roles of Winthrop, Dewey, and Nikos Argitakos in the fall 2022 musical: Legally Blonde musical. The auditorium burst out laughing at Hassler's charisma and stage presence.
He then took on the role of the first ever student director of One Act, which is no easy feat, especially for a new student. The 2023 performance, titled, The Play that Goes Wrong, which will premiere this summer. In addition to his stellar performance during the musical, Hassler won outstanding actor in both conference and districts during this years' fall play for One Act.
Hassler has many responsibilities to fulfill as the student director. "Mainly, I have to put the whole thing together," Hassler said. "I have to make sure the story makes sense, giving people stage directions, making sure nobody burns stuff down because that would look really bad for the school."
Hassler's drive and passion for theatre work is made easier thanks to the cooperation of other actors and his past experience at his previous school in Kansas.
Theatre gives performers the chancee to express oneself through a fictional character or spread important messages throughout the world. To imagine hundreds of people in the audience watching can be an intimidating task. Hassler's advice is "brutally simple":
"Just do it," Hassler said. "In my first play, I was this cow and this old dude, and I was so nervous that I could barely get the words out. But now, it's nothing. You just need to get the ball rolling."
Leave a Comment
About the Contributor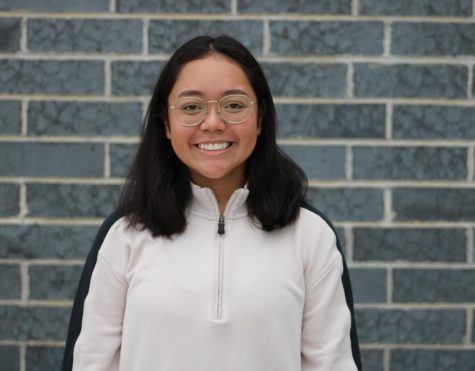 Tara Binte Sharil, Managing Editor
Tara Binte Sharil is a senior and the managing editor in the North Howler. This is her third year on staff and she enjoys designing the print issue. Tara loves to listen to rock and R&B.