North Side Night of Jazz
Elkhorn's jazz bands, barbershop quartets, and jazz choirs came together to share their love of jazz with the community.
May 8, 2023
The North Side Night of Jazz took place on April 28, from six to nine o'clock at Elkhorn North High School. This is an event where all the jazz bands, barbershop quartets, and jazz choirs from Elkhorn North High School, Elkhorn High School, Grandview, Elkhorn Middle, and Elkhorn North Ridge come together to play music for each other.
Each jazz band that came got to play a set of music that lasted about twenty to thirty minutes. Then the barbershop quartets from both high schools got to sing their prepared songs for the night. There was only one jazz choir that sang this year and they were from Elkhorn North.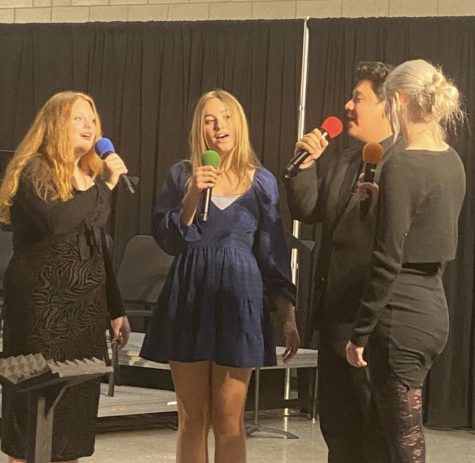 "Jazz is unique compared to our other typical band events," band teacher Mr. Rom said, "it evolves in a different environment, so this gives us a chance to allow the jazz bands to play in something that is more of a natural environment for that genre."
During the school year, the jazz band focuses more on pieces that will be played at the jazz competitions, but for the North Side Night of Band, they can choose more "crowd-pleasing" pieces that are more fun to play. It gives them the chance to go back to the roots of why they are playing and really enjoy the music they make.
This was the second year that Elkhorn North High School held this event, and they are already planning for next year's jazz night.