The Disadvantage of Attending the Best District in the State
Student attention turns to a disparity between EPS and many area school districts.
Excellent.
Over-achieving.
Intelligent.
These are a few words used to describe Elkhorn Public Schools (EPS), a district that exceeds national testing standards and shatters state education expectations.
One would think this provides Elkhorn students an advantage, but in reality a strict grading system along with high expectations gives a false representation of students' knowledge in comparison to others.
Elkhorn offers 16 AP (Advanced Placement) courses, which is more than many districts around Nebraska. These courses prepare students to take on a further education, but, for students, a more challenging schedule often results in a lower grade.
EPS operates with a 7-point grading scale opposed to the commonly known and used 10-point. This means an A (1) for an Elkhorn student is earned with a 93-100% while for others in the metro area a 90-100% is an A.
As a born and raised EPS student, I grew upset upon learning that a 7-point scale is not "normal."
Among students, this is unanimous. Students dislike the 7-point scale, but appreciate the well-rounded education offered by Elkhorn.
Junior Mckenna Murphy has a unique experience as a transfer student from Fremont. Fremont Public Schools (FPS) uses a 10-point grading scale and weighs their honors and AP classes.
"The 93-100 is really strict; you don't have any wiggle room. 90-100 is just common sense and easier," Murphy said, "Here, if you have a grade of 92 or 91 those are a B even though at most other schools it's an A which then affects your GPA in the long run."
Hypothetically, let's say I, as a previous sophomore at Elkhorn North, and Mckenna Murphy, a previous sophomore at Fremont High, both took Honors Algebra 2 and we both earned a 92%. For her, this singular credit would be weighed in her GPA as a 4.5, but for me it would be a 3.0.
Colleges are likely more inclined to offer admission or a scholarship to the Fremont student, based on GPA. Many universities who look at unweighted GPAs would see the Fremont student's 4.0, which is still higher than Elkhorn's 3.0.
Taking this into consideration, it's worth asking why EPS continues to use the 7-point system.
I brought this question to Jadi Miller, Assistant Superintendent, and Montessa Munoz, Director of Assessment.
The administration's perspective on the Elkhorn Education Experience was as I expected. They see great results from the administrative side: above-average test scores, high graduation rate, and happy parents. They seemed surprised to hear this was a hot topic among students.
It became apparent that they too were unaware of the rationale behind the 7-point scale. Miller speculated that the system in place dates back to the beginning of EPS and there is no reason to change what's working.
This makes complete sense because it's true: it works. Students are motivated to work harder in order to achieve a higher percentage leading to a higher GPA.
Superintendent Dr. Bary Habrock indicated the district had previously reviewed the grading scale but had not reached any definitive conclusions.
"I have never been convinced that we are right or wrong. Learning supersedes grading and grading does not always measure learning," Habrock said. "I do know that high expectations are the key to Elkhorn's success and students will meet the expectations set."
A stricter grading scale may appeal to administrators for this reason, but the impact this has on students and college admissions should also be considered.
Currently it's undetermined whether every college admission committee factors in individual districts' grading scale and how it impacts each student's transcript.
On a statewide basis, there should be a standard universal grading system in order to give students fair and equal opportunities. A 10-point scale makes the most sense and would level the playing field when applying for college and scholarships.
In previous years, standardized testing has been used as the most concrete comparison, but universities are drifting away from this practice as they fear it is not an accurate portrayal of students' abilities or likelihood of success in college.
EPS has extremely high ACT averages compared to the state (EPS 23.8; Nebraska 20), so students have always had a leg-up in that department.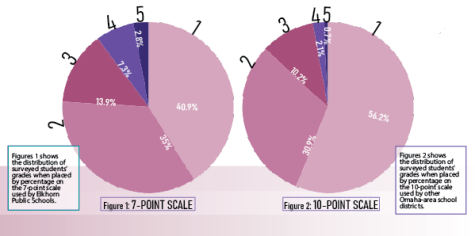 Therefore, the elimination of using these scores strips Elkhorn students of advantage gained from Elkhorn high expectations.
The fact is GPA is becoming an increasingly important factor on applications and Elkhorn students should not have to fear they are at a disadvantage because their application doesn't reflect the extra work it took to get higher percentages.
EPS should re-evaluate the grading system that has stood for decades because it's unclear whether current standards remain appropriate relative to other schools and colleges' expectations.
Leave a Comment
About the Contributor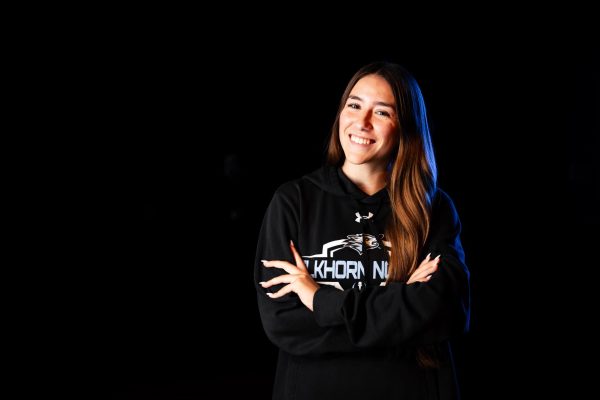 Mallory Ringenberg, Editor In Chief
Mallory Ringenberg is the Editor in Chief of the North Howler and it is her third year on staff. She participates in many school activities such as Bowling, Student Council, and NHS. When not in school she enjoys reading, walks, and hanging out with friends.