Students at Elkhorn North have access to a large number of opportunities. According to the 2023-2024 Student Involvement Opportunities sheet, there are 51 clubs and activities, including football, soccer, newspaper, student council, cheer, SADD, and many more, but these are not all available to each and every student, particularly students with special needs. 
Unified sports joins people with and without intellectual disabilities on the same team. It was designed to get all people playing together to gain friendship and understanding. Elkhorn North currently offers two unified sports which does not provide enough opportunities for students with special needs, especially compared to those without.
Elkhorn North has unified bowling and track, both of which are NSAA sanctioned. This means that there are meets and state tournaments organized and governed by the NSAA.
Dr. Kristi Gross, EPS Director of Special Education, provided information on all EPS high schools, showing the deficiencies at Elkhorn North.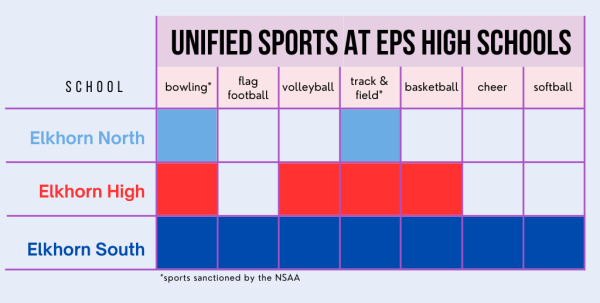 As shown, Elkhorn South High School holds an annual unified volleyball game, basketball game, softball game, and a flag football game. Elkhorn South is also a designated Special Olympics of Nebraska sponsored unified school. Elkhorn High School holds some of these similar games such as a unified volleyball game and a basketball game. The schools themselves schedule these unified events, not the NSAA.
This brings to question why there is such a lack of special education opportunities for students at Elkhorn North. The two unified sports provided, bowling and track, are held as one team made up of all three high schools throughout the district. 
Elkhorn North is also slacking when compared to other area schools. Bennington High School offers unified basketball, flag football, bowling, track and field, and volleyball. They also include bocce ball and are looking into starting Esports. Westside High School offers these sports plus unified swimming, soccer, and cheer. Westside also employs a full-time person on staff to organize unified sports, clubs, and leadership opportunities.  
Elkhorn North should find a way to hold more unified events for the purpose of including special education students in with the student body. The number of activities for students without a disability is very large, but the number for students with disabilities is very few. 
According to the NSAA website, unified sports provide meaningful and real sports experience, social inclusion, helps reduce bullying, and improves health and fitness. This site also states that unified sports has a positive impact on all athletes participating in unified sports. 
"I think there's a lot of misconceptions about students with disabilities and what they can do" special education teacher and unified sports coach Lindsay Struble said.
This is an issue, but there are solutions to fix this lack of unified sports. Elkhorn North could hold a unified flag football game during halftime of a varsity football game. The cheer team could include students with special needs on the sideline during some games. ENHS could hold a unified activity similar to the Homecoming Powder Puff game, but include students with special needs.
It's time to practice what EPS preaches and be inclusive for all students. 
"It takes a team effort and everybody has to be on board and work together," Struble said.