The Battle of Music Streaming
A face off between Apple Music and Spotify.
Everyday teenagers listen to music, but the streaming services they choose to use varies between Spotify and Apple Music. 
Spotify is a digital music, podcast, and video streaming service that gives users access to millions of songs and other content from many artists all over the world.
Playing music is free, but users can choose to upgrade to Spotify Premium. No matter what plan a user has they can get recommendations from personalized features, such as Discover Weekly, Release Radar, and Daily Mix. Users can build collections of music, create their radio stations, and see what friends, artists, and celebrities are currently listening to.
Pros about Spotify:
You can see and follow your friends and their playlists. 

There is a feature called Spotify Unwrapped that comes out every December which shows a recap of each user's listenings in the past year. 

There are also collaborative playlists where you and your friends can make and add to playlists.
Cons about Spotify: 
First-time users struggle to learn how to navigate the app when they use it.

Spotify Premium membership costs $9.99 per month and student memberships cost $4.99 in order to have unlimited skips per song and have ad-free access to music.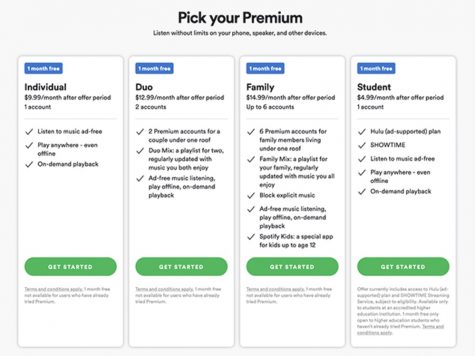 Spotify users wish that the app could add a feature that can change their playlist cover from their phone, and not from a computer.
Students recommend Spotify to their peers because the algorithm recommends songs that users might enjoy and broadens their music taste. It's also fascinating to see what other people listen to and connect with others through the music they discover. 
"I prefer Spotify because I think it's a better source to find more music on. There are many easy-to-access playlists on there and I think once you know how to work it, it's a quick and easy way to make good playlists," Sophomore, Meghan Cunningham, said.
"Spotify is better because it gives you access to almost every song and artist. And like I said it's so easy to use. And you can have multiple people use one account," Junior Gunnar Lamb said. 
Now that Spotify has been covered, let's talk about Apple Music. Apple Music is a subscription-based music streaming service that offers access to over 70 million songs. Users can get access to Apple Music on different devices. With features, such as offline listening and streaming ad-free music. A user can download 100,000 songs to their library. When the app is purchased there's a three-month free trial, but after that three months, the user had to pay a subscription. There is a 15 month Family Plan, a 10-month Individual Plan, and a 3-month free trial.
Pros about Apple Music: 
Users can follow people and listen to their music.

At the end of each year, Apple Music creates a replay playlist that has your most played songs in it.

It's easy to explore new music as it gives you categories to search through and related artists pop up after listening to someone.
Cons about Apple Music:
Adding songs to the user's library or playlists can get confusing.

Users have to pay  $9.99 per month or $14.99 per month for a family subscription in order to have unlimited skips per song.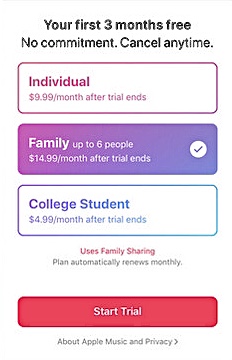 Apple Music users wish that the app could allow users to share playlists with people so both could add music and follow people on different platforms like Spotify. 
Students recommend Apple Music to their peers because it's easy to listen to music whenever and wherever they want. The app is also very straightforward to use.
"I like Apple Music because it is tailored to your music taste and gives you suggestions based on what you listen to. You can also follow friends and see what they're listening to along with their playlists, which is an added plus. Altogether it is easy to use and a great way to find new music," Sophomore, Joe Norman said. 
"I like Apple Music because it doesn't have any ads (I pay to have no ads), it's easier to play music on long road trips because Spotify used to glitch me out, and because I can listen to new music as soon as it drops on Apple Music," Sophomore, Raeanna LaFleur said.
Apple Music and Spotify both offer a large variety of songs, albums, and playlists. When it comes down to music content libraries, there's no beating Apple Music. While Apple Music does have more content, Spotify's music catalog is broad with over 50 million songs, and with around 40,000 songs being added every day. In the most recent poll, the students of Elkhorn North voted Spotify with 92 votes and Apple Music with 53 votes.  Spotify is the clear winner and is the overall best music streaming service.