Extra! Extra! READ All About It!
Elkhorn North High School's media center has lots to offer for students.
The opening of a brand new building this past fall has brought many different aspects to the table. From brand new sports fields and courts to the extensive weight room, Elkhorn North has outdone itself in many ways. But, one thing that has not been talked about as much as it should is the media center, which has a variety of elements that can apply to any student. 
This is not the first move Jessica Ethridge, media specialist at Elkhorn North, has had to take. The roles of a media specialist include teaching research, library material circulation and purchase, and technology for staff and students K-12 on the North side of the district. Before becoming the media specialist at Elkhorn High School for three years, Ethridge first took on the position of teaching 5th grade at Spring Ridge for five years. 
With experience at both Elkhorn High and Elkhorn North's library departments, Ethridge believes that both libraries are "wonderful," yet very different. ENHS has a much newer selection of books and technology. One of her favorite aspects of the new library is her office, which is all glass, allowing a view of every part of the media center. 
The design of the media center has had the most positive feedback since its opening in the fall. Students and staff have really appreciated the visual aspects. Freshman Kate Wagner said, "I personally think that the new library is really cool, and I love how it is set up."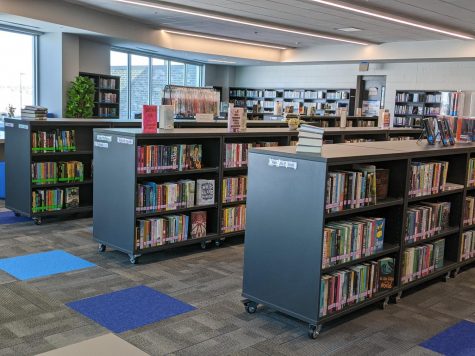 The modern design and decor, large windows, a variety of seating options, and brand-new books have created an "inviting and comfortable" space for students and staff. Encouraging more students to visit the media center, Ethridge said, "It is a great alternate place to focus on academics or work on group work."
Wagner also appreciates the layout and size of the library and said, "There isn't much empty space which I think makes the whole place a lot cooler to see how many books there really are."
Ethridge had a large part in the design of the media center, and says she is "part of the story of Elkhorn North's beginnings in this way." She helped design everything from the technology center's layout to the Starbucks like seating, which she believes "brings in a level of comfort and efficiency at the same time."
One aspect of the media center that is super helpful for all students is the design of the technology center. Similar to an Apple store, there is a service bar and a standing work bar. This design allows for the tech team and students to have more access to technology help. 
Most students think that the media center only relates to checking out hard-copy books, but that is very much incorrect. One thing that ENHS made sure to include in the library is the access to around 50 playaway books, which are audiobooks.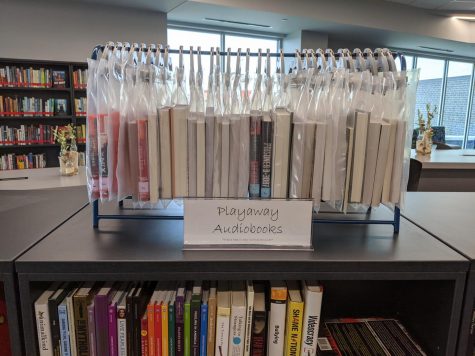 The media center also offers supplies and materials for students to use for academic purposes, such as projects. The basics include poster paper, markers, and other materials. Along with basic school materials, the media center allows for students to use 3D doodle pens and a Cricut machine under supervision and approval. 
The media center can allow for teaching as well, as some teachers bring classes in for lessons on research databases and foundation. After school on Mondays through Thursdays, the media center offers 8th hour, a time for study support if needed. Obviously, the library is open throughout most of the day for students to study, read, or receive technology support, with a pass from a teacher. 
Due to Mrs. Ethridge being on maternity leave until December, she has not really gotten to see much action yet. Although she has some frequent visitors to the library and a busy technology center, she hopes to see more action in the future. Ethridge said, "Covid makes this a bit tricky this year because we have protocols to help with contact tracing and safety protocols, which allows less free student circulation in the space. My hope is students are able to utilize it more in the future."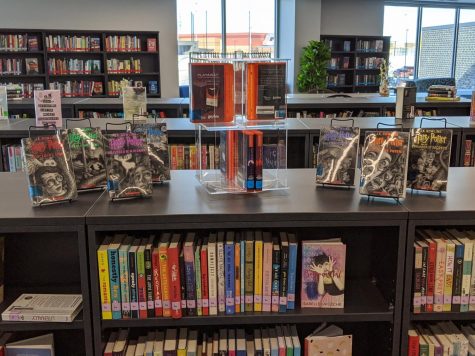 If a student wants to begin reading more but does not know where to start, the best option is to talk to Mrs. Ethridge. Since the media center has a variety of brand-new books, students should try and utilize them more. She has some advice about exploring new genres: "sometimes we think we know what we like until we try something new that fits us a bit better." If a student is wanting to explore new genres or get more into reading, try something new and if it doesn't work out, there are many more books to try in the new media center.
The media center can be beneficial to students in various ways. One way is that it provides a space to get away from the classroom and allows for more focusing on academics. Ethridge believes a change in scenery can help students focus more and said, "The library provides that vibe to students within its walls. Beyond that, resources and materials in the library as mentioned above are pretty endless."
The media center is one of the most thought-out and important aspects of ENHS, and it has something for every student. Although COVID-19 has stunted its utilization tremendously, Ethridge hopes it becomes a popular place in the next years to come. She said, "I am very excited to see it really come to life for students once the pandemic procedures are able to safely cease. It is a place students will want to be… with a pass, of course."