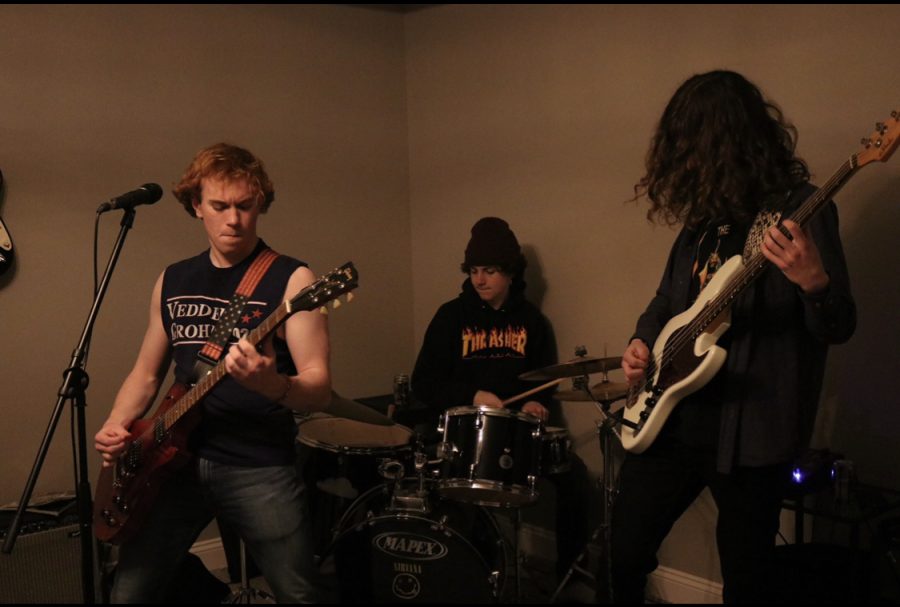 Photo by Anja Kovacevic
Müller Explained
Elkhorn North's newest band and why you should consider rock.
February 4, 2021
High school can be a crucial time to become ourselves and surround ourselves with things that we enjoy. While many students at Elkhorn North have their own hobbies, a lot of us don't look into what other people are doing. I sat down with 2 North students (and a Westside High school student) to see what their band "Müller" is all about.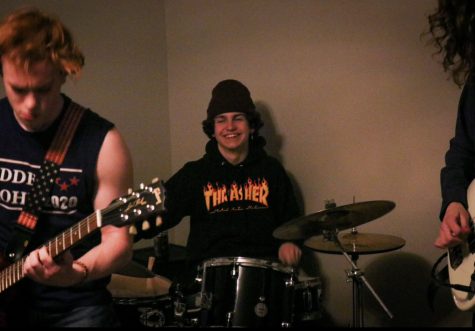 The three members of Müller all bring their styles and personalities to the table. While they are all talented with their instruments and music, it's also important to see who they are as people.
Miles Grabenstein, a Sophomore at Elkhorn North, plays the electric guitar and sometimes vocals. Grabenstein's personality is evident in the songs they write, and he likes to surround himself with similar things to feel connected to his music. He stated, "If you like something a lot, you want to make yourself feel connected to it, so by dressing the way i do, i can make a connection with the bands i like." He also made a comment backing this up by saying, "you can't dress like a hippie if you want to play death metal, and you can't dress up in a suit if you wanna play grunge."
Colin McMahon, a freshman at Elkhorn North, plays the drums. Colin likes to listen to a lot of grunge and 80s and 70s bands, he says this helps him commit to the role of being in a rock band. When talking about his other interests, McMahon stated, "I love to skate, and obviously that plays a part with the beanies and the ear piercings and Thrasher and everything." Drumming is cool to him, and he thinks that everything he does matches in style and culture well.
Westside Highschools Eric McMullen is also a part of the band. McMullen plays the Bass guitar and feels that his style is already heavily influenced by music. McMullen stated, "I grew up with KISS and stuff, so that's why I grew my hair out, and I like that it's part of the styles." McMullen got into heavy metal like Metallica, and his taste in music kept getting heavier and heavier. He also likes to include a lot of Japanese and Chinese music in his music taste. The members of Müller are all their own people, and that's why their music is so captivating and pleasant to listen to. The best way to explain it is how McMahon said it, "We all have our own thing, and everybody brings something to the table."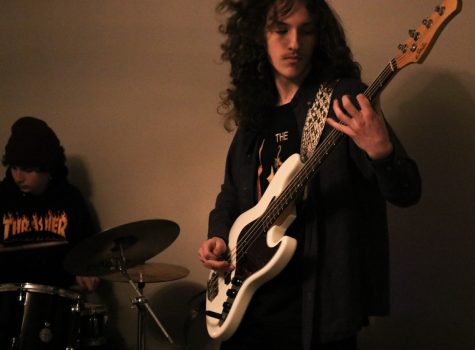 The way the band came up with the name Müller was merely random. When talking about how they came up with the name, the band stated,
"We were thinking of names for a while, and we needed to choose something that was going to be natural, and we didn't want to force it, so we would randomly text them to the group chat."
The meaning is also similarly random, Müller is a typical German Surname and a type of rock. The band itself takes everything from every genre and puts it all together in their own way to get a truly unique sound. The music Müller plays could be categorized into rock, alternative rock, and grunge, all while having energetic, heavy, and overall fun songs.
The band first started with just Grabenstein and McMahon in the summer of 2019. The two would get together and play simple songs. During this time, they weren't a band but were avid in starting one. Grabenstein stated, "we were always missing that low-end that makes a band a band, because you can't just have a guitar and drums." Eventually, they met in a music program.
The three ended up messaging one another, which ultimately resulted in them getting together and seeing if they could make it work. When talking about how the edition of McMullen and his bass impacted the band, Grabenstein stated, "we hadn't heard what a full band had sounded like, or what it was like to play in a full band, so when he (McMullen) came it was like a revelation, and just a complete game-changer, it went from a couple of guys playing to a band" When listening to them play it sounds like the three were truly meant for one another. The sounds that each of them produce with their instruments blend together and create an atmosphere of pure rock.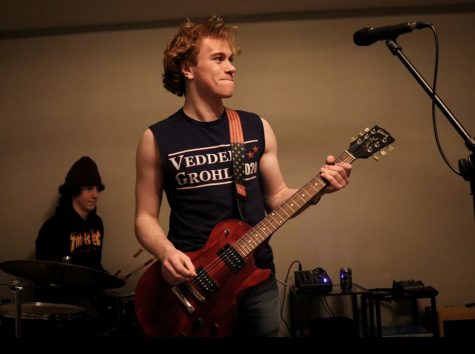 Müller isn't just a random high school band full of covers of songs that aren't theirs. They have a process of how they write their songs and currently have more originals than covers done. When making songs, they like to think on their own, and eventually, they come together to combine their efforts and make something. McMahon describes the band's song-writing process most accurately,
"Miles will say ok, I got this riff, and i'll be like, ok i'll do this drumbeat, and Eric will just throw a ton of crazy cool stuff together, and it just forms itself." The three love the freedom of being able to make a custom and personalized sound.
Even somebody who has no knowledge of music can imagine how amazing it can be to make your own material. The work they put in shows, and you can see that they are proud of what they do when they talk about it.
Grabenstein stated, "the thing is with making your own music it's a lot easier to get satisfied because you can choose whatever you want because it's your song" They like to not be too over the top with making songs, while they still put effort into them they don't want to think about it too much like Grabenstein said, "the less you think about it, the better the sound."
The three have high hopes for the band; while not caring about popularity, they still want to have a loyal fanbase and have people want to listen to them. They also want to start to back their music with videos and social media to get people interested enough to listen to their stuff regularly.
McMahon said, "We just want people to want to listen to us and know our songs." The best way they feel of doing this is to get an album out. They want to make as many good songs as possible, polish them up, and hopefully get it out this summer on sites like Soundcloud. While the album is just getting put together, Grabenstein had a general preface on it, "The entire idea of the album and the name and the cover is all gonna be based on the mood that the songs give off."
The main concern for the trio is getting to local venus. Finding places to perform is already tough enough without worries of everything going on in the world right now.
"Right now, especially with covid, it's hard for bands to play when nobody wants them to play" Grabenstein said. In times like these, people need to seek out the smaller bands. By going to places like The Slowdown and The Waiting Room, or just by swiping through Soundcloud, you can hear new original music from bands and get the title of knowing about them first. Grabenstein stated, "in a world where the majority of people listen to Rap and Hip-hop, there's not a lot of room for up and coming rock bands to get their music out, we would like people to just consider rock" The personal experience of hearing Müller perform showed me that it's a very worthwhile investment to listen to their songs; Especially Mindless, which hasn't come out yet and was the band's favorite song to record.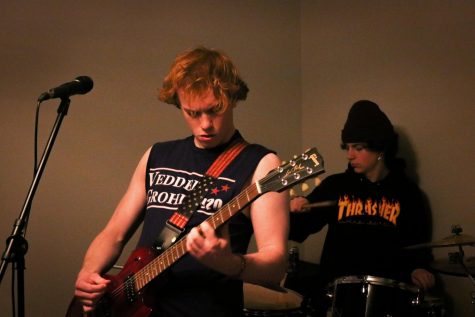 Overall, the band's biggest goal is to get people to branch out in music and make discoveries of new bands and genres (mostly rock). They like to have fun while creating by throwing jokes into the songs or making certain music additions. The trio is exceptionally passionate about their genre and wants people to have fun with it.
McMahon said, "I feel like rock music is so awesome, like imagine being in a basement hearing a Nirvana song blast and just jumping around, it's so much better than like doing that to rap. Rock and grunge music can be something you can always listen to"
When listening to Müller, you get everything. Grabenstein's  guitar riffs, McMahons enticing drums, and McMullens bass guitar bringing the whole band together. It was a fantastic experience to get to listen to the three of them perform, and all they ask from you is to consider rock.