The Artistic Side of Elkhorn North Students
Students at Elkhorn North share their interesting talents and hobbies.
February 11, 2021
Watching movies, playing video games, or playing sports: all some of the most popular hobbies for the typical high school student. While some usual hobbies take almost no effort, others take tons of dedication, time, and effort. Some students spark an interest in other hobbies, such as art, music, and production. 
Creating art is not something everyone can do. It can be time and energy-consuming and take lots of practice. It is not always easy to be able to make art, but for Dalia Khalafalla, it is.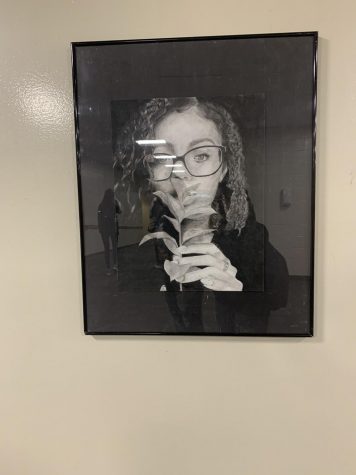 Khalafalla is a junior at Elkhorn North High School, and extremely talented at art. She draws and paints in her free time, and began an interest in this around the time she was in middle school. In a typical week, she would say she spends a little time every day on her hobby, mostly doodling on homework or at work. 
Although it seems as if talent comes completely naturally, Khalafalla also had to put in a lot of practice to become more efficient at her hobby. With lots of practice and art classes, she has become an even more talented artist. 
For instance, a hobby such as art can require tons of patience, and it's not always easy to have that naturally. Khalafalla said, " I pushed myself because I had to be patient." 
Another junior, Alexa Harrington, enjoys production-related things such as sound, lights, and multimedia. She has been doing this for around two years, and spends about three to four hours a week on this. 
Extremely passionate about her hobby, Harrington spends her Wednesday evenings and, more recently, Sunday mornings volunteering at Relevant Community Church. 
With inspiration from others, hobbyists can become even more passionate. With a person to look to for inspiration, pursuing a hobby is simplified. Whether this person is a family member, friend, or oneself, inspiration can come from everywhere. 
For Khalafalla, she receives inspiration from her uncle, who also shares an interest in art. Along with the particular family member, her other family members give her positive feedback on her art, which can help inspire.

For Harrington, her youth group production team leader inspires her, along with herself. Her reasoning for this is: "Doing what I love and I hope to make it a part of my job one day."
 Harrington's youth group production team leader "makes the whole experience more fun and brings food for the team, making sure we get everything done whilst having fun," she said. She also said, "I wish I had all the knowledge he did." 
 Another inspiration she had was a senior at Elkhorn who graduated last year. Both of these people either are leaving or have already left, so it has now been left up to Harrington to learn on her own. "I can only hope to be as good as these people," she said.
While everyone varies in their preferences in being alone or with others in life in general, the same goes for different hobbies. For Khalafalla, creating artwork is best for her when she is alone. This allows for better concentration on the quality of her artwork. 
On the other hand, for Harrington's hobby, stage and light production requires a team in order for it to work efficiently. She explained, "There has to be a lot of communication and silent signals between the team to keep everything running smoothly."
Hobbies can differ greatly in many different aspects. From time spent to amount of effort in, from sports and production to art and music, all hobbies are meaningful and can be extremely beneficial for a person to obtain. No matter what the activity is, a person can be very talented and passionate about it, and continue to strive towards being better.