Online vs. In-Store Shopping
A look into how the students of ENHS prefer to shop.
March 3, 2021
Every single day people go shopping for clothes, groceries, and other necessities, but their means of service differs between shopping in-store or online.
Online Shopping
Due to the rapid growth of technology, businesses around the world have switched over from the traditional way of selling products in person to electronic methods of
selling products online. Online shopping saves people a lot of time because it's easy to access items at a click of a button. Through online shopping, people can save money because prices are lower than the regular prices in the store. 
Amazon plays a huge role in online shopping because the site sells any product for affordable prices. Amazon is the largest and most successful retailer in the western world because it has the best customer experience. Amazon is the most used site for online shopping that all consumers enjoy. The site will select products and services for their customers  wants and needs. Amaozn has distribution centers across the globe whcih allows them to quickly ship out their products. Amazon also has excellent vendor relationships that allows them to offer their customers discounted pricing too.
Online Shopping Pros
Some reasons why people prefer to shop online is that it saves time and effort, it's convenient to shop at home, there's a wide variety of available products, the good discounts, and lower prices, and getting more detailed information of the product itself. 
Online Shopping Cons
Online shopping also has its disadvantages like delivery delays, not being able to physically touch the product, loss of interaction with other people, difficulties in returning items, and the frauds and scammers that try to sell fake products.

"I like online shopping because it can be easier than going into the stores and they might have something online I like that they don't have in the stores," Sophomore, Ava Murphy said.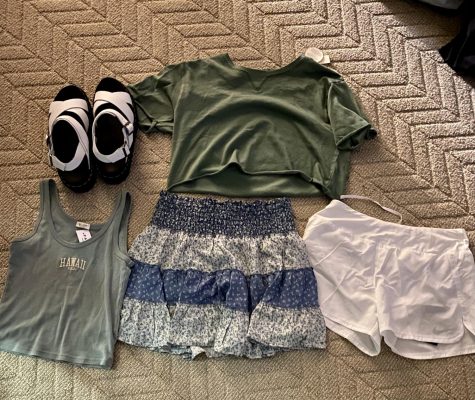 In-Store Shopping 
Shopping in-store when a customer searches for available goods or services presented by one or more retailers, with the intent of purchasing the said goods or services. For most people shopping in-store can be a very therapeutic experience. Shopping can also be considered a hobby for most. Shopping can improve a person's health, boosts their confidence, and causes them to spend time with loved ones. 
Walmart plays a major role in shopping in-store. The company Walmart is ranked number one in the world as the most popular retailer. Walmart enlists in both the retail and wholesale business, selling a collection of merchandise and services worldwide at stores. For over 50 plus years, Walmart has stayed true to its purpose and consistently offers low prices for its customers.
In-Store Shopping Pros
Some reasons people prefer shopping in-store is because the shopper can see and touch the item(s) they want to buy before spending their money. Shoppers are able to communicate with others face to face. Some retailers can offer limited in-store-only discounts. An example is student discounts that are only available in-store. Customers can get their items immediately.
In-Store Shopping Cons
The main disadvantage would be in terms of convenience. People may not have the time to go shopping in-store. Customers who prefer a wide range of products under one roof may not find shopping in-store due to its reliability. Another disadvantage of in-store shopping is the lack of discounted prices and offers around the year.
"I think it's just fun to go look around with friends and I like that you are able to try clothes on so you can see how it looks on you," Sophmore, Taylor Steffes said.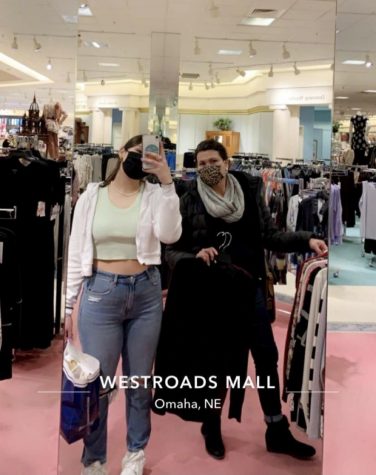 In-store shopping, in recent years, has faced strong competition with online shopping. While an abundance of people prefer shopping in-store due to convenience, others who are used to using the internet would choose to shop online as that is more beneficial for them. While online and in-store shopping are compared in terms of convenience, quality, special services, and methods of payment, shoppers still continue to use both as their means of service.

"I prefer in-store because you can try things on but I also love online because I love opening packages," Sophomore, Ellie Kennington said.