This New Antihero Movie is One Bloody Surprise
The Suicide Squad Movie Review
August 31, 2021
Overall: 9.2/10
The director of Marvel's Guardians of the Galaxy and Guardians of the Galaxy Vol. 2, James Gunn, created an antihero movie unlike many others. Gunn manages to direct an antihero movie that is not only action packed and filled with adventure, but also witty and hilarious. DC's The Suicide Squad is a violent and vulgar movie and yet manages to make viewers crack up a smile in almost every scene. 
Plot
The Suicide Squad is a sequel to the 2016 Suicide Squad, directed by David Ayer. The Suicide Squad was released in theatres on August 6, 2021. The movie was also streaming on HBO Max until August 30, 2021. The movie follows a group of antiheroes forced to go on a mission to save a fictional Latin American country called Corto Maltese from the destruction of a malevolent alien trapped on earth. If the group of antiheroes, known as Task Force X, chickens out of the task, let's just say, it doesn't end well for them. 
Characters
The Suicide Squad is adapted from DC Comics, so it is no surprise the movie adapted many of the characters from the comics. Each character is totally different from each other such as TDK, whose power is detaching his arms from his body and The Polka Dot Man who throws explosive polka dots at people. Although many of the characters are brand new to the sequel, there are several returning characters; the lovable Harley Quinn, the courageous Rick Flag, and Captain "Boomer" Boomerang. 
Directing: 9.5/10
Many people were hesitant to watch this movie due to the fact that the previous 2016 Suicide Squad movie directed by David Ayer was borderline trash. However, I was pleasantly surprised after watching this sequel. 
Gunn is back at it again. The Suicide Squad is his first antihero movie he has directed. What I love about the directing is its uniqueness. The Suicide Squad is filled with bloodshed in almost every fighting scene, clever transitions, and the fresh and new comedy is what makes the movie so unique. 
Was I shocked about how much gore was featured? Yes. Am I going to complain about it? No. Gunn incorporating gore into the movie is pure genius. The gore in this sequel may be a little over the top, but it adds much more flair and style, a great improvement from the 2016 Suicide Squad movie.
I think what stands out the most in this movie that many viewers don't notice is the smart transitions. In many movies (not just superhero/antihero movies), transitions are often weak. It's simply just the end of the scene and then the next scene rolls in. It's nothing creative. However, Gunn manages to come up with quite a few ingenious transitions. For example, when the movie transitions into Harley Quinn tied together in a ditch, Gunn shifts the camera down and then reveals the words "Meanwhile, Harley" using weeds that are in the dirt. Gunn's attention to small details like this show his brilliance and how great of a director he is. 
The Suicide Squad is a very funny movie and its comedic aspect could be compared to Deadpool. The reason why both The Suicide Squad and Deadpool received lots of praises about how funny it is is because of its R-rated jokes. Gunn uses very mature comedy in this movie as it's very different from his other superhero movies he has done. In his past two superhero movies, it featured many jokes, but not that funny due to its childishness. Even though the movies were PG-13, the jokes were too simple.  However, because Gunn decided to use adult humor in The Suicide Squad, it appeals to a much larger audience. 
Aside from the gore, brilliant transitions, and adult jokes, Gunn was able to show his true colors as a director in this movie. For example, there is a certain scene where Gunn incorporates animation with reality, which is a little unconventional. As Harley Quinn shoots a number of soldiers, animated flowers and little birds start falling behind her. Although the combination of killing soldiers with machine guns and animated flowers and birds sound like they don't match, it actually created a very pretty aesthetic. This just proves how amazingly wonderful the mind of James Gunn is.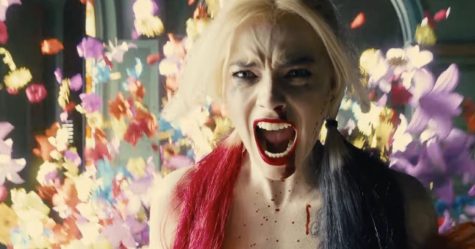 Acting: 8.5/10
Before talking about the acting, I'd like to comment on the cast in this movie. Before I watched this movie, I checked out the cast and let me just say, the casting director of this movie needs a raise. This movie features a whole list of amazing actors; Margot Robbie, Idris Elba, John Cena, Sylvester Stallone, Viola Davis, Pete Davidson, and many others. This is an elite class of actors right here. 
Let's start with Margot Robbie. Robbie is one of Hollywood's hottest actresses right now and she totally deserves this title. Her role as Harley Quinn shows how she is a one of a kind actress. Harley Quinn is a sweet and quirky character. However, she is a dangerous killer when things don't go her way. Robbie nails her character arc flawlessly. I would say Harley Quinn is one of the harder characters to play in this movie and Robbie absolutely smashed her role. 
Idris Elba plays Bloodsport. Bloodsport was raised by a very abusive father who trained him to be a merciless assassin. According to Bloodsport in the movie, he has no good left in him because of his father. Elba does a very good job of playing his character. Bloodsport then has a character development in the movie. So to be able to shift character traits in this movie shows how versatile of an actor Elba is. 
Lastly, how can I not talk about Viola Davis. This two time Oscar winner plays the heartless Amanda Waller. Amanda Waller is the leader of Task Force X, the official name for The Suicide Squad, and she would do anything to make sure the task she is in charge of is complete, no matter the costs. In the movie, Amanda Waller gives Bloodsport the biggest ultimatum; join Task Force X or she will send his daughter to jail. That is how despicable she is. Davis is so good at acting that when she portrayed Amanda Waller, I got goosebumps because of how evil she is. Out of all of the actors in the movie, Viola Davis was the only one who blew me away the most. 
Cinematography: 9.5/10
The cinematography in this movie is insane. This movie features lots of very complex scenes and it is a mystery of how the cinematographer, Henry Braham, is able to do what he does. He films plain and simple scenes and turns them into extraordinary-looking scenes. For example, the first scene of the movie starts off with Savant, played by Michael Rooker, in a confined area in a prison bouncing a ball. Braham could simply start off the movie with a shot of Rooker bouncing the ball. But Braham took it to another level by filming the reflection of Rooker bouncing the ball from a puddle on the ground. Without a doubt, the cinematography in this movie is amazing.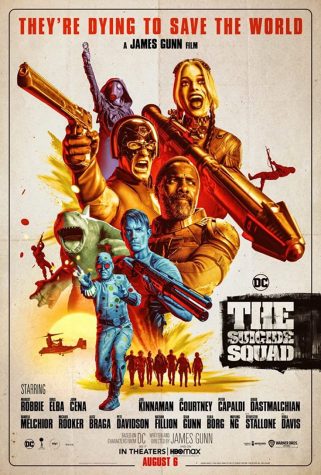 Final Thoughts
Overall, The Suicide Squad directed by James Gunn will be one of my favorite superhero/antihero movies of all time. This movie aced its directing, acting, and cinematography. I absolutely do not recommend this movie to children at all. However, I do recommend this movie to adults who aren't squeamish of blood and are looking for a movie that makes people burst into laughter.