Athlete of the Week: Easton Mains
After the season opener vs. Waverly, Mains is a clear standout on the Wolves football team.
September 3, 2021
A fierce competitive drive, a hard working attitude, and a strong first game are just some of the reasons quarterback Easton Mains was chosen to be this week's Elkhorn North Athlete of the Week. 
Just a few weeks into the regular season, Mains has shown himself to be a tremendous attribute to the Elkhorn North varsity football team. Being a senior can add pressure to athletes to step into leadership roles and also just have the skills it takes to be an asset to the team, and Mains has proven in just the start of the 2021 season that he has those capabilities.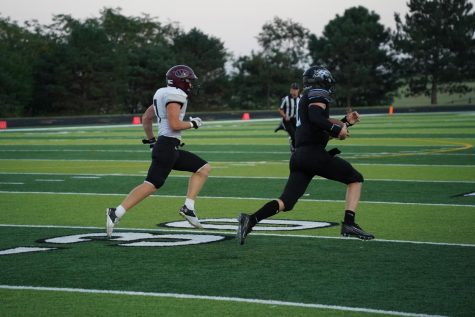 Skill-wise, Mains adds significant talent to the varsity football team. "He can run the ball phenomenally. He can put a good pass into a receiver's hands when it need be, but he can also take matters into his own hands and turn a play into a touchdown," Junior Billy Hendryx said. 
Mains's skill shined at the season opener vs. Waverly on August 27th. "Easton had a tremendous performance against Waverly that was really just reflective of his preparation and the work that he's put in," Head Coach Sam Stanley said. 
"He had some great balls thrown to some really good recievers, and he probably had about 150 to 200 rushing yards," Hendryx added. Racking up his stats in just the first game creates high hopes for Mains and the rest of the Wolves football team for the remainder of the season.
Though he hasn't played football through every year of high school, many wouldn't even notice. "Easton didn't play football his sophomore year. So, last year was his first year playing in a while and I thought he did a nice job as a junior but he really made a big jump in this last season," Stanley said. 
As a senior, it's also Mains' responsibility to be a good leader for the team, especially in a school that has never had a true senior class. 
"He puts a lot of effort into making practice  a good time for everybody." Junior Christian Young said. "He's an explosive athlete and he's got talent, but I think his strongest quality is just how tough he is." Stanley said. For an underclassmen to be around that kind of mindset all the time, they are more likely to start playing in a more resilient way, just as Mains does. 
"It's very comforting knowing that you have that dude as your quarterback. He adds a lot of trust within our team," Hendryx said. "He is just an overall awesome player."