Athlete of the Week: Bridget Swan
Cross country athlete who shows great attitude and hard work
It's a known fact that cross country is not an easy sport; but with a teammate like Bridget Swan, it quickly becomes much more enjoyable. 
Bridget Swan is Elkhorn North's Athlete of the Week. 
It takes a certain type of toughness to participate in a sport that requires so much both physically and mentally, and through this it becomes extremely easy to fall weak or into a bad mindset. But, even through the rough patches of the season, Swan keeps a positive mindset and influences those around her by doing so. 
"Bridget is always brightening people's day," teammate Jake Sullivan said. 
Swan also displays a high level of commitment to the cross country team. Rarely missing a day of early morning summer training and running all throughout the winter into track season, it's evident that Swan puts a lot of passion into this sport. 
Along with this commitment is a strong display of leadership that impacts everyone on the team, whether they're older or younger than her. 
"Last week in Blair, after she finished racing, Bridget was standing at the finish line waiting for our last runners to finish and cheering them on. She was the only one who did that, and that's leadership." Coach Bob Wolf said. 
Teammates have taken notice of Swan's mindset and the way she treats her teammates. 
"She makes everybody feel wanted on the team," teammate Kallie Lindquist said. "She's so uplifting." 
With her contagious positive energy, Swan knows how to make the cross country environment fun while working hard at the same time to improve.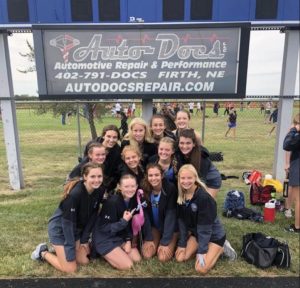 "Bridget pushes everyone to be the best version of themselves." Lindquist said.
Swan is the type of athlete that any coach would want on their team because of her work ethic, attitude, and leadership. "She always gives it her all." Wolf said. For these reasons, Swan was voted to be the athlete of the week. 
"It's just a great time to be on a team with Bridget," Sullivan said. "Cross country is better when you have a positive person around you at all times."