The Pros to Debate
At ENHS, the debate team kickstarted their year with their first meeting in English teacher, Mrs. Hayworth's room. The debate team is led by Mrs. Hayworth, and coincidentally, her mother-in-law also Mrs. Hayworth.
"I wanted to get involved in the school and I saw opportunities open for both speech and debate and knew that debate needed a team," Hayworth said.
Hayworth teaches various levels of English, and she thinks that her subject will help her to guide this debate team.
"The stuff that I teach and we do in AP Language and Composition is super in line with how debate works," Hayworth said. "Debate is all about forming an argument, having a clear point of view, having good evidence, supporting that evidence, which is a lot of what I teach in writing arguments."
Hayworth didn't do debate in high school and has never led a debate team before, but she did participate in speech in high school. However, she is not the only one that is new to the ENHS team.
"I wanted help with speech and public speaking in general and I thought debate would be a really great way to get that practice," sophomore Sahasra Gollapudi said.
Although this is Gollapudi's first year involved in debate at Elkhorn North, she has experience on the debate team from middle school and already knows her favorite topics.
"Personally I like talking about, just very strong opinions not necessarily politics but like current events," Gollapudi said. "I think there's a lot of room for pulling out evidence and kinda proving your point and it's also really nice to be in touch with something that's going on in your life right now."
Gollapudi looks forward to the fun parts of debate like competing and meeting new people from other schools. However, the nerves build up due to the pressure of memorizing and effectively presenting substantial amounts of information.
"Being able to make a claim and support that claim is a skill that you're gonna use every day for the rest of your life," Hayworth said. "It looks great on college applications, it looks great on job applications, there's scholarship opportunities."
Debate team has various benefits, one being the improvement of intense and under-pressure public speaking situations. The team, either in pairs or individual students, prepares a month in advance on a given topic. They construct an argument in support and against the prompt. After about a month to prepare, the team attends a tournament where their debating skills are assessed by a panel of judges.
"You have to either argue the affirmative, the pro side, or the negative, the con side, and you don't know what side you are until you get to the tournament," Hayworth said. "You have to be prepared to argue both sides."
One of the most important factors to being successful in a tournament is having good, solid evidence that will defend your argument.
"We're given a prompt and we need to do our research for both the pros and the cons side and we need to create a firm argument and present that when the date comes," Gollopudi said.
Doing well at smaller tournaments can lead the team to qualify for much larger events, like nationals. The thought of this can be very nerve-racking to some students.
"I'm so nervous," sophomore Annie Wang said. "I'm not good at public speaking and I wanted to improve my public speaking with that."
Joining debate gave Wang an opportunity to be part of something at school that wasn't sports related. It's a very low maintenance club that has meetings only once a week.
"Originally I wanted to join speech, but I wanted the interaction part with people so I just picked debate," Wang said.
One of the best parts about debate is that there is so much variety. There is a wide-range of topics to debate and a person can debate individually or with a partner. Students can reap the benefits of debate no matter how they choose to compete.
"If they [students] like arguing or they are really interested in current events or interested in public speaking or they want to get better at public speaking in any way would be great," Hayworth said. "Also looking for a non-sport activity to get involved in, this is a great one."
There is so much more to debate than just two people arguing back and forth. Much preparation, critical thinking, and hard work is put into debate, and it benefits students in various ways.
If you are interested in joining debate team, talk to Mrs. Hayworth in room H214. The team would love more participants!
Leave a Comment
About the Contributor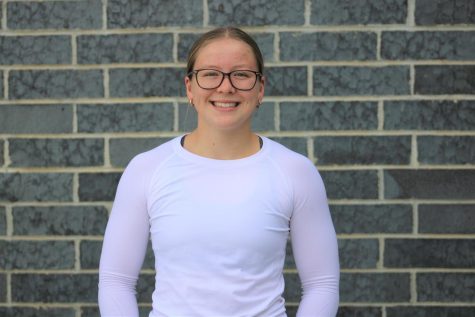 Cameron Mead, Reporter
Cameron Mead is a senior and this is her second year on staff. She likes to laugh and enjoys spending time with family.