Building a Stronger Bond
The immense impact of team building and it's outcome.
November 4, 2021
Have you ever noticed the special connection between a team and their players? It all cracks down to the love shared between the players built during team bonding.
Team bonding has been a part of sports for a long time and has a tremendous impact on the relationship between players and the coaches. They put in the work during practices and in their free time in order to build a better bond with each other for a greater outcome with how they play.
By creating a strong bond, people are better able to communicate with one another and read each other's body language. We see it in sports when someone is able to fully trust their teammate in accomplishing something good, like setting a ball up well for a hitter to attack or a quarterback completing a pass.
Starting setter for Elkhorn North's volleyball team, Reese Booth, has been playing since she was six years old and has been on multiple teams throughout the years. Booth has participated in various activities for team bonding that involve swimming, dinners, crafts, going to college games, hanging out at someone's house, rides, and bowling. 
"Because of team bonding everyone is very close and we play better on the court because we all trust each other and don't hesitate when going for balls. You play more connected and trust your teammates more on the court and communicate better with each other," said Booth.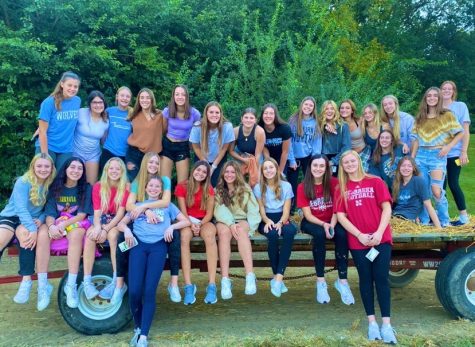 Team bonding is usually an enjoyable activity that is meant to be lighthearted and fun to bring everyone together. There are no set rules to team bonding and can happen as much as needed or whenever.
Swimmer Jacob Horner said, "Organized, we have it about 3 times a season, but round the year we'll hang out in groups because we're just friends outside of swim."
All sports are capable of team bonding. For sports bigger than basketball, volleyball, soccer and football, like track and swim, it can be more difficult to be able to get everyone together for team bonding. An easy way to make team bonding able for bigger sports is break it down into smaller groups, like those who run sprints or certain swim events together. 
"Team bonding helps make the sport fun, otherwise it would be pretty boring just swimming. Probably would have quit if I didn't like the people. The whole team actually came to my house this summer and it was really fun to just hang out with them. Valas in the fall of two years ago was also fun," said Horner.
For long term and travel sports, like soccer, team bonding is essential in keeping good chemistry. While being committed to such a vigorous sport for a long period of time, people are bound to find comfort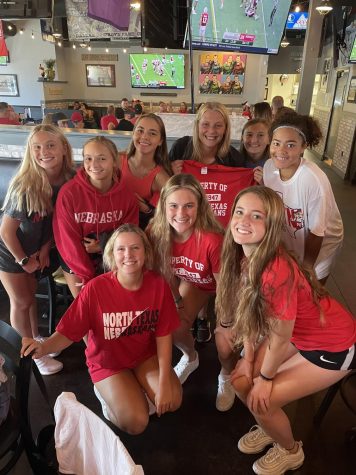 in each other's company and it's not always the coach's decision to initiate team bonding.
Senior soccer captain Riley Wilson said, "It's the players decision because being around 15-17 girls your age 4-5 times a week causes you to create a more comfortable relationship throughout the team. I've never been in a team where the players do not all get along, so wanting to spend time with my team outside of soccer has always been a fun activity."
It gives the players something to look forward to throughout the sport season and allows the team to enjoy one another's presence during down time. It is a much more relaxed environment and helps ease some stress that sports may bring.
"Before our season started this year, my team and I went camping at Mahoney State Park. We set up tents and a campfire and did a ton of stuff while we were there. It was a really fun experience and we plan on doing it again at the end of our season in June," said Wilson.
Overall, team bonding is beneficial for teams in the long run because it establishes a strong bond with the players. Their chemistry is shown in their performance and how well they execute their sports.