An Unforgettable Under the Sea Experience
Review over Elkhorn North's first full-length production: Disney's "The Little Mermaid."
November 17, 2021
From opening night on November 11 to 13, Elkhorn North's production of Disney's "The Little Mermaid" was an under the sea experience the audience would never forget. The musical was very entertaining for people of all ages.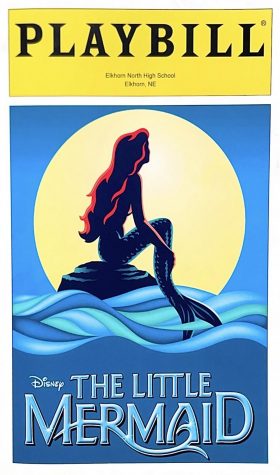 Directing 
Choral director Casey Allen impressed the audience with her directing skills. This was Allen's first time directing a musical and she did a tremendous job. Allen didn't just start from scratch when directing this musically, she took part in multiple high school and college productions that helped her take on the large task of "The Little Mermaid." Allen didn't do this musical by herself, she had help from fellow director Brenda Honliasso and the production crew played a big role too.
Characters
Ariel was played by Senior Sarah Bachman. She was so dedicated to her role as Ariel that she dyed her hair red. Bachman was amazing at displaying the mannerisms of Ariel, and it really brought the mermaid to life. She gave an amazing performance as a young mermaid searching for adventure and finding her true love. She really embodied Ariel down to a tee.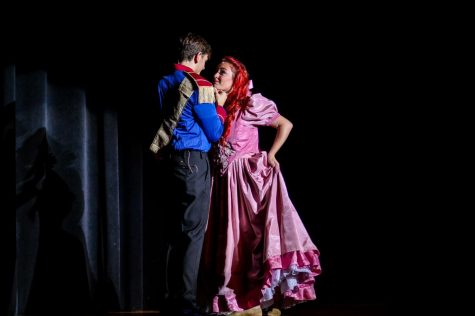 Prince Eric was played by Senior Thomas Parker. Parker gave an outstanding performance of a young prince on the search for his true love. His acting as an optimist brought charm to Prince Eric. The chemistry Parker created between his character and Ariel makes the audience truly believe they were in love. 
Ursula was played by Junior Mia Steiger. Steiger portrayed her dark, villainous role exquisitely.  Her demonstration of Ursula's sassy sense of humor and manipulativeness convinced the audience she was a sinister, scheming sea witch. Steiger's approach to her character's attitude generated reactions from the audience who despised Ursula.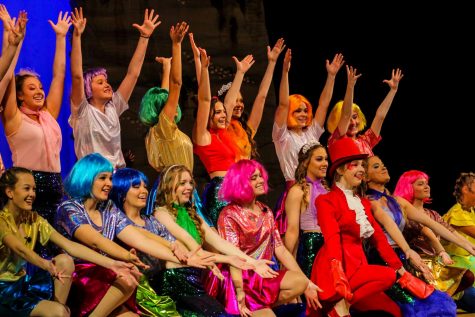 Flounder was played by Freshman Rory Wright-Kent. Kent's portrayal of Ariel's best friend was well done. She displayed an adventurous friend who has a cowardly demeanor. During all performances, Kent used exaggerated facial expressions that made Flounder a loveable character.
Sebastian was played by Senior Anna Kline. Kline's performance as King Triton's confidant and Ariel's friend brought joy to the audience.
Scuttle was played by Sophomore Colin McMahon. McMahon brought Scuttle to life by speaking in a funny voice during all his performances on stage. His portrayal of his character always made the audience laugh. The audience knew that every time they would see Scuttle they would be in for a good laugh.
Musicality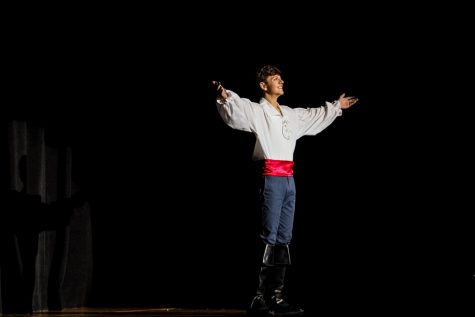 Along with the beautiful orchestra from the small yet mighty band, Bachman's voice was perfect for her starring role as Ariel. A fan favorite from Bachman during the musical was when she sang "Part of Your World." Bachman sounded so much like the original actress in "The Little Mermaid" movie. Her performance of this song was so astonishing that it left the audience in tears.
Parker's musicality was also very impressive. His performance during the song "Her Voice" was excellent in portraying his role as Prince Eric. Parker's voice is very unique and stands out, thus grabbing the attention of the whole audience during his solo performance. 
Set Design
The set design of the whole production was so detailed. Behind the scenes, the art club, glitter dads, and sparkle moms dedicated so much of their time making each set design perfect and unique. Glitter dads and sparkle moms are the parents who have children in the musical and worked behind the scenes to create the amazing set designs.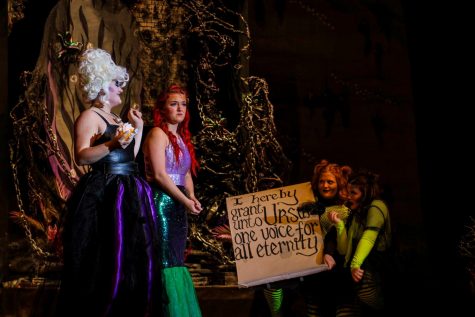 Costumes
The costume design for each specific character was incredibly detailed.  The costumes were designed to be simple and versatile for the actors and actresses to be able to dance in and be able to change out of easily for quick changes. Each character had different costumes, making each student stand out. The ENHS Music Boosters helped design and find the costumes. 
Memorable Scene
The most memorable scene that stuck out to me was when the song "If Only," was sung as a quartet, between Ariel, Prince Eric, Sebastian, and King Triton. This scene stuck out the most because during the whole scene the main spotlight was on Ariel while she was singing her solo. Prince Eric, Sebastian, and King Triton were under dimmer spotlights while also singing their different solos at the same time. I liked how the lighting was used to make the different characters stand out during this scene.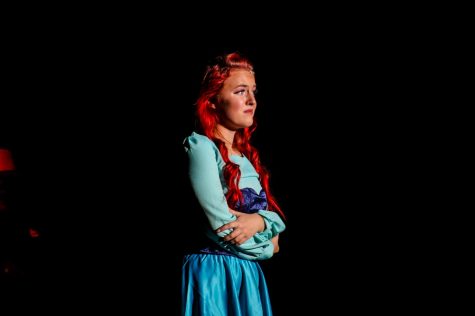 Final Thoughts 
Although there were some technical difficulties with the microphones cutting out during performances, overall it didn't affect the students or the show. The performances from the students were outstanding and their musicality was breathtaking. All the detail used in each set design and the costumes didn't go unnoticed by the audience. The musical brought the audience laughter, nostalgia, and a sense of satisfaction because of the time, hard work and effort spent making the musical.  Disney's "The Little Mermaid" will leave a lasting legacy for the Elkhorn North Music Department.