ENHS Welcomes Wolves for the First Time
Elkhorn North High School opened its doors to students for the first time on Tuesday, August 18th.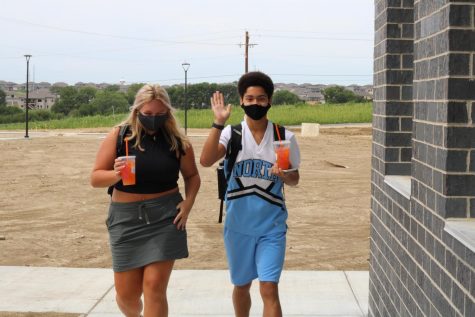 The first day of school is a big deal for everyone, but it's an even bigger deal when it's in a brand new school. On August 18th, everyone at Elkhorn North High School was able to experience something that does not come about often: the first day of school in a brand new building. The excitement could be felt in the hallways. Teachers, students, and staff were all ecstatic about the brand new school and to get back into the school routine after the long summer. 
"I am really excited to get the opportunity to come to a brand new school all four years of high school. I have a feeling we will be really good in sports too," said freshman Brock Marler.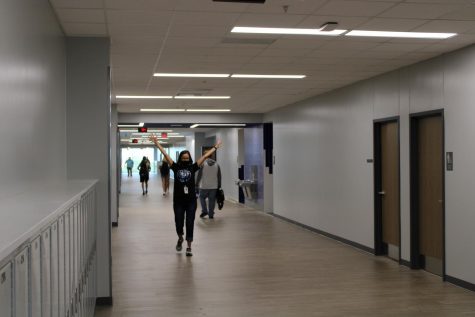 The Elkhorn Public Schools district split when students came to school on the first day. The doors opened at 7:45 AM for the new freshmen class, and their classes started at 8:10 AM. Because it was a half day, the classes were really short. The main focus in every class period was talking about COVID-19 protocols and how to stay healthy during the school year. Usually, freshmen get the opportunity to tour the building before the first day, but the freshmen this year weren't able to partake in the annual tour due to other important preparations. There is still construction going on in the building, specifically with the senior balcony, media center, and school store.
At 12:05 PM, sophomores and juniors were ever able to walk through the doors for the first time, and the juniors got their first look at the school they would be leading for the next two years. "It's really cool being able to go to a brand new school and being the oldest two years in a row," said Junior Lindsey White.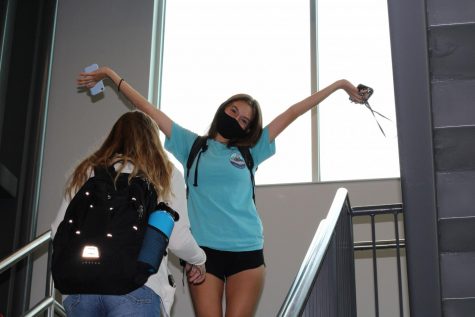 The district made the decision to only bring grades 9-11 to the brand-new high school this year, so seniors would not have to switch schools for their last year of high school. Because of this, the juniors have been given a huge opportunity in being the oldest in the school a year early. They are able to use this extra time to create new traditions, lead the school in positive ways, and be the first class ever to graduate from Elkhorn North.