Photo by Shanna Beachy
All Eyes on adrENaline
Elkhorn North sets foot on the varsity show choir stage for the first time ever.
January 25, 2022
The first ever real show choir season for Elkhorn North has officially begun, and hopes are high for the new group. 
Although most school activities faced setbacks due to COVID in the 2020-21 season, show choir arguably got the worst of it. The entire season was cancelled last year; meaning 2022 is technically the first time the group has ever truly competed together representing Elkhorn North. 
"After several years off, a group composed primarily of students who have never done this before, and a new director, there is truly nothing to compare this experience to," show choir instructor Casey Allen said. "adrENaline has built its own year, its own standards, and its own legacy already." 
The title of this year's performance is "Kaleidoscope", and it features songs like "Mr. Blue Sky", "Coloring Outside the Lines", and "It's You I Like". 
To go along with the theme of color in this year's show, the girls wear blue, pink, and gold dresses, and the boys wear shiny leather jackets. Both the boys and girls have costume changes that backstage workers, like junior Grace Tanner, help with.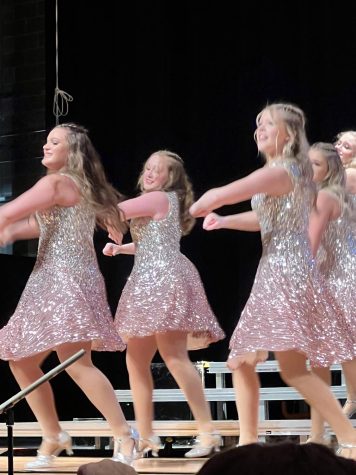 "Being backstage is really fun. I get to see all of the behind-the-scenes stuff which is even more rewarding because you get to see how exhausted they were after coming off stage, which just shows that they put in a ton of effort," Tanner said. 
adrENaline kicked off their competition season at Gretna on January 15th, where the group got to see all their hard work pay off with an advancement to finals and an impressive 5th place finish. 
"Since August, students have learned and memorized complex music scores, have spent full weekends learning and cleaning choreography, and we only recently added our show band and costumes to the mix," Allen said. "It truly is a labor of love to put together this project and requires everybody's complete buy-in and effort at each rehearsal."
For adrEnaline, the weekends of the coming months will be filled with day-long competitions coined "Show Choir Saturdays". 
"Saturday was a 20 hour day. We had to get up at 5am, and didn't get home that night until about 1:30," Tanner said, "so it is a really long day, but it's also so much fun." 
Through the long competition days, adrEnaline has a lot of bonding time, making them a very tight-knit team.
"The group is a lot of fun, and we spend a lot of time together," group member Kayla Beachy said, "I think it really helps performing when you are close with the people you are on stage with."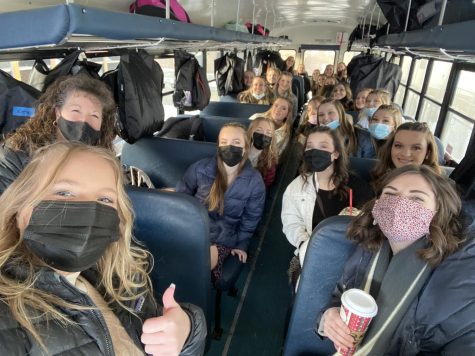 Altogether, adrENaline has made a solid first impression in the world of show choir, and they are just getting started. They are a hardworking, ambitious group who is willing to improve and ready for success in the upcoming season. 
"None of this would be possible without each and every student buying into this group and this experience," Allen said. "Everybody brings something valuable to the team and is valuable just because they are themselves."