Spring Break Destination: Utah National Parks
Exploring Utah's "Mighty Five."
It's safe to say that everyone loves breaks. Whether it be a break from work, school, or just the busyness of life, a little bit of breathing space is much needed. That is why spring break is so loved and appreciated by many.
This spring break, instead of going down to the beaches along the Gulf of Mexico, or flying over to the islands of Hawaii, or even chilling at your house, maybe it's time for something new: U.S. National Parks.
There are 63 National Parks in the United States that range from the glaciers of Alaska, to the swamps of Florida. Out of all of these parks, little can compare to the National Parks in Utah: Zion, Bryce Canyon, Arches, Canyonlands, and Capitol Reef.
Nicknamed "The Mighty Five," these national parks in southern Utah have a lot to offer. Positioned on a massive red rock deposit, all of these parks include some of the most scenic views in America that include massive rock formations, canyons, and even arches. But, scenic views are not all these national parks render.
Hiking, bicycling, climbing, camping, swimming, and even fishing are just some of the activities that some of the more adventurous could enjoy. For those who are not as daring, going on park tours, sightseeing, having leisure time at the hotel, and even eating at new restaurants, are just a few of the activities one might appreciate.
With all this said, it's time to take a closer look at what exactly "The Mighty Five" have to offer.
Zion National Park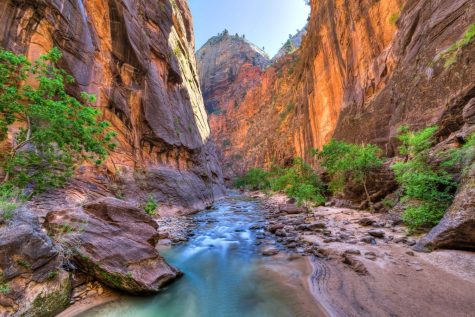 The beautiful Zion National Park. Located in the southwest corner of Utah, it borders the Mojave desert, Great Basin, and the Rocky Mountains making for a unique landscape. The park features 232 square miles of tall plateaus, sandstone cliffs, and both deep and narrow canyons that the Virgin River has so wonderfully cut out. Different shades of red and orange rock encompass the area leaving stunning views. With this landscape comes many activities including canyoneering, climbing, backpacking, river trips, horseback riding, and wildlife watching. One hike in particular that stands out is the Narrows. Spanning 16 miles long, it is known for its gorgeous views and sheer rock walls. This hike is unique in that hikers must hike upstream in the water! Stay at the hotel, Desert Pearl, in the city of Springdale if you end up vacationing here. You won't regret it!
Bryce Canyon National Park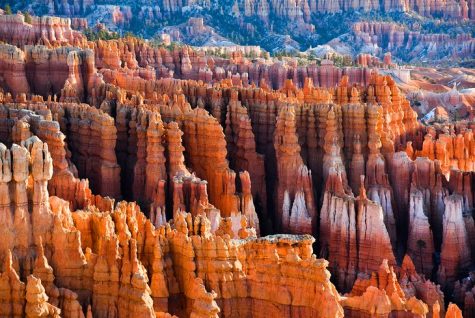 Just northeast of Zion lies the vibrant Bryce Canyon National Park. Positioned on the Grand Staircase, Bryce features the most hoodoos (irregular columns of rock) on earth. These columns are known for their bright orange, yellow, pink, and white rock that almost make the landscape unreal. Visitors can hike, backpack, ride on horseback, and camp. Photography is another activity that would be a go-to as Bryce is one of the most photographed National Parks. Bryce Amphitheater, in particular, is a small hike to an overlook that offers the most breathtaking view of the park featuring hundreds of hoodoos. If you are planning on traveling here make sure to stay in Bryce Canyon City where you can choose hotels, cabins, or even a bed and breakfast.
Arches National Park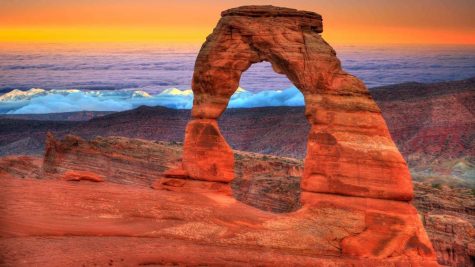 Located in the lower half of eastern Utah, Arches National Park is definitely a must-see. This park features over 2,000 natural arches that cover the landscape. These gravity-defying structures demand any onlookers' attention with the variety of orange and red-colored rock that they are made of. Camping, four-wheeler driving, cycling, hiking, backpacking, climbing, canyoneering are some of the adventurous things one can do in the otherworldly landscape. Stargazing is also popular as the skies have little light pollution. Delicate Arch, which is the most famous natural stone arch in the world, is worth the time to see. Along with this, make sure to see Landscape Arch is which is the 306-foot arch that is the biggest in North America. Make sure to stay in the wonderful city of Moab where you can pick from dozens of hotels and eat at top dollar restaurants.
Canyonlands National Park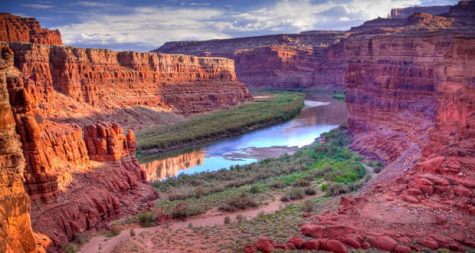 South of Arches lies the vast Canyonlands National Park that features massive buttes, mesas, canyons, arches, and spires all carved by weather and the famous Colorado River that also cuts through the Grand Canyon. The walls of the many canyons are lined with layers of orange, red, and pink rock that make the whole landscape look like a painting. Backpacking, biking, boating, camping, climbing, guided tours, hiking, and horseback riding are all activities to consider when visiting the park. Also, make sure to check out the four districts of the park. The first, called Island in the Sky, contains the four-wheeler route, White Rim Road, and a breathtaking overlook 1,000 feet above the terrain. The second district, Needles, sports many colorful spires of Cedar Mesa Sandstone. For the more adventurous, The Maze provides hikers with a more remote experience from a traditional hike. Also, make sure to hit Horseshoe Canyon as it has some of the most well-preserved rock art in North America. If you decide to visit Canyonlands, make sure to stay at one of the camping sites surrounding the park or the city of Moab.
Capitol Reef National Park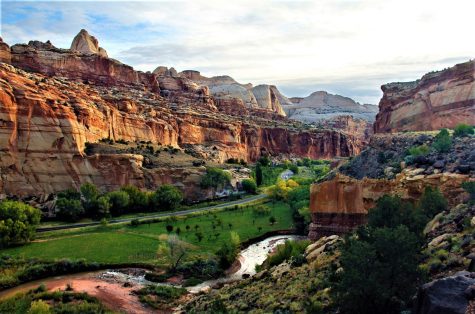 Capitol Reef National Park, located just east of Canyonlands, is a landscape filled with cliffs, domes, bridges, and canyons. This park is positioned on a unique geological feature called a Waterpocket Fold, which is a wrinkle in the earth's outer crust. This unique feature leaves vast amounts of rock exposed creating different formations. Giant boulders and water pockets are just some of the unique aspects of the park one might find. Hiking, driving tours, orchard visiting, canyoneering, horseback riding, biking, canyoneering, rock climbing, and bouldering are some of the activities one might enjoy while visiting this National Park. Make sure to check out Cathedral Valley, Spring Canyon, and Pleasant Creek for their popular trails that are for the more avid hikers. This otherworldly landscape is for sure something worth seeing. If you end up traveling to Capitol Reef, stay at the city of Torrey where you can camp, lodge, or stay in a hotel.
So, this spring break might be the time to just go for it and stay at any or all of the "Mighty Five" in Utah!
Leave a Comment
About the Contributor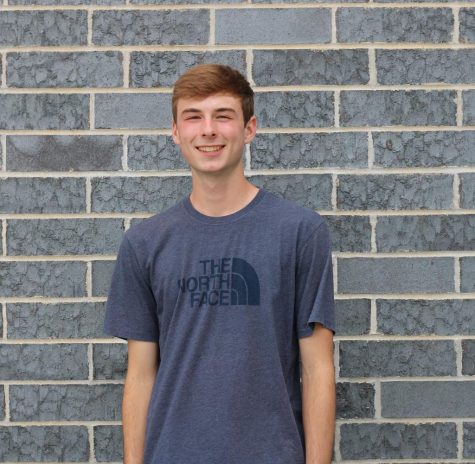 Joe Norman, Reporter
Joe Norman is a Junior and it is his first year on the Howler staff. He spends his time running cross country and track while also participating in Student Council.