Two Years to Two Weeks
In 2018, Elkhorn Public Schools passed a bond to build Elkhorn North, but the staff wasn't allowed in until two weeks before the first day.
Two years may seem like a long time when it comes to preparation, and two weeks may seem like an impossible time for preparation. When it came to Elkhorn Public Schools' third high school, Elkhorn North High School, it was a matter of both.
Preparing a school for almost 700 students and 100 staff is a big task, especially for a new school. Elkhorn North's Principal, Mr. Radicia, spent much of his time preparing the staff and the school itself. He spent time during the day helping the teachers get comfortable in their classrooms. "The students aren't coming to me, they're coming to the teachers," Radicia said. He wanted the teachers to feel at home in a new building while getting his job done as a principal as well. 
Mr. Radicia knew the challenges he would face, yet he was willing to do whatever it took to get students to be able to learn in person, especially in a pandemic. The more time he spent preparing, the more comfortable he felt about students getting to attend. It boiled down to the night before. "It was like okay, kids are coming back tomorrow, staff got ready, inspection has passed, it's go time! We're here" Radicia said. 
Two weeks before students entered the building, the staff of Elkhorn North entered their classrooms filled to the ceiling with boxes of materials. Some teachers had more than the others such as the Science teachers. Mrs. Schlosser, a Chemistry and Physical science teacher, walked into the school with her hallway full of about twenty-nine pallets of boxes, along with her room filled with boxes as well.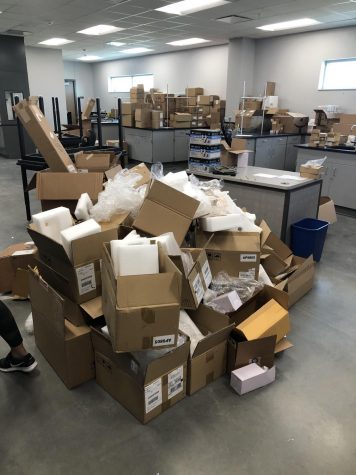 Every beaker, flask, and testing tube was individually wrapped for every science teacher. "There is no way this is getting done," Mrs. Schlosser said. Thanks to an incredible Science staff, they all helped each other spending much of their time getting their rooms done because they knew they needed to for the students. 
Monday, August 17th, caused a lot of speculation as to if students would be allowed to attend the brand new school on August 18th. The inspection had not been passed a few days earlier leading to a delay. The next time they inspected was Monday August 17th, one day before students could walk in. Ryan Lindquist, the Executive Director of Business Services for Elkhorn Public Schools, is in charge of every building within Elkhorn Public Schools. He described the delay as very nerve racking. "Regardless of what it took, we had to be open the 18th," Lindquist said. 
In order for students to be within a school, a Certification of Occupancy is required. This certificate allows students to be in a building learning safely, and teachers teaching safely. Lindquist's determination was due to the fact that he knew so many families who would have kids coming here, including his own and he wanted them to experience the new school. "My favorite part was anytime you could bring someone new through the building whether it be parents, board members, staff, students, and just seeing their excitement in their faces" Lindquist said. 
No matter what, Elkhorn North High School had to be finished by August 18th. Mr Radicia was determined to open the school. "Whatever it took," Radicia said.