Pumping New Iron
Brand new ENHS weight room catches the attention of many.
The moment Elkhorn North High School became a sure plan, the thought of the new weight room was at the front of minds. A center of sports and athletic training, the weight room is an important part of every high school. And Elkhorn North has shown that it takes pride and has invested in the new and top-of-the line weight room. 
At the top of it all planning since day one was P.E. teacher and soccer coach Fred Doscher. 
"I love it. Mr. Ford was really good about letting me design the whole weight room, so I knew what was going to be in there," Doscher said. "I think it's really functional for our kids and it's much easier to maneuver around than it was at Elkhorn High," said Doscher. He has been in the Elkhorn Public Schools district for 11 years, and has coached soccer and both middle school and high school football. The weight room has been something he's been excited about for a long time, and he finally gets to see it in action for years to come. 
"Back in January is when the first meeting for the weight room started, and then all the way up until quarantine happened was when we were getting things ready," Doscher said.
Many student athletes are also happy about the introduction of the new weight room, especially for their sports. 
"I have been pretty excited with the weight room since that is an area where I need to grow to be a good athlete," sophomore Luke Hunsberger said when asked about his excitement for the weight room. "I love it so far and there are so many different components to it that make it very versatile." Luke plays baseball and runs cross country, so the weight room will be something he will stay a part of throughout his sports career. 
"So far I have loved using it. All of it is brand new equipment, which makes it really nice to use," junior Michael Franzen said. "A lot of the equipment has the Elkhorn North logo on it which is really cool." Michael also plays baseball and runs cross country.
Both of these students will be using and taking advantage of the weight room their entire high school career. Every athlete and even students who are not athletes but plan to use the weight room are happy that they are fortunate to experience the brand new equipment.
The weight room features 11 utility weight racks with Elkhorn North logos and wording in several places. These racks can be used for a variety of lifts including bench press, back/front squat, deadlift, and several olympic lifts like hang cleans. It also has a handful of leg curl and press machines, lat machines, dumbbells ranging in weight, and several cardio machines including treadmills and elliptical machines.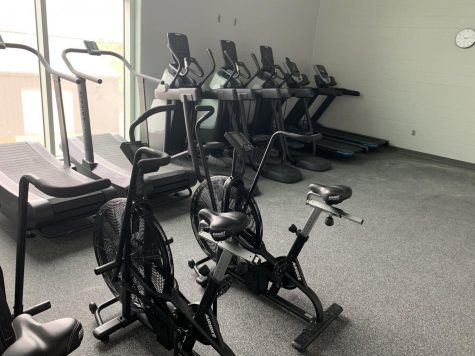 "I love all the squat racks and VertiMax's," Hunsberger said. "I try to lift 5-6 times a week, and all the new equipment here helps me do that." 
One thing noticeable to all who have used the weight room is that it differs from Elkhorn High. 
"The stuff at Elkhorn High is good; the problem with Elkhorn High was the shape of the weight room, whereas this is just a rectangle, and we can fit a lot more equipment in here," Doscher said when asked about how the new weight room compares to that of Elkhorn High. "Having the space, we made it functional for sports teams and weights classes to get in here as often as they need." 
"North's weight room is a big upgrade compared to High's," Franzen said. "Obviously, all the equipment is brand new, but there is a lot of equipment that we didn't have which will let me do more lifts and exercises.
Overall, the weight room has served very well for Elkhorn North so far and Doscher believes it has just about everything it needs. "There are some things we may have to order that I might have missed out on, but overall there's nothing in there I would change," Doscher said. "I think there were some things that we wished we had at Elkhorn High that coaches wanted, but I don't think we'll have that problem here. I think everything is in there that anybody could ever want to use."
Weights classes have been enjoying the new equipment and working hard as well as the sports teams that have been fortunate enough to use it. 
With the beginning chapter of Elkhorn North High School underway, the new weight room helps pave the way for student athletes across the board.  It will be a symbol of training and development at the school for years to come and serve all sports and students.