Hollywood History Made
A recap of the 94th Academy Awards.
March 29, 2022
Executive Producer of this year's Oscars, Will Packer, promised an entertaining award presentation and it was very entertaining; but not for the reasons you may think. On March 27, 2022, the 94th Academy Awards was held in the Dolby Theatre on ABC and it was filled with historic wins and some shocking moments. Without further ado, let's unpack everything that happened. 
By now, many people have heard of the incident between Chris Rock and Will Smith. Rock was making a few jokes about some of the audience members before presenting the Oscar for Best Documentary to Questlove's Summer of Soul. Rock then proceeded to joke about Will Smith's wife, Jada Pinkett Smith, saying that he couldn't wait to see her G.I. Jane, referencing her shaved head. Pinkett was visibly upset by the joke as she has publicly stated that she suffers from alopecia, which causes hair loss. 
A few moments later, Smith went up on stage and gave Rock a hard smack on the face, to which Rock then said "Will Smith just slapped the s– out of me." Smith goes back to his seat and although the audio was cut out, Australian telecast showed that Smith cussed Rock out and yelled, "Keep my wife's name out of your f– mouth!" During the commercial break, actors Denzel Washington, Tyler Perry, and Bradley Cooper consoled Smith, who was allowed to stay for the remainder of the ceremony.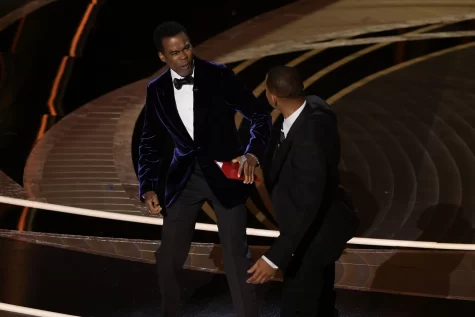 Rock did not file a police report on Smith. However, on Monday evening, Smith publicly issued an apology to Rock, the Williams family, and the King Richard crew for his inexcusable behavior. The Academy has announced that they are currently looking into the issue and condemns Smith's use of violence. 
A wide variety of responses about the insane assault on live television have shown to be on two sides of the spectrum. Many are taking to social media, saying that Smith was in the wrong as he shouldn't have slapped Rock in the face and that Rock is just a comedian who makes jokes that can sometimes be edgy. On the other hand, many believe Rock is in the wrong as his joke was out of hand and Smith was protecting his wife. Regardless, we can all agree that Will Smith punching Chris Rock on live television is one of the craziest moments in Oscar history. 
So yea… That just happened. There is never a dull moment at the Oscars. I must admit though, Chris Rock did take that slap like a man because that looked very painful. 
Although this fiasco was the biggest moment of the night and probably of all time, there were still some notable and historic wins on Sunday that should be recognized. Firstly, Ariana DeBose wins the Oscar for Best Actress in a Supporting Role after her work in West Side Story. DeBose becomes the first openly queer person of color to win an Oscar. DeBose, who plays Anita in the film, was predicted to win the Oscars this year and she has led every other award show, which was deservedly so as her performance as Anita blew my mind away. DeBose steals the spotlight from the main character through her electrifying dancing and singing and yet, brings us to tears with her amazing acting. DeBose dedicated her award to those who struggle with their identity.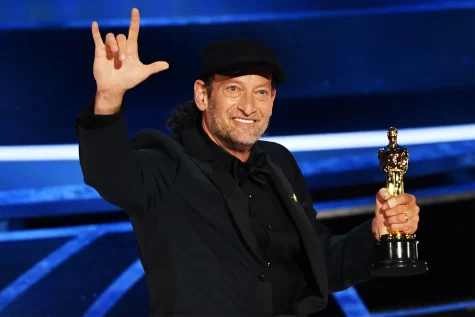 Next up, Troy Kotsur wins the Oscar for Best Actor in a Supporting Role after his role as Frank Ross in CODA. Kotsur becomes the first deaf person to win an Oscar in this category and is only the second person ever to win an Oscar. Kotsur's role in CODA was phenomenal as he is able to bring us into the world where deaf people struggle to get through everyday life through his diverse range of acting.
Although I was rooting for Kodi Smit-McPhee to win, I knew Kotsur had it in the bag and was glad to see the recognition he deserved. In a very touching moment, the audience gave Kotsur a standing ovation while waving their hands to show their support for Kotsur. 
Lastly, in the list of history-making winners, Jane Campion wins the Oscar for Best Director after her work in The Power of the Dog. Campion makes history as being the third woman to win an Oscar. Her work in this film was riveting and awe-inspiring, capturing the essence of a western film in a slow paced timing but filled with exceptional acting from Benedict Cumberbatch and Kodi Smit-McPhee. Campion, who received backlash a few weeks earlier after some controversial remarks towards Venus and Serena Williams, gave an appreciative speech towards the cast and thanked everyone who worked on the film. Campion absolutely deserved her win this year in her remarkable film. 
Okay, so a lot of history was made this year from these winners. But there were some notable wins that although did not make history, shouldn't go unnoticed. 
Jessica Chastain won Best Actress in a Leading Role. I thought that this category was going to be the most exciting category as it is filled with a stacked list of talented nominees who have a chance of winning an Oscar. In my opinion, I thought it was between Chastain and Kristen Stewart, but I'm glad Chastain won as she gave a show-stopping performance after her role as Tammy Faye in The Eyes of Tammy Faye. Chastain has been nominated three times and I guess third time's a charm as she definitely deserved this win. 
Despite the craziness surrounding him, Will Smith won the Oscar for Best Actor in a Leading Role as Richard Williams in King Richard. After watching Smith's performance as Richard Williams, the father of tennis superstars Venus and Serena Williams, I knew he was taking home the most coveted award in Hollywood as he gave such a flawless performance filled with compelling and powerful emotion. In his tearful speech, he talked about Richard Williams, calling him a fierce defender of his family. "Art imitates life; I looked like the crazy father, just like they said about Richard Williams. But love will make you do crazy things," Smith said. It was very evident that during his speech, Smith tried to defend himself after his earlier attack, apologizing to the Academy and the other nominees, but failed to apologize to Chris Rock. Despite the craziness, Smith absolutely deserved the Oscar after his smashing performance. 
And of course, I can't forget about CODA winning the Oscar for Best Picture. CODA takes home the prize of the night in a historic win as they break the streak of becoming the first streaming film to win Best Picture. Usually, CODA, a feel-good film, typically doesn't win Best Picture as the Academy tends to favor theatrical and dramatic films, so it was a nice change for CODA to win. CODA dives into what it is like to live in the world of the deaf community and it was nice to see deaf representation in Hollywood. 
Overall, I thought this year's Oscars was a complete success. Every single winner deserved to win for their incredible performances. Dune took home the most Oscars this year, winning all six of their nominations. All of the wins was totally deserving as the film is a masterpiece. I was surprised to see The Power of the Dog completely shut out from this year's Oscars. Well, I guess you win some and you lose some. But of course, what is the Oscars without some iconic moments? So here are some of my favorite iconic moments from this year's Oscars: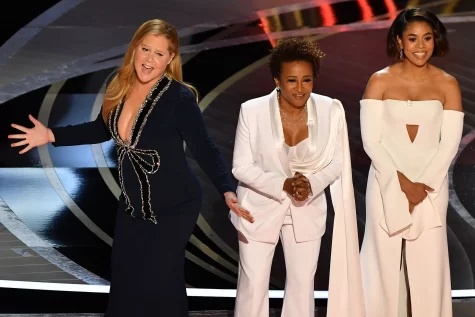 This year's hosts was a complete switch-up from the past. Wanda Sykes, Regina Hall, and Amy Schumer were this year's hosts after years and years of men hosting the Oscars. I was a little hesitant that these three would not do a good job hosting this year as they don't have much chemistry. But I was pleasantly surprised as the three gave some controversial jokes but delivered in a very hysterical manner (maybe they should give some tips on how to properly deliver jokes to Chris Rock). Their lively presence graced the theatre and was overall very enjoyable to watch.
Lastly, what are the Oscars without the iconic Red Carpet outfits? I was blown away by all of the amazing outfits from both the Red Carpet and Vanity Fair's after party. Many of the outfits were very extravagant and flamboyant, just like the Oscars. Below are a collection of some of my favorite outfits from the Red Carpet and the Vanity Fair after-party.
All in all, I thoroughly enjoyed this year's Oscars. Will Packer certainly delivered an extraordinary award presentation, ranging from the new and chic theatre setting to the hilarious presenters of each category. This year's Oscars has definitely raised the bar for years to come. I already can't wait for the Oscars next year! 
Check out the winners from the 94th Academy Awards here!