Meet Me At Midnight
A song-by-song look into Taylor Swift's record breaking new album, Midnights
October 28, 2022
It's no secret that Taylor Swift is one of the most successful, influential artists of this generation; consequently, when she released her newest album "Midnights" on October 21, she stirred up heavy amounts of publicity and excitement from the media. 
Midnights is Swift's first completely new project since the release of experimental sister albums Folklore and Evermore, which came out barely five months apart at the end of 2020. Since then, Swift has released two album rerecordings, Fearless and Red. Fans of Swift were excited to enter into a completely new era of music, since that's something they haven't experienced for almost two years. 
The wide range of the differing opinions surrounding Midnights is mainly due to the fact that it's completely different genre-wise from her recent content. Folklore and Evermore had a more alternative, acoustic sound to them whereas in Midnights, Swift returned to her more pop sounding realm, which can be found in her mid-2010's albums 1989 and Reputation. 
Midnights consists of 13 tracks on the original album, which Swift describes as "the stories of 13 sleepless nights".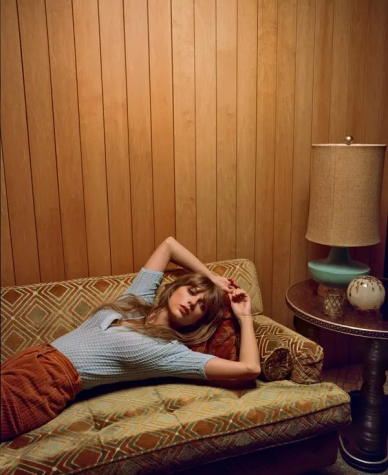 Lavender Haze: 8/10
Midnights immediately kicks off with an upbeat, fun pop song titled Lavender Haze. Fans have loved this one so far since it has a very similar sound to Swift's "I Think He Knows" off her 7th album, Lover. The song creates a completely new vibe for the album and builds anticipation for its upcoming tracks. In my opinion, this song would sound amazing in concert and be a great tour-opener. 
Maroon: 9.5/10 
The mood quickly changes for Midnights as Lavender Haze transitions into a darker sounding song titled Maroon. Upon first listen, Maroon wasn't a favorite of mine; however, the bridge of this song was what made me realize how well written and perfectly produced it really was. As Swift's voice drops and the music lowers, you can really hear the passion in her voice. The new, never-before-heard sound of this song makes it a solid 9 out of 10. 
Anti-Hero: 8/10
Anti-Hero is the first single from Midnights. It has received the most publicity out of all tracks so far and clung to the number one spot on top charts of both Spotify and Apple Music. Swift dives into her insecurities and past struggles with fame in the lyrics of Anti-Hero, making it a much more personal song. However, she manages to create a catchy bridge and chorus that turns a song with sad lyrics into one that has been overwhelmingly successful in just its first week of being released. 
Snow on the Beach ft. Lana Del Ray: 8/10
Snow on the Beach was arguably the most highly anticipated song off Midnights. It's Swift's only collaboration on the album, and with an artist lots of fans really love. Snow on the Beach has a very dreamy sound to it, and the lyrics tell a vivid story of the beginning of a relationship. My only major critique on this song is that I think Lana Del Ray should've had her own verse instead of just backing vocals, since the two have voices that blend so well together. 
You're On Your Own, Kid: 10/10
This song was the first 10/10 I noticed right away upon first listen of the album. Fans love it too; You're On Your Own, Kid has already gained popularity on Tik Tok in a trend where people put videos of all their favorite memories into one video. My favorite lyrics from this song is "Everything you lose is a step you take, so make the friendship bracelets, take the moment and taste it, you've got no reason to be afraid." Overall, my recommendation is that if you listen to one song from Midnights, listen to this one! 
Midnight Rain: 9/10 
Midnight Rain is the perfect night driving song. Upon first listen, I did not like this song because of the intro. It's nothing like Swift has ever released before, but it's definitely the type of song that will grow on you after a few listens. 
Question…?: 10/10
This song has the most catchy bridge and chorus of the whole album in my opinion. The beginning samples Swift's 1989 hit single "Out of The Woods" with the lyric "I remember". Question…? tells an emotional story of Swift's past relationships with a catchy background beat to it. Overall this is another one I would highly recommend because it captures the essence of what Swift's songs do: tell a story, have well-thought out lyrics, and end with a powerful bridge using lots of drums and beat drops. 
Vigilante ___: 7/10
Track 8 of Midnights takes a sharp turn into Swift's bitter storytelling of a tale of seeking revenge. If this song wasn't on Midnights, it would 100% be on her 6th album, Reputation because of its darker, more mysterious feel. For many, this song is a top 3 pick. Though it isn't one of my album favorites, I think this song would be an incredible tour performance that a crowd would go crazy for. 
Bejeweled: 8.5/10
In my opinion, Bejeweled is one of the most fun songs Swift has ever done. It's an upbeat shift in the album and has a very catchy chorus that I find to be running through my head even when I'm not listening to it. This song is full proof of Swift yet again changing genre style and reentering back into pop music. 
Labyrinth: 9/10
Labyrinth is a beautiful song. It has the same dreamy sound as Snow on the Beach with a soft beat to back it. Labryinth is probably one of the slowest, saddest songs on Midnights, so it's a great choice for fans who enjoy her less pop-sounding music and enjoyed the music she released in Folklore and Evermore. 
Karma: 9.5/10
Karma can be grouped in with Lavendar Haze and Anti Hero for being some of the most upbeat songs on the album. This song name itself is so interesting because it was rumored that Karma could've been the title of one of Swift's unreleased albums in between 1989 and Reputation. Karma is a classic Taylor Swift comeback, revenge sounding song. Not only is it super catchy, the entire song is a metaphor and play on the word Karma. 
Sweet Nothing: 6.5/10
This is another one that many fans love, but still has to grow on me. Sweet Nothing is definitely a calmer track that is more focused on lyricism. It is a personal song to Swift, talking about her own long-term relationship with Joe Alwyn. Though it is a sweet song, I feel that it doesn't really fit the vibe of the album itself.
Mastermind: 7/10
Mastermind is the perfect outro song to Midnights. It samples the backing track of Lorde's "Supercut". The lyrics of the song sum up Swift's motive of making the album and her own inner thoughts. It ends the album on a great note and is placed perfectly on the tracklist. 
Altogether, Midnights entirely showcases the wide range of musical talent Swift holds. What stuck out most to me about the album was its variety and how each song has a powerful lyrical and musical buildup.
Yet again, Swift has broken worldwide records and dominated the charts with her music. Taylor Swift is back, and the people are ready for her!