Wolf of the Week: Shanna Hudgins
Shanna Hudgins led One Act to a NSAA Conference Title while simultaneously receiving an honor of her own.
December 2, 2022
Following her recent success in the One Act Conference Championship, Shanna Hudgins has been nominated as Wolf of the Week. Not only did Elkhorn North's One Act team bring home their first ever
EMC title on November 21st, but Hudgins was awarded Best Overall Actress. 
One Act is a play competition where you compete against other schools in the area and are ranked by a 3 judge panel. Performers get 15 minutes to set up their stage, 30 minutes to execute a play, and another 15 minutes to tear down their stage. 
Senior Jacob Hassler is a participant in One Act and is new to Elkhorn North this year; he believes Hudgins is a phenomenal performer with a wide skill set that allowed her to play her role flawlessly. 
"The way she is able to grapple onto a scenario and a character is honestly fantastic," Hassler said, "One thing is she has a really good southern accent and her character has a southern accent so it translates very well."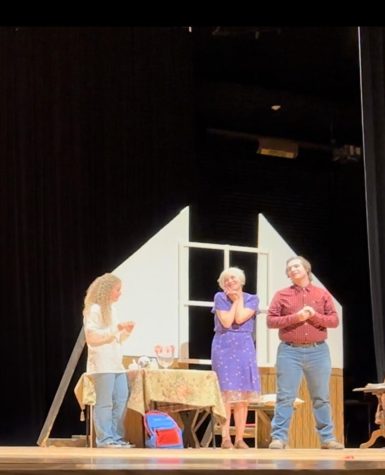 Hudgins has played a major role in One Act's victorious season so far as not only a performer but also a teammate and friend. 
"She is really funny, really kind, and a great person to be around," Hassler said, "She just brings energy that's needed for One Act. It can get kind of stressful especially when we go perform at other schools or we have a practice in the morning and I don't think there's ever been a single time where Shanna is a downer in the situation."
One Act is a  time consuming commitment as they tend to practice at least three times a week during their competition season, and this often-time overlaps with the Musical. Hudgins is one of several who participated in both, but she didn't let the stress affect her performance.
Junior Sammy Eckstrom played a role in Elkhorn North's rendition of Legally Blonde as well and had the honor of collaborating with Hudgins. 
"[Hudgins] Always shows up on time and puts in extra work," Eckstrom said, "She really commits to the role and tries everything she can think of…overall she just brings everyone together."
At last year's conference championship Elkhorn North placed last, so this year's victory marked significant growth for Hudgins and her whole team.