Wolf of Week: Andrew Nietfeldt
Freshman Andrew Nietfeldt stands out thanks to his dedication in the classroom and on the golf course.
Transitioning to a new environment can be extremely difficult, especially for freshmen as they adjust to a new building and mature into high school students. Freshman Andrew Nietfeldt has accomplished this challenge and has therefore been chosen as this week's Wolf of the Week.  
Nietfeldt displays extreme dedication to his school work and his golf career, showing tremendous growth in the classroom and adapting to his new environment and conditions.  
"I think freshmen in general have a lot to learn when they get into high school, but that comes to everybody at different times," math teacher Chris Peters said.  "For Andrew, about half way through the year, he learned how to study for math, which some people are never able to do." 
Not only is Nietfeldt focused in the classroom, but he is also dedicated to the people around him. He is known to be driven, respectful, and kind to the those around him. 
"Andrew is a funny guy that makes everyone around him feel good about themselves," freshmen Landon Wolf said. "Sometimes he is a little shy, but once you get to know him, he is outgoing."
Outside of the classroom, Neitfelt works hard on the golf course, earning himself a varsity spot as a freshmen. 
"He is always out practicing and putting in the work, so he will be a really good player," sophomore Tyler Neitfelt said. Tyler is not only Andrew's teammate, but also his brother. 
Andrew Nietfeldt has made a place for himself and stands out at Elkhorn North among the freshmen class.
"Andrew has shown so much growth this year," English teacher Chloe Healy said. "This semester especially, he has been confronted with challenging new material and has worked really hard to make sure he has a firm grasp of it. He is doing his best work, and I'm really proud of him."
Congratulations to Andrew Nietfeldt, this week's Wolf of the Week!
Leave a Comment
About the Contributor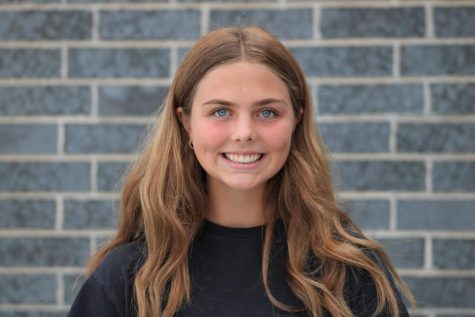 Grace Jesske, Reporter
Grace Jesske is a junior and this is her first year on staff. Outside of newspaper Grace enjoys playing tennis, running cross country and being a member of FCCLA and SADD.