Missed Opportunities
The Elkhorn North student section finally makes their first appearance.
Because of COVID-19, no students were allowed at the first four football games for Elkhorn North. Eastern Midlands Conference announced September 16th that 100 juniors are now allowed at home games. Thursday, September 24th, was the first time Elkhorn North Football had student fans. 
At the start of the season many people had hoped for a student section but that slowly drifted away as it seemed that would never happen. Coming upon the game Thursday everyone had different opinions on whether people would show up or not. 
Varsity football coach, Mr. Stanley, thought the 100 students selected would all come out to support them. In agreement with him Parker Mahloch, football starter, said "Yes I think students will come out because with a new school and program everyone wants a good and fun student section." 
Varsity cheerleader Seth Hofer and junior Grant Headlee thought differently. "I just think everyone knows it will be a different experience and won't know what to expect with COVID-19 rules," said Seth Hofer.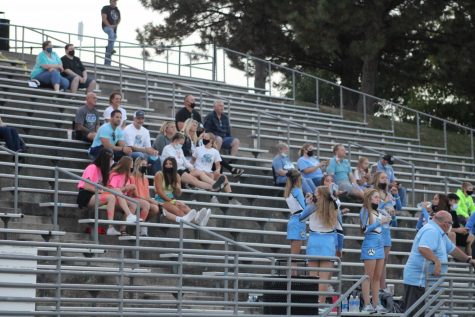 All Elkhorn North Juniors were sent a sign up to get the chance to be 1 of the 100 students allowed in the game. Only 32 juniors signed up so all of them were able to come sit in the student section, but only nine of them actually showed up and only four came dressed in the neon theme. Because of the low number of North students, they allowed several Elkhorn High students to come in.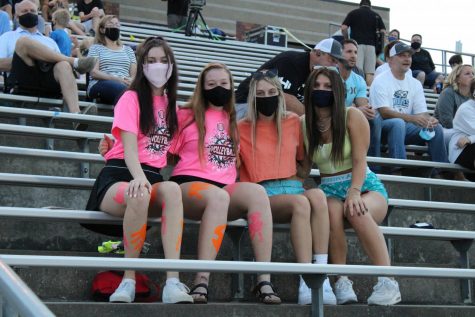 Parker Mahloch said, "We are used to not having a student section anyway, but it's just disappointing that when students finally got the chance to come out they still didn't." The hopeful side of him thought maybe some students were not able to make the Thursday game because of other sports going on, being out of town during the long week, or having previous plans. 
"I think a lot of the students just had a mind set of "No one else is going so neither am I"," said varsity cheerleader Chelsey King. The varsity cheerleaders were really excited to finally have people to cheer to. They were hoping to have a fun and loud student section but still said the people who came out were better than nothing. 
Junior Riley Wilson thinks the COVID-19 rules had something to do with no fans being there. All students expected to have to sit six feet apart which was partly true. If you were sitting just like the other fans allowed in you could sit near your friends but if you were standing as a student section you had to socially distance. The students who did go said it was fun being able to go with your friends but it's a lot better to have a big section to cheer with.
The next home game that allows students to come is October 9th against Mt. Michael. The plan as of now is to let all students, Freshman, Sophomores, and Juniors, have the chance to sign up and get a spot at the game. Mt. Michael and Elkhorn North both have records of 0-6 so it should be a close game.
The Elkhorn North student section finally has the chance to come back for the first time in history. There was a disappointing amount of students for the first home game. The football players, cheerleaders, dancers, and the band are hoping to see a full student section October 9th!