WHAT, LIKE IT'S HARD?
Senior Emily Miler channels her inner Elle Woods on stage.
The lights are dimmed, the curtains are drawn, and the audience waits in anticipation for the entrance of the Legally Blonde cast.
The auditorium transformed into Delta Nu Sorority house, the campus of Harvard University, and the hair salon "Hair Affair." Director and choir teacher Casey Allen selected the popular 2001 movie as the 2022 musical production.
The movie revolves around a blonde sorority girl named Elle Woods as she enters the world of Harvard Law School. Over the past several months, senior Emily Miller transformed into her role as Elle.
"When I looked at my notifications I realized the cast list was out," Miller said. "My jaw completely dropped and I was filled with pure excitement and then felt nervous."
Elle Woods is the epitome of a sorority girl and surrounds herself with everything bright and pink. Miller auditioned for Elle knowing she already had a lot in common with the naturally happy and outgoing, bubbly role.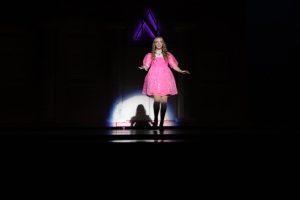 "A lot of my personality was already like Elle. We spent more time at the auditorium than at home and I kind of became her without trying," Miller said. "I was finally able to get into the headspace that these lines were Elle's, not Emily's. It was all a part I was playing on stage."
To prepare, Miller spent her after school hours working in the auditorium with Allen and then with a vocal coach to perfect her technique for her many solos throughout the show. She also made room in her schedule to study the original film.
"I can't even tell you how many times she watched the movie Legally Blonde," senior Sydney Keller said. Keller acted alongside Miller as fitness authority Brooke Wyndham.
Elle is a bit more sassy than sweet Miller who put in the hard work to bring Elle's spunky personality to life.
It was crucial for Miller to remain in good health through production and performing as there was no understudy cast for Elle.
"It is really tricky to cast a show of this size," Allen said. "We didn't necessarily have the number of students to put an understudy to every role, and we didn't want to bet on something happening to our cast – so we decided to work with whatever happens, and know that our students are talented enough and able to step up to the plate if we needed to put somebody in."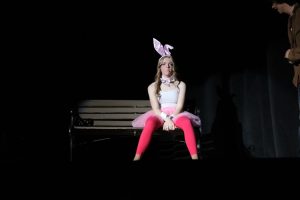 Miller used this as an extra boost of motivation to set good routines and maintain her energy while continuing to fulfill her duties in other parts of her life.
"I think something that was huge is that I prioritized small homework breaks so I didn't overwork myself and family time was so important," Miller said. "I also made it a priority to make sure I ate breakfast and lunch with lots of water to make sure that I was taking care of my physical health."
Cast members spent an average of four hours each day across ten weeks learning, practicing, and perfecting the show. This time commitment can be very physically and emotionally draining.
"I know this role has made Emily step out of her comfort zone a lot. She has truly grown into the role and been such a leader of our cast," Allen said. "I could not be more proud of how she has gotten into this character and how much she has grown as an actor, singer, and performer during this show."
Miller is a leader in the choir department; she has been a member of show choir each year of high school and was selected for the 2022 All State Choir.
"Emily was always nice and inclusive," sophomore Maddy Tillman said. "Being the lead didn't change that."
Opening night brings a lot of feeling for the cast: jitters, anxiety, eagerness, and excitement as they prepare to finally show off all they've worked towards over the past several months.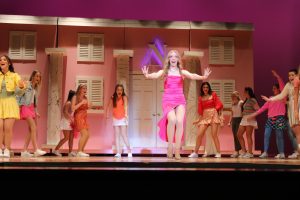 "It's exciting really," Junior Sammy Eckstrom said. "We finally get to perform for an audience instead of empty seats and we feed off their energy. Emily had her stuff down, and she was ready."
"Opening night was so nerve wracking," Miller said. "I have performed in front of an audience that big before, but never with all the attention all on me."
As the show ended, the audience rose to their feet clapping and cheering with excitement.
"I came into the dressing room crying because I was so proud of her," Keller said.
"Emily really brought Elle Woods to life and I couldn't imagine anyone else doing a better job," senior Bridget Swan said.
After giving her blood, sweat, and tears to this show, Miller said "I would do it all again in a heartbeat."
Leave a Comment
About the Writers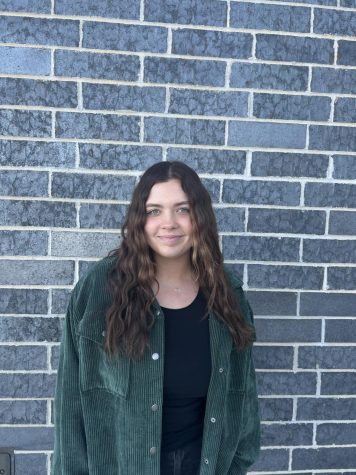 Mckenna Ostler, Editor-in-Chief
McKenna Ostler is a senior, it is her third year on staff and is working as the editor in chief. Outside of school she works at Trios Salon and loves going to heavy metal concerts.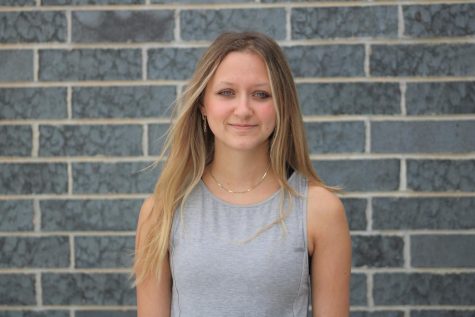 Ellie Kennington, Reporter
Ellie Kennington is a senior, it is her second year on staff and she is a reporter. Outside of school she works as a host at a restaurant and loves to shop.