Sharar the Speaker
Senior Cole Sharar has a unique passion driving him forward.
Walking through the halls of Elkhorn North, some students are easy to spot.
Senior Cole Sharar is one of them.
With a frame of 6'4", 300 pounds and constantly dominating on the gridiron, Sharar was a focal point of the varsity football team during his three years for the Wolves, playing left tackle on the offensive line and nose guard on the defensive line. Opposing teams certainly had his name circled when scouting the Wolves, especially this past season.
What many don't know about Sharar is that he has a passion for and perhaps a future in speaking and evangelism. The two go hand-in-hand for Sharar as he plans for life after high school.
"I haven't decided yet in terms of football," Sharar said. "Career wise, I plan on going to get a theology or pre-seminary degree, anything that has to do with becoming a pastor."
Sharar has known he wants to be a pastor for a while. His passion to do so has stuck with him throughout high school and remains strong as he makes his college plans.
"It was maybe three or four years ago I heard a sermon from Billy Graham," Sharar said. "It was incredible. There were thousands of people watching him and he was saying these very important things. He was sharing with them what I believe to be the truth of the world."
This experience was the pinnacle moment of his decision to pursue a career as a pastor. Being in total agreement with Graham's preaching, Sharar realized that he wanted to follow the same path.
"To be that person that gets to help people get through that, to give people the chance to know who God is, I just feel like that's the most virtuous thing a person can do," Sharar said.
Sharar also has a talent for speaking. Engaging with a crowd and sharing his beliefs and thoughts fascinate him. Many people struggle with public speaking; it's a tough task, but Sharar thrives when speaking to others. He is able to articulate his thoughts well and establish a meaningful presence.
In fact, he knows the exact moment he fell in love with public speaking.
"It was seventh grade and I was in Speech and Drama," Sharar said. "We had to do a project where we took a children's book and we had to act it out. So, I chose this old book, I think it was a Mickey Mouse book, and I did it and I loved doing it. I was so surprised at how much I liked practicing it and I liked telling the story."
His performance was so good that his speech teacher convinced him to try out for the play, and he obtained the lead role. This, combined with his passion for listening to sermons from pastors, developed his love for public speaking.
While becoming a pastor is his main goal, Sharar is still considering playing football collegiately as well. He has a unique perspective on football as it relates to Christianity.
"I think football is something that is one of the main representations of the Christian faith in general," Sharar said. "It's about going through hardship and it's an extremely mental game. You also have the brotherhood involved."
This way of thinking that football and Christianity intertwine will guide Sharar as he makes his future decisions.
Through school, football, and his desire to become a pastor, Sharar is accustomed to hard work. He can credit that to multiple aspects.
"It definitely started with my parents, no doubt," Sharar said. "Both of my parents are extremely hard workers and they instilled really good values in me."
His work ethic and morality have pushed him through the trials and challenges of life.
"Ever since around sixth grade, I've had a complete goal: I'm going to go to college for free," Sharar said. "I've kind of been riding that for a long time now."
In addition, Sharar recognizes another backbone to his hardworking mentality.
"Being a Christian too, that's definitely helped," Sharar said. "It's a strong core belief that you're supposed to work hard and good things will come."
Sharar's work ethic does not go unnoticed by those around him. His gritty mindset and consistent approach to life's daily encounters are easily recognizable by everybody.
"He's just the same guy every day," varsity football coach Sam Stanley said. "He works his tail off at everything he does whether it's school, football, or other activities that he's doing. I don't think he knows any other way than to just work as hard as possible and do everything that is asked of him."
While his college decision has not yet been made, it is certain that Sharar's passions will continue to carry him forward.
"On both the football field and the classroom, he strives for nothing but success," senior Billy Hendryx said. "He works the hardest I have ever seen a man work."
Leave a Comment
About the Contributor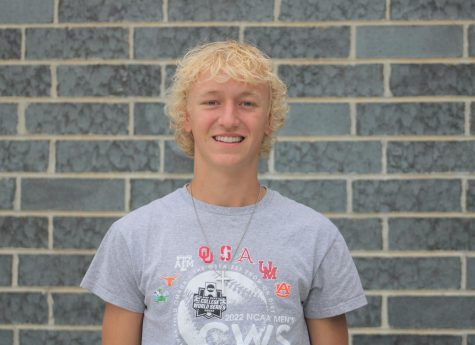 Caleb Polking, Sports Editor
Caleb Polking is a senior in his third year on staff. He's a STRIV guy and helps run the Howler's sports scene. He also loves to jump on desks and put peanut butter in the ceiling.