Women have increased their impact on society as we age into a new era of media focus. Young girls are empowered to be confident in who they are and not be held back by their gender.
Compared to past summers, women left their mark on the summer of 2023. Females have dominated various social aspects including sports, entertainment, and pop culture. 
———————————————————————————————————————————-
Volleyball Day at Memorial Stadium 
By Paityn Christoffels
Over the years, Nebraska football has had a massive fan base. No matter how many wins or losses, Nebraskans showed out for their team. On August 30, Husker Nation showed this same devotion to volleyball and broke a world record.
Volleyball Day in Nebraska has shown the support of Husker volleyball throughout the state. The event was held at Memorial Stadium where thousands of people arrived to watch the game at the center of the field. 
"It was pretty weird that there was a volleyball court at the center because it looked really small compared to the stadium," volleyball player Brooke Franzen said.
The event started off with Wayne State playing against the University of Nebraska Kearney, but the main event was Nebraska volleyball playing Omaha volleyball. 
"It was the most unique and amazing atmosphere I've ever experienced," volleyball coach Kaylee Prenisol said.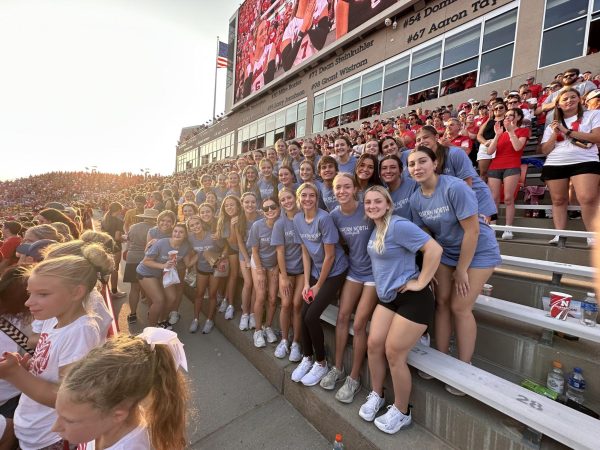 Fans filed into the stands and completely filled the stadium. There were 92,003 people in attendance. This is the biggest audience a women's sporting event has ever had. The world record was announced at the stadium that night.
"They used drones in the sky to spell out the number 92,003 in big red letters," Franzen said. "There was lots of cheering."
Fans in the stands went wild. Nebraska volleyball and women's sports were changed forever.
"It was super exciting to watch the volleyball team and be a part of the world record," sophomore Raisa Halwag said.
 As women's sports gain more traction, they become more competitive. This summer, sporting events like the Women's World Cup, the US Open in women's tennis, and Nebraska volleyball have shown this competition. The Nebraska volleyball team is now ranked #1 in the country after they beat Wisconsin on October 21.
"They are one of the most competitive programs in the country. There's always great players moving in and out, and they typically have a number one recruiting class most years," Prenisol said.
Many Nebraskans are huge football fans, but some people think Nebraska volleyball has begun to gain just as much attention.
"I think Nebraska football has been what Nebraska was founded on originally, and now there's been a shift in momentum of women's sports," Prenisol said.
"Barbie" Movie
By Kailey O'Brien
As the highly anticipated "Barbie" movie directed by Greta Gerwig hit theaters, no one could imagine the lasting impact it would have on society. Breaking numerous box-office records including the highest grossing film ever from a female filmmaker at the domestic box office, this movie put women on the frontline of the entertainment industry. 
"I was blown away by the way that they [the directors] were able to capture the complexity and so many important messages within the movie," English teacher Amber Sims said.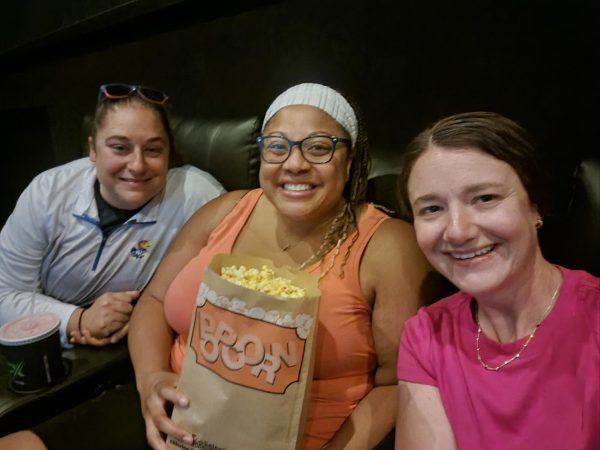 These messages brought the movie from fun and lighthearted to more sincere, as it deliberately addressed many complexities that women face, including some unrealistic standards that have been pushed as a result of the Barbie Doll by Matel. 
 "I just felt very seen because the movie expressed some of the struggles that women often go through, with either stereotypes or the unrealistic expectations we are held to," senior Anna Martin said. "The movie as a whole just made me feel less alone." 
No matter a person's age, the theme of the movie was clear; women need to lift women up because when they do, society, as a whole, can take a step in the right direction, even with the adversities that are a part of people's everyday lives. 
"We go through life and we know all of the challenges we [women] face but to have it articulated in such a way felt empowering and so that you didn't feel alone," Sims said. "I am excited to show my daughter the movie once she is 10 or 13 so the true meaning behind the movie doesn't go over her head, since it shows the struggles so beautifully." 
The Eras Tour 
By Grace Jesske
Growing to the largest female concert tour in history, artist Taylor Swift is a trailblazer in the music industry who changed the narrative for young women.
The concert series known as the Eras Tour, has been able to crush multiple different records including the most attended concert by a female artist. The tour is estimated to generate over $4.6 billion in consumer spending. Starting in March 2023, Swift traveled across 22 states and she will continue to travel worldwide until November 2024. 
The first sign of Swift's ability to change the concert industry was in November of 2022. Tickets for the tour went on pre-sale causing fans to scramble to Ticketmaster. In the end, the website crashed, leaving many in a panic to find tickets for a show several months away.
"Both of my parents were in queue on Ticketmaster all day," junior Lydia Pruch said, "After eight hours and spending the whole work day in line, my dad finally was able to purchase tickets because of his commitment." 
Fans remained dedicated to receiving a ticket for the tour and were willing to deal with the difficulties of ticket sale websites. 
In the past twenty years, Swift has produced ten albums in varying genres including, country, indie folk, and pop, showcasing her expansive career. During the Eras Tour, Swift performs songs from each of her different albums or "eras", hence the name Eras Tour.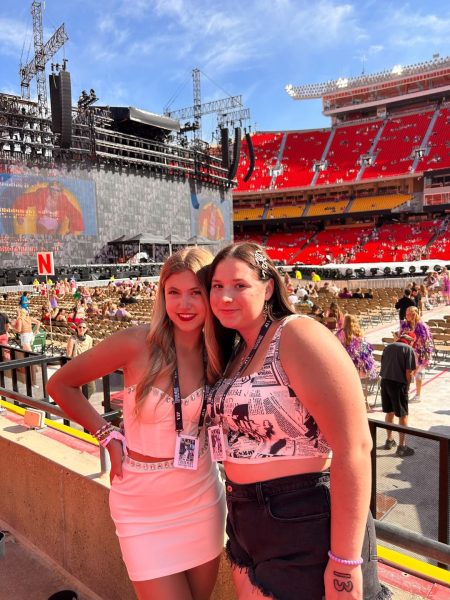 "She is just a trailblazer for doing a series with all of her albums," English teacher Shaylie Hollst said. "I think that a lot of other artists that have been performing for so many years are going to start doing something similar."
In order to include multiple songs from each of her albums, Swift's set list includes forty four songs, spanning for a total of three hours and fifteen minutes. She changed the status quo for the length of concerts and this genuinely excited her fans.
"She's just being herself and she's doing what she wants to do, and not letting other people stop her," senior Aubrey Jarecke said.
Continuing to set herself apart from other artists, Swift adds two unexpected songs not mentioned on her set list to each of her concerts. These songs are known as surprise songs and once one of these songs is performed, they will not be repeated at any further Eras Tour concerts.
"My favorite part of the concert was the surprise songs," sophomore Morgan Bitcon said. "You never know what she is going to play, which makes it more thrilling."
Swift has been able to dramatically transform her audiences lives through her most recent concert series and sparked new conversation in the media about young women empowerment. 
"Taylor is one of the first public figures to put a spotlight on what it is like to be a teenage girl," Hendryx said. "It is not just about her music, she makes it easy to feel connected to a greater cause and feel heard." 
Swift's words give a sense of inclusivity for young girls. She has changed the narrative for young women by bringing them into the forefront of different types of media.
"I feel like this year especially there has been a greater spotlight on female centered media," Hollst said. "I do think this can be really beneficial especially for young girls. I feel like they feel more celebrated and confident about who they are."
———————————————————————————————————————————-
In the summer of 2023 multiple records were broken by different women. Women came together to empower current and future generations to continue a momentum of confidence and courage to let their voice be heard.