COVID-19: The Musical
The Coronavirus has Affected the Music Department at Elkhorn North High School
Every aspect of life has been altered by COVID-19, but no one talks about how it has changed the music department at local schools.
"Our typical competition season was called off because of the number of schools that would be coming together for events, and the tight quarters of having buses for homeroom areas," said Mr. Matthew Rom, the instrumental music director at Elkhorn North High School. The change of the marching band season is one of the bigger changes that students have had to get used to.
Alexander Ellefson is in his third year of marching band and choir. "Marching band's competition season has been depressing but we're lucky that we had a chance to perform a show in the first place," said Ellefson.
 It is important to look at this year's schedule, and changes with a grateful heart and open mind.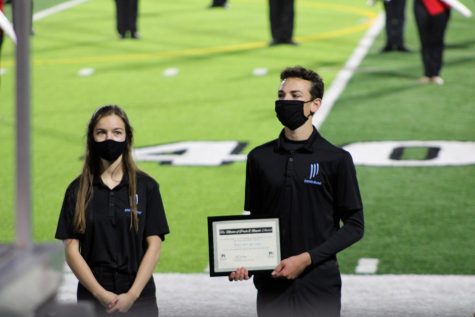 Rachel Simmons, the vocal music director, is in her 14th year of teaching. "I don't know what I was anticipating for this year.  I knew it was going to come with some hurdles.  I am so pleased that we are able to sing," said Simmons.
"The biggest struggle so far was in the beginning of the year when the choir room didn't have great ventilation yet, so we could only hum inside," said Ellefson. The choir used to have to travel to the tennis courts to sing, but thanks to new changes made, students are able to sing inside again, but with many more restrictions.
 "We are able to sing in the space for 30 minutes at the most, at which time we will move to an alternate location to either continue singing or work on other skills," said Simmons.
Students are already expected by the school to wear a mask, and stay 6 feet apart as much as possible. For choir students, all of this is just added on top of this. 
"In marching band, we aren't allowed to have uniforms and our band camp had gotten dumbed down to 4 hours a day instead of 8 hours a day," said Ellefson. These were some of the biggest adjustments students had to make. Cutting the band camp hours in half made learning the marching band show a much quicker process, but the band was able to pull it together. 
"So much of vocal music is listening, watching, and critiquing.  When students are wearing a mask, it is difficult to adjust their vowels. I have to rely much more on my ear than on the visuals the students are providing," said Simmons. There have been a lot of struggles and new methods used this year, but thankfully, things have worked out so far, and have been made more bearable.
"Outside of football games, we've taken part in two exhibitions, one with EHS and one with ESHS, to perform for each other and at least get part of the marching band experience," said Ellefson. Mr. Rom, with the help of surrounding band directors, was able to set up these exhibitions and football game performances to help make this year seem a little more normal.
"This year has been an exercise in realizing what I am grateful for," said Simmons. 2020 has been a very trying time for everyone, but it has been a good learning experience for not only the students in these activities, but also the staff.
"It's been very hectic, but it's been more enjoyable than I thought it might be. The slower pace and lack of competitions has allowed me the chance to have a fall with my family, which honestly is something I've never had," said Rom. Even though it can be difficult, people have found a way to see the good that has come out of this year