You Just Got Served!
A recap of the 2020 volleyball season
The Elkhorn North volleyball team just completed their first season on October 31, 2020. The varsity team played districts on Saturday against Waverly and got runner up. 
The 2020 season had many obstacles along the way such as the COVID-19 restrictions and the lack of seniors. Despite these reasons, head coach Jenny Gragert says that these reasons did not determine the outcome of the fantastic season the volleyball team had. 
"…COVID provided the largest challenge. It limited us from team bonding and although the mask wearing is something the team does without complaint, I feel it was an adjustment…" said Coach Gragert. 
When asked about how having no seniors has affected the team's performance, Coach Gragert said, "Having no seniors has had its pros and cons. Mostly it has been fun to see leadership development and emerge from young players." 
Sophomore Kailey Hrbek says that having no seniors made the team realize that everyone has to step up their game because this time, everyone on the team had to become leaders so that the team will be successful.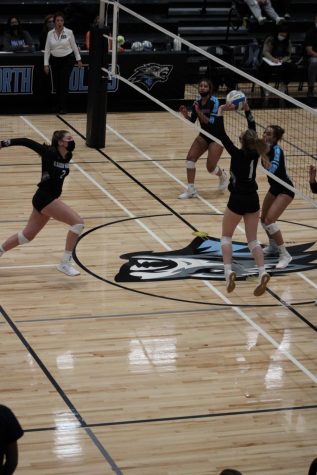 This year, the varsity team consisted of just sophomores and freshmen. On first thought, some people may think this is a negative. However, Hrbek, a varsity volleyball player who plays middle, has a different opinion about it. "I think it's fun to play with just sophomores and freshmen this year because there is no lead role … because there is no upperclassmen, but I do think it puts more pressure on us (the varsity team) that we have to step up and fulfill that spot." 
Having no seniors on the team and COVID-19 restrictions did not stop the volleyball girls from performing well. Sophomore Charlotte Christo says that the 2020 season went as planned, despite all of these obstacles. 
"The season went well because I think we have gotten farther than I thought we would. On Saturday (October 31, 2020), we (are going to) play in a district final game and I didn't think that would happen this season," said Christo.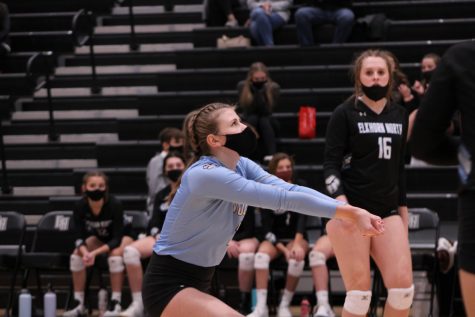 On a smaller scale, Christo says that she has been playing well, considering how she plays in both JV and varsity teams. When asked about a certain moment where she performed really well, Christo reminisced and said, "I forgot who we were playing, but it was in a tournament in Lincoln Christian and I did really well in that game." 
In another perspective, Anna Martin is a freshman, which meant that she faced a different atmosphere in volleyball, compared to her years prior. As her first year in ENHS, Martin gave positive feedback when asked about how she felt playing in a brand new school. 
"I like it (playing in a brand new school) because I feel that I'm given more opportunities (to play) at higher levels and I like being able to make our school look good. I also like the colors and the mascot in here (ENHS) rather than EHS," said Martin. 
Playing in the freshmen and JV team meant that Martin did not compete in districts this season, but that did not stop her and the rest of her teammates from having a great season. There were many factors that led to having a smashing season for the freshmen and JV volleyball team. When asked about what factors contributed to their pleasant season, Martin said, "Teamwork, communication, chemistry, and locker rooms, they are really fun!"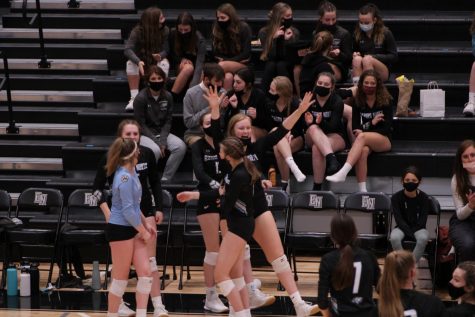 Members of the volleyball team all agree that the 2020 season was certainly one to treasure. When asked about their goals for the team next season, Coach Gragert says that she would like to continue to build onto the season the team has created. Hrbek and Christo agreed that their next main goal for the team is to hopefully make it to state next year and Martin's goal for the team next season is to have more bonding activities for herself and the team. Overall, the ENHS volleyball team has definitely set the standards for the years to come. 
Here is some advice for those who would want to join the volleyball team next year:
"
"I want players who want to be part of something bigger than themselves. They have to be willing to work hard, stay positive, accept their role and understand that the TEAM comes first." "
— Jenny Gragert
"
"Just give it your all. Don't hold anything back because the energy you put out on the court will show, and it will also help you.""
— Kailey Hrbek
"
"Do it because it is super fun. The coaches are super nice and so are all the girls on the team." "
— Charlotte Christo
"
"Do it. Volleyball is really fun. It's been a really fun time and I love the bus rides so much, especially when we come home from a team where we sweeped them, it's really fun.""
— Anna Martin