Big Man Has Even Bigger Plans
Junior Shan Acharya is currently going through the recruiting process for college football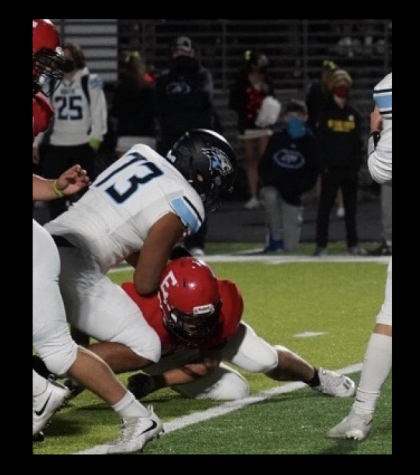 From quarterback to offensive lineman and a lot in between, one of Elkhorn North's premier athletes has made a name for himself in the school's first year. Shan Acharya, a football player in his junior year, has recently received his first two offers to play football at the next level: collegiately.
His excitement has been through the roof and he hopes to receive more action soon.
"It's the best and worst thing that has ever happened to me," Acharya said. "It's a lot of waiting and anxiety, but there are also a lot of positives. Overall, it's been really good though and it's been great hearing from schools that I would never expect to hear from."
Acharya has come a long way throughout his life to get to the stage he is now. His family originates from Nepal, and his dad came to America in the 1990s with little money. He worked hard to create a successful life and family, and he has made great leaps from where he started. 
Shan began playing flag football in kindergarten and did that until sixth grade, when he made the switch to tackle. For much of his childhood, Acharya was a quarterback…yes, a quarterback.
"Once third grade rolled around, that's when Taylor Martinez, Ameer Abdullah, and all those guys were at Nebraska," Acharya said. "So I started watching football and Taylor Martinez was the first player that really made me like football."
He made the change to tackle in seventh grade, where he played for Omaha Buffet's middle school team, and he didn't have a great experience. He was taken aback by all the hits that came with playing quarterback, and he even struggled to find passion for the game anymore. At one point, he even thought seriously about quitting. Then, the turning point came.
"The last game rolled around, and the defensive end got sick," Acharya said. "I told our coach I could try playing it, and he gave me the job." He went home and went straight to watching Randy Gregory highlights on YouTube. He ended up loving D-end and wanted to keep playing it.
Eighth grade rolled around, and Acharya started taking football seriously. His coach wanted him to switch sides and play on the offensive line, and he reluctantly did. It ended up being another big step in his football journey, as that ended up being his position of the future.
As he entered the high school field of play, Acharya moved into Elkhorn from Omaha Public Schools. He didn't see much out of freshman year, and even played defensive end again when sophomore year came. Coach Wortman gave him a few varsity opportunities here and there, and he made the most out of it.
As his junior year approached, Acharya finally settled into his spot as offensive tackle, and that's where he plans to be for the long run.
"I've had a pretty crazy journey, from a flag football quarterback to an offensive tackle now," Acharya said. 
In the first year of Elkhorn North, Acharya was a huge factor for the Wolves. He started on the offensive line and made significant improvements down the stretch of the season.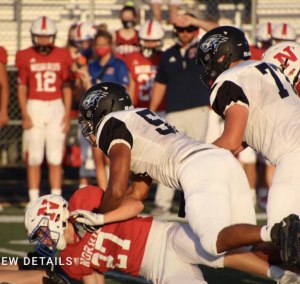 "Shan has been a tremendous leader for us and our program," head coach Sam Stanley said. "He's somebody that has bought in to everything we're trying to build and he's very coachable and willing to put in the work to reach success."
Acharya received his first offer from Wayne State on January 23rd. The second one came two days later from Chadron State. He's been through the long process of the early stages of recruiting and is finally moving to the next step which includes offers.
"My sophomore year was when I started talking to schools and sending my tape to coaches," Acharya said. "The first three schools that followed me were Wayne State, UC Davis, and Butler. It just went on from there, and I got advice from other guys who told me to get on Twitter and start building relationships."
Shan became the first male athlete at Elkhorn North to receive a college offer for athletics. His recent success in getting his first offers has received a lot of attention and Acharya is very happy about it. 
"At the end of the visit with Wayne State, the coach pulled me aside in his office and told me they were going to give me an offer," Acharya said. "It was pretty emotional because I went from a c-team quarterback in middle school to getting a college offer. Just to say, "wow, a college thinks I'm worthy enough to accept me", is surreal.
Shan has big plans, and is keeping his options open right now.
"Nebraska has been talking to me a good amount, which is the biggest one." The others he has been talking to consists of South Dakota State, Northern Illinois, Drake, Northern Iowa, Wyoming, a host of Ivy League schools including Harvard and Columbia, and even more.
Acharya has been continuing to work hard during the off-season as he prepares to make his senior season the best it can be. He is lifting with the football team and Xplosive Edge, a strength and conditioning program at Elkhorn Training Center.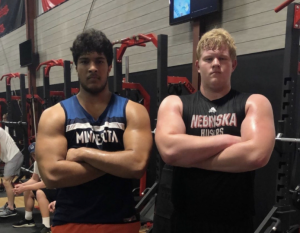 "Shan has the potential to play at the Division 1 level. He has the frame to put mass on and has the drive and work to get there," Xplosive Edge coach Gibbie Duval said. "If he can improve his balance, coordination, agility, and footwork combined with increasing his power and strength he can play major college football."
Acharya has hit many milestones and is enjoying seeing all his hard work pay off. However, this is just the beginning for him. He is working harder than ever both in the classroom and on the field to get to where he wants to be. 
From a flag football quarterback, to bingeing Randy Gregory highlights, to getting his first two offers after a successful season at brand new Elkhorn North, Shan Acharya has made himself a story to tell and can't wait to continue his football career.
Leave a Comment
About the Contributor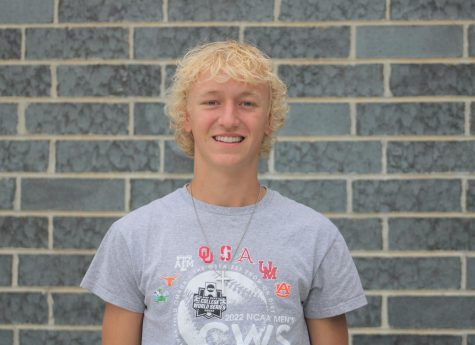 Caleb Polking, Sports Editor
Caleb Polking is a senior in his third year on staff. He's a STRIV guy and helps run the Howler's sports scene. He also loves to jump on desks and put peanut butter in the ceiling.