Too Icy For You
Recapping the 2020-2021 winter sports season
Despite the unpredictable Nebraska weather, the Elkhorn North winter sports teams have persevered through the distressing winter. All five sports have proven themselves that they are not here to mess around. Although most of the sports have just recently completed their seasons, many are already thinking about their goals for next year.
Sophomore Caleb Jefferson's main goal for next season is to qualify at state for boys swimming. Although Jefferson was not able to compete in state this year, he still had many accomplishments this season. 
"My biggest accomplishment was breaking 25 (seconds) in the 50 free," said Jefferson. "I thought that was pretty cool." 
This season, Jefferson was astonished by the performance the boys swim team gave. After many of the superb seniors graduated last season, Jefferson said that he was amazed that the swim team this season was able to recover from the loss of the seniors from last season. As a first year, Elkhorn North is placed at a disadvantage with no seniors in sports. Because swimming is the only sport in the Elkhorn district that features all three schools, the swim team has seniors that come from Elkhorn High and Elkhorn South. With the lack of seniors in sports this year, Jefferson realizes how important seniors are to the team because seniors are the ones who carry the traditions in sports.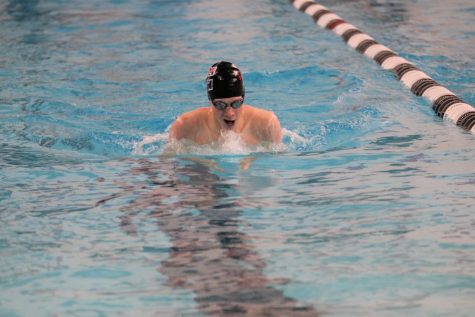 The swim team encompasses students from Elkhorn North, Elkhorn High, and Elkhorn South. Sometimes things can get quite competitive, according to freshman Avery Waszak. Waszak says that, as a swimmer, she hopes to have a good time on her events, and when she races against fellow Elkhorn athletes, things get competitive. 
Many athletes hope to go to state in their high school career and fortunately for Waszak, she has already accomplished this goal. 
"This year, my freshman year, I made state, which I did not think I could do but I ended up doing it. I thought it was a big accomplishment because I'm competing in an event which I have only swam three times this season," said Waszak. 
For next season, Waszak hopes to go to state again and to compete in more events and relays than she is currently. As a team, she hopes that more freshmen could compete at state and have more people join the swim team. Both the boys and girls swim teams competed at state prelims on February 26, 2021, and state finals on February 27, 2021, in Lincoln. 
Other than both swim teams competing at state, the girls basketball team has locked their places at the state tournament that will happen on March 3, 2021, in the Pinnacle Bank Arena. 
The first year Elkhorn North girls basketball team has defied many expectations by winning many of their games, despite not having any seniors on the team. They have only lost two of the 20 games completed so far. Certainly, the girls have made Elkhorn North proud. According to sophomore Grace Thompson, all of the girls have worked extremely hard to get this far. 
"We (the girls) would always be in the gym, even after a big win. We would get in the gym and work even harder to beat the next team and be the best we can," said Thompson. 
For Thompson, her biggest accomplishment this season is starting varsity as a sophomore. According to Thompson, during her freshman year, she would sit at the end of the varsity bench and would only play for a limited time. She believes that this season was a huge step up from last season. 
For next season, Thompson hopes to get better in all her fundamentals as a basketball player and she hopes that the team would continue to keep up the good work for next season.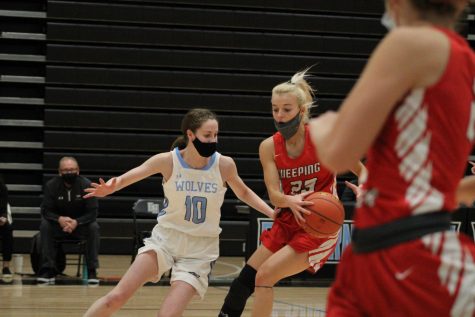 The boys basketball team competed in the district finals against Norris on February 27, 2021, but lost with a score of 62-41. Although the boys will not be competing at state this year, the team has had many memorable memories. For example, the boys basketball team had a winning record at home and they proved many people wrong for doubting them was a major accomplishment, according to sophomore Paxon Piatkowski. 
The boys basketball team has had many memorable memories, but Piatkowski recalls one that resonates with him.
"A memorable memory I have would probably be when Jack Lusk hit a winning shot against Blair, that was pretty memorable to me," said Piatkowski. 
Despite having their season completed very recently, Piatkowski has already made goals for himself next season. According to Piatkowski, he hopes to be a better basketball player overall and hopes to help out the team more next season.
Wrestling is the first sport in Elkhorn North to compete in state. One of junior Tyler Japp's accomplishments this season was to compete at state. Japp was the first and only wrestler to qualify at state this season. 
When asked about some of the accomplishments the team has achieved this season, Japp says that the wrestling team competed against some decent wrestling teams and they won against them, which was impressive for being a first year wrestling team. And with enough practice, Japp is confident that the team will be able to beat some pretty good teams eventually. 
With the season already over for the wrestlers, Japp has already made his goals for next season. 
"My goal is to compete and place at state next year," said Japp. 
The cheer team competed at state in Grand Island and they placed state-runner up. As for the dance team, they placed fifth in state. Despite being a small cheer and dance team, both have proven how mighty they are. 
As the winter season draws to a close, all the athletes have worked very hard to achieve their goals, especially being first year athletes. All of the athletes who competed this winter season have set the foundations for future generations to come. Good job to those all of those who have worked hard this winter season. And good luck to girls basketball team competing at state on March 3rd. 
Here is some advice for those interested in joining any of the winter sports:
"
Be ready to wake up early"
— Caleb Jefferson, Boys Swimming
"
Make sure you show up to practice everyday and make sure you are committed to doing it because if not, you won't get much out of it"
— Avery Waszak, Girls Swimming
"
Just try out for it. You never know. You could be an amazing player and you can find great relationships with the team and get closer connections with other people."
— Grace Thompson, Girls Basketball
"
You have to practice a lot. You can't pick up a basketball and be good at it. If you're going to be good at it, it takes a lot of time and effort"
— Paxon Piatkowski, Boys Basketball
"
You have to be committed. You have to be ready to cut weight, practice hard, and get ready to wrestle"
— Tyler Japp, Wrestling
Leave a Comment
About the Contributor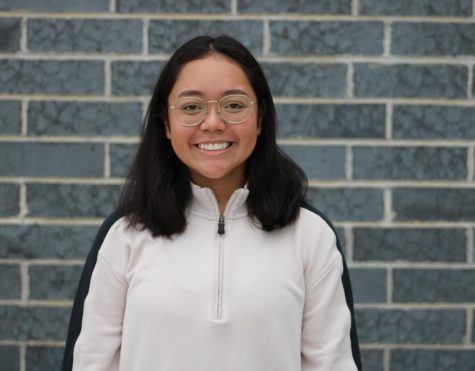 Tara Binte Sharil, Managing Editor
Tara Binte Sharil is a senior and the managing editor in the North Howler. This is her third year on staff and she enjoys designing the print issue. Tara loves to listen to rock and R&B.