1 Year Ago, Today: COVID Trends
Many new trends were popularized during the COVID-19 lockdown.
One year ago, all students were sent home from school into a lockdown. Little did we know then, but this would last the rest of the school year; and set the precedent for the next year.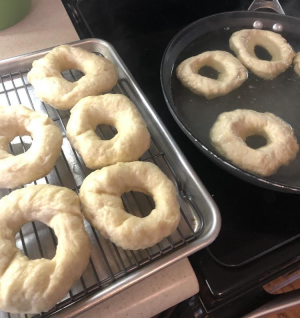 Since COVID has been around for one full year and most people were stuck at home, many new trends became popular to help pass the time. Along with spending more time at home, comes spending more time on social media. The app TikTok popularized a lot of these trends. 
First, many people tried baking cloud bread. Cloud bread is made of egg whites, and it has a very fluffy texture. Adding color to make it look more pleasing was also very popular, but overall, many did not like the bland taste. 
"Personally I've done a lot more homemade breads when we were quarantined," Foods teacher Laura Feller said.
Although Feller said she has never made cloud bread herself, her friend who is on the keto diet tried it. But, she prefers another keto dish called chaffles. It is made of eggs and cheese put in a waffle maker.
Next, whipped coffee, also called Dalgona coffee, was also extremely popular with time spent at home due to COVID. It is made with instant coffee powder, sugar, and hot water that is whisked then added to milk.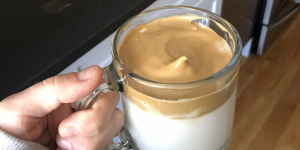 Coffee is already popular with teenagers, so this new recipe grew in popularity very quickly. Junior Claire Cyza tried this and said she really enjoyed it and would try it again. On the other hand, Feller said she tried it once, but would not make it again because she prefers regular coffee.
Charcuterie boards also increased dramatically in popularity. Charcuterie boards have cheese, meats, nuts, vegetables, fruits, crackers, and more laid out in an aesthetically-pleasing manner. Some people call them "Adult Lunchables."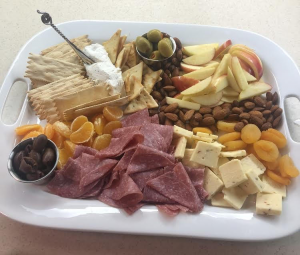 Feller said she has noticed charcuterie boards skyrocket in popularity. "I love a charcuterie board," Feller said. "I even do it for my family because I put fruit, vegetables, with maybe a hummus, and then fun cheeses, salami, stuff like that."
Outside of the kitchen, doing a ghost themed photoshoot was very popular for a short time. People cut holes in bed sheets to dress as a ghost, then took pictures with friends in them. It was a fun activity that doesn't take much effort or time to prepare, and allows participants to spend time with friends and get out of their house.
Cyza participated in this trend and said, "I loved the idea, I thought it would be so much fun, and a little public humiliation is a lot of fun."
Cyza and fellow junior, Marissa Navarro, dressed up like ghosts to go take pictures because they saw it on TikTok.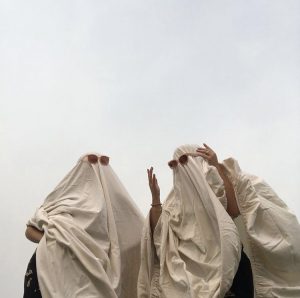 Lastly, biting into a Martinelli's Apple Juice plastic bottle was popularized because people claimed that it sounded like an actual apple being bit into. This was very hard to believe, which is how it became so popular. Some say it sounds like it, some say it just sounds like biting into plastic. Although, most people agreed the apple juice inside is very good.
Overall, many people got into cooking while stuck at home due to the pandemic, and although many do not realize it, this had a huge effect on local restaurants and businesses. 
"A friend of mine is a cake decorator at a popular bakery that makes bread, and they were running out of yeast," Feller explained. 
The company ended up having to ration their yeast because the demand was so high. Customers wanted the cake yeast to bake their own breads and cakes, and some big companies who buy bread flour from them were put at a disadvantage because the demand for ingredients at the bakery was so high.
When boredom and creativity mix, along with a social media app such as TikTok to popularize almost anything, many things became trendy over the past year. Whether it's in the kitchen making something such as whipped coffee, or out with friends dressed up in a ghost outfit like its Halloween people found interesting things to do while at home. Many people would call this last year dreadful, but the creativity and new trends that formed from it have been a great gain.
View Comments(1)
Your donation will support the student journalists of Elkhorn North High School. Your contribution will allow us to purchase equipment and cover our annual website hosting costs.
About the Contributor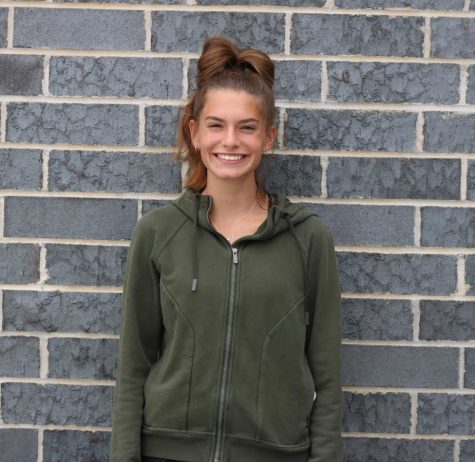 Sami Frost, Editor-in-Chief
Sami Frost is a senior at Elkhorn North High School. This is her third year on newspaper staff, and she is editor-in-chief. She is involved in cross country and track.