Girls Soccer: The Wolves vs The Antlers
The first season win for the girls soccer team against Elkhorn High.
April 27, 2021
On Saturday, April 3, 2021, the Elkhorn North girls soccer team had their first season win against the Elkhorn High girls soccer team. The Wolves beat the Antlers 1-0. This game was very memorable for the girls soccer program because it was the first win for Elkhorn North's girls team ever. The girls soccer team had a bit of a rough start to their season, but this game changed not only their winning streak but it improved their confidence and togetherness as a team.
Junior Michaela Fox was extremely nervous before the Elkhorn High game since she was playing against her old teammates and coaches. Playing her old teammates felt bittersweet, but it felt good to play because last year, due to COVID-19, the season was cut short, so she never really got to say goodbye. In another way, it was awkward for Fox when she had to switch her mindset from viewing her old teammates as friends to now seeing them as enemies. 
"I was on cloud nine after beating Elkhorn High. It felt great to beat our old teammates especially because they were rated higher than us, but it was also our team's first win of the season." Fox said. "There was no better team to get our first win from."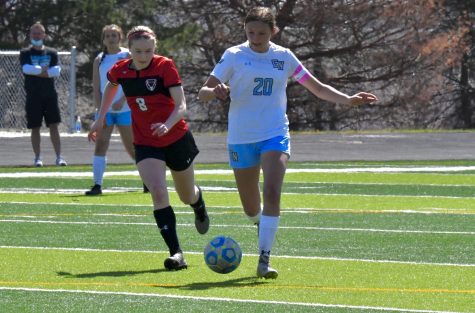 Sophomore Piper Connelly wasn't as nervous before the Elkhorn High game since she knew that their style of play would be similar to North. It was fun for Connelly to see how her teammates have progressed from last year. Connelly did feel weird having to defend the goal from old teammates instead of helping direct their plays like normal, but overall it was fun because she pushed herself to win against them.
"I think we played very well. We kept our composure on and off the ball and built each other up. It was a really good Morale booster for everyone," Connelly said.
From a coaching standpoint, Head Coach, Troy Stoller, believed that the girls played their best game of the year against the Antlers. Beating the Antlers was a significant moment for Stoller since he spent 14 years coaching at Elkhorn High. 
"I was more excited about getting that first win of the year. We put ourselves in a hole by going 0-3 the first three games and having those games being 1 goal games, so it was nice for us to get the big win," Stoller said.
Not having seniors this year has made it somewhat difficult for the girls soccer team, but the girls have determination, dedication, and persistence that makes them successful. Fox and the other juniors on the team have had to step up into the leadership role due to the lack of seniors on the team this year. Connelly thinks that it's difficult not having seniors this year because a lot of teams have seniors who have more understanding and experience of the game. No matter who the Wolves play against, they're still able to win games and defeat their opponents regardless of the other teams having seniors.
Stoller has no doubt that the girls soccer team can do anything when they put their minds to it in order to be successful. The team has had to face many challenges this year like starting a new soccer program for the school, COVID-19 policies, adjusting practice plans, and playing against other schools. Stoller sees plenty of leadership throughout the team from people who are at all levels of play and age. There are so many good players leading in different ways who better the team to be more like a family.
As the soccer season continues, Connelly is looking forward to winning more games. She hopes that team can get enough wild card points for a chance to play state. Fox is looking forward to watching the freshmen and sophomores improve. This year she has seen so many improvements from her talented teammates and she can't wait to see how far they'll go in the future. 
When describing the Elkhorn North girls soccer team Connelly and Fox both stated that the best word to describe the team is "Family". "I believe that the team has good chemistry and though there may be occasional fights they don't change the overall fact that we are one team and will have to fight that way to win games," Connelly said.
On the other hand, Coach Stoller would describe the team as entertaining. "I'm always laughing at someone during our games or practice. We have a fun, weird group of girls that make every day absolutely amazing," Stoller stated. 
The girls soccer team has been working hard to make history and build a strong foundation for the future generations of Wolves. "I believe the team has laid a great foundation for the future. The team chemistry is better than any team I've ever played for, which is especially rare in high school soccer because all players come from so many different social circles. The team also (while we may complain occasionally) actually works extremely hard from JV and Varsity players. I think if the same mentality is kept Elkhorn North Girl's Soccer will continue to do some great things, and be a great family," Fox stated.