B-Dot's Album Review: Slime Language 2
Young Thug dropped a new album "Slime Language 2" and it did not disappoint.
On April 12th, 2021, Young Thug announced that he will be releasing an album on April 16th, 2021. He posted a picture on his Instagram account of the album cover with text that read "Slime Language II". Fans were ecstatic and were excited for the release, and they had good reason to be excited. 
To start off, the album has an insane amount of features that include some of the biggest names in the music industry:. Such as Drake, Lil Baby, Gunna, Travis Scott, YNW Melly, Lil Uzi Vert, Lil Keed, Future, Kid Cudi and many more. It's rare to see this many stars collaborating in the same project. The album has 23 songs and is 1 hour and 15 minutes long.
The album starts off with a song with a hype beat called "Slatty" featuring Lil Duke and Yak Gotti. Although this song isn't as loved as much as other songs by fans, I think this was a great way to start the album. It really got me excited for the rest of the album at the time. 
The next 6 songs in the album are the most popular in the album according to Apple Music. The second song of the album "Ski" features Gunna. This isn't the first time Young Thug and Gunna have collaborated as they have many times in the past. With the great beat, Young Thug and Gunna have a lot of chemistry in the song as they compliment each other very well. 
Next song, "Diamonds Dancing" featuring Travis Scott and Gunna, is probably the most popular song as of right now. Travis Scott has not released anything since last year when he released single "The Scotts" during the first quarantine. Again, Young Thug and Gunna compliment each other very well and adding Cactus Jack into the equation just made the song complete. The song is my personal favorite and has the right being the most popular. 
After listening to Travis Scott, the album flows into "Solid" featuring Drake and Gunna. Earlier this year, Drake released "Scary Hours 2" so it hasn't been too long since we have heard a release of his. Drake is known to be the face of hip hop as of right now, and his talent is undeniably great. Although he is great alone, when he is featured, he is amazing. The song is overall great and I enjoyed it very much. 
Two other songs I enjoyed were "Paid the Fine" featuring Lil Baby and YTB Trench and "Proud of You" featuring Lil Uzi Vert and Yung Kayo. Lil Baby and Lil Uzi are both amazing artists and both performed well in their individual verses. Though I don't think this was their best work, I really enjoyed the songs. 
One song that disappointed me was "Superstar" featuring Future. It was very surprising because I usually enjoy listening to Future, but this song was definitely not his best. He tried taking on some different style with a higher pitched voice and I didn't really enjoy it. I was excited to see he was on the album but was disappointed with the outcome of the song. 
There were many more good songs on the album but these were just the most popular and my personal favorites. Some honorable mentions were: Really Be Slime, Take It to Trial, My City, and Moon Man. 
Overall, the album had some really good songs and some disappointing songs. Despite the disappointments in the album, I really enjoyed it. It was really cool to see all of these artists to come together onto one project and come together. 
Rating: 7.5/10
Leave a Comment
About the Contributor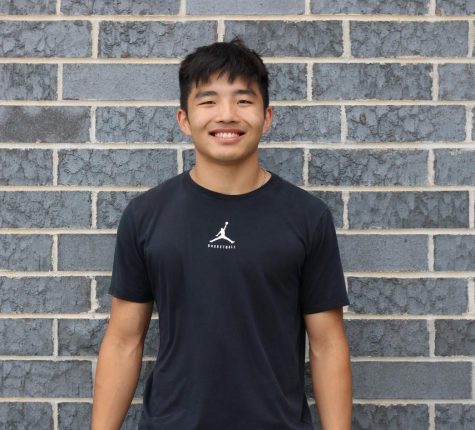 Brandon Orgilbold, Reporter
Brandon Orgilbold is a senior and it is his second year on the North Howler staff. He loves to play basketball, watch anime, and spend time with his friends and family.