Top Ten Sports Movies
A ranking of the top 10 best sports movies
Through determination, grit, perseverance, and maybe a little comedy here and there, the teams and individuals of athletics have forged their stories, both real and fictional, into sports movies. Sports movies have become a pinnacle in cinema and have essentially become their own genre. Some are based on true, remarkable stories. Others aren't real stories and may be more on the comedic side. No matter what, there is a long list of sports movie masterpieces that deserve recognition. Here is my ranking of the top ten best sports movies of all time. 
10: Moneyball (2011)
Released in 2011 but taking place almost ten years earlier in 2002, the baseball hit Moneyball strikes first on the list as a bit unusual compared to everything else on the ranking. Based on the 2002 Oakland A's season, Billy Beane (Brad Pitt), is the general manager of a small market team that is one of the worst in Major League Baseball. However, Beane, with the help of a nerdy baseball statistician named Peter Brand (Jonah Hill), work together to bring the A's out from a deep hole to become one of Major League Baseball's premier teams. It's an incredible story of a small club outsmarting the larger dynasties, while on the smaller scale, Beane also overcomes internal struggles with finding self-worth, resolving family issues, and more. With that being said, it focuses on more of the logistics of team building than the players that were a part of the miracle season, so if you are someone that isn't big into front office aspects, this might not be for you. No matter what though, this movie has a way of causing goosebumps every time you watch it.

9: Happy Gilmore (1996)
Being a sports comedy and not much of an inspiring story as the rest of these will be, Happy Gilmore is a true Adam Sandler hit. Sandler's character, an unsuccessful hockey player, finds out that his grandmother owes hundreds of thousands of dollars in back taxes, and must pay off the balance on her mortgage. Happy soon finds out he has an unusual talent in golf as he can hit a ball over 400 yards. He begins challenging local golfers and winning money. As he enters the professional tour, he is countered by pro golfer Chubbs Peterson, who dislikes Happy for his lack of traditional golf playing styles. The two become rivals and Happy develops a romantic relationship with the tour's public relations head, Virginia Venit. Eventually, after striking a deal with Peterson, Happy wins his grandmother's house back after defeating the arrogant Peterson. Happy Gilmore is never short on laughs, but don't go into it expecting to get the emotional aspect of a traditional sports movie, because Happy Gilmore doesn't have that.
8: Glory Road (2006)
When newly appointed basketball coach, Don Haskins (Josh Lucas), heads to El Paso to coach Texas Western College, things change drastically. Glory Road is a true story based on the 1966 Texas Western Miners who ended up winning the NCAA college basketball national championship despite insurmountable odds. And along with this, it was one of the only teams of the time that integrated both blacks and whites onto one team. The team starts outs slowly by winning games locally in stunning fashion. They began getting national recognition, but hatred was mounting as well. Eventually, the Miners, under Haskins' brilliant leadership, advance all the way to the national championship, where they face a seemingly impossible test against a perennial powerhouse in Kentucky. However, the Miners pull off the upset yet again to win it all. It's an amazing story of players of different races and backgrounds coming together with a common goal and becoming the greatest team in college basketball. It's also an inspiring story of an underdog team that took down the much larger Kentucky. Even non-sports fans will find this one a masterpiece.
7: Field of Dreams (1989)
While fans wish this movie was true, the 1989 baseball sensation is unfortunately fictional. However, it creates such high emotion that viewers feel they can almost tap into the movie and live it out. Ray Kinsella (Kevin Costner), a farmer living with his wife and daughter in small town Dyersville, Iowa, hears voices in his head telling him "if you build it, he will come." Kinsella at first has no idea what this means, but as time goes by, he has a vision and realizes that if he builds a baseball field in his backyard, then the great "shoeless" Joe Jackson, who actually did play baseball in real life, will get to come back from dead and play again. Kinsella's vision becomes a reality and Jackson, along with other ball players from the past, come to his field out of the corn on his farm and play baseball. Kinsella goes on a large journey after hearing more voices and travels over the country helping former author Terrance Mann find self worth, helping another former baseball player, Archie Graham, live out a dream that was cut short, and having the ultimate reuniting with an old friend at the end of the movie. This hit has received praise over the years and speaks to baseball's ability to bring people together. Everyone of all ages can find enjoyment in Field of Dreams.
6: Rudy (1993)
The ultimate inspirational sports movie. Rudy is based on the true story of Daniel (Rudy) Ruettiger (Sean Astin) living in a poor family in Illinois during the 1960s. His dream, like every young boy during this time period, is to play football for the great Notre Dame. However, he lacks the size and athletic abilities, and his family lacks the money for him to even have a shot at playing for the Irish. However, this doesn't stop Rudy, as he walks on at Notre Dame with the goal of getting in at least one play in a game. He embarks on the seemingly impossible journey as he faces doubts from coaches, players, and his family, extremely hard work against players on the football field, the death of his best friend, and a coaching change that almost keeps him from reaching his goal. Rudy perseveres and shows he is an unbreakable iron wall that will overcome anything that gives him a push. Rudy is a must watch and is an appeal to all the athletes out there that worked out of their minds to make their dreams come true.
5: Miracle (2004)
In the midst of the frightening Cold War, the United States experienced an unlikely victory from unlikely heroes. Miracle is based on the true events of the 1980 Olympics. Prior to 1986, the U.S. didn't use professional athletes for the Olympics and instead resorted to college players. The movie follows Herb Brooks (Kurt Russell), the U.S. hockey coach as he leads a ragtag group of college athletes against some of the best hockey teams in the world, including the mighty Soviet Union. Brooks and his team encounter both external and internal struggles as they forge a successful team and begin to subvert everyone's expectations by defeating countries in the Olympics, and eventually downing the Soviet Union to win the gold medal. It's a story of pure determination as the underdog beats the powerhouse, and I would recommend this movie to everyone.
4: Hoosiers (1986)
Set in 1951 in the small, fictional town of Hickory, Indiana, Hoosiers is loosely based on the true story of the miracle basketball season pulled off by Milan High School in Indiana in 1954. In Hoosiers, Norman Dale (Gene Hackman) arrives in rural Hickory as the new head coach of the boys basketball team. The school can barely produce enough players to make a 5 man squad, and Dale and his team struggle at the beginning of the season as they can't get along, parents don't trust Dale, and the assistant coach must take leave for an illness. As the season goes on, however, Dale recruits Hickory, and maybe Indiana High School basketball's, best player. Dale barely gets out of being fired and he and his team, along with the energetic community, rally together and begin winning games left and right. The team pulls off the unimaginable and takes home Indiana's greatest prize: the state high school basketball championship. It's an incredible story that shows any team, no matter how small, can accomplish great things.
3: Rocky (1976)
The Rocky series has been widely acclaimed as one of the best movie series of all time, which is undeniably true. There are six Rocky movies, and two spinoff sequels: Creed I and Creed II with a third Creed movie set for 2022.  However, it's hard to argue that the original 1976 masterpiece isn't the best one. Rocky Balboa (Sylvester Stallone), is an uneducated, working class citizen living in a rough part of Philadelphia, who by coincidence fights heavyweight champion Apollo Creed. The story is somewhat based on Chuck Wepner, who almost defeated Muhammad Ali. Rocky has practiced boxing for years in small gyms and garages, but is a severe underdog when it comes to fighting Creed. Rocky is trained by Mickey Goldmill, a former fighter, and becomes a formidable force in the boxing ring. He eventually takes on Creed in the ring, to attempt to win $150,000 and prove that he isn't just a nobody living on the streets. The story shows Rocky has an unlimited amount of perseverance and he doesn't give up. Rocky also has a romantic relationship throughout the film as well. It's a must see for all people.
2: The Sandlot (1993)
Just some boys, a bat, a ball, and an open lot with endless memories. The Sandlot hit theaters in 1993 and was instantly loved by everyone. It's a fictional story about a group of boys in Los Angeles in the summer of 1962 as they play baseball at an open sandlot every day. The main character, Scott Smalls, or commonly known as "Smalls" moves with his parents to the Los Angeles suburbs and has difficulty making friends. When he winds up at the sandlot one day, he joins in with the 9 boys already there, but is embarrassed by his lack of baseball talent. The boys make fun of him except for one: Benny Rodriguez. Benny decides to give Smalls a chance and helps him improve his baseball skills. Smalls soon becomes part of the "team" and the adventures begin. The boys encounter new experiences every day, including playing a rival city team, far-fetched romance with a lifeguard, and even losing a baseball signed by Babe Ruth to a ferocious dog across the street. It's a packed movie with adventures, comedy, and baseball that you can't miss.
1: Remember the Titans (2000)
When it's all said and done, you can't go wrong with having this absolute brilliance of a movie as your favorite sports movie of all time. Remember the Titans is based on the true events of T.C. Williams High School's historic 1971 football season. Following the Civil Rights Movement of the 1960s, two segregated schools in Alexandria, Virginia combined into one: T.C. Williams. Herman Boone (Denzel Washington), a black man, moved from North Carolina to Virginia to be the head coach while Bill Yoast (Will Patton), who had coached the all-white school, became the assistant coach. Problems arise right from the start as the two coaches and their staff have trouble getting along, and the players aren't fond of each other. Additionally, the two star players, Gerry Bertier and Julius Campbell, disagree on everything. Boone puts the team through intense training in the preseason. Eventually, the team gets it figured out. The coaches and players begin to put their differences aside and work together to achieve a common goal. This team truly is forged through fire, and they put on a spectacular show for the fans during the season. It's a story about friendship, brotherhood, and bonding despite differences. The team goes through trials time and time again in which they must fight together. Remember the Titans is easily one of the best sports movies out there, and in my opinion, the best of all.
Honorable Mentions:
The Blind Side (2009), Bull Durham (1988), A League of Their Own (1992), Invincible (2006), Chariots of Fire (1981), McFarland USA (2015), 42 (2013), and The Rookie (2002)
Leave a Comment
About the Contributor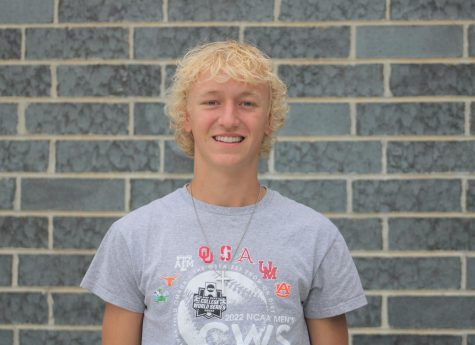 Caleb Polking, Sports Editor
Caleb Polking is a senior in his third year on staff. He's a STRIV guy and helps run the Howler's sports scene. He also loves to jump on desks and put peanut butter in the ceiling.