Football Fanatics' Main Event
With football season on the horizon, people prepare their NFL fantasy football teams
It's a Sunday afternoon, beautiful weather outside, and the TV flipping between channels, showcasing NFL games currently being played. That's a picture perfect Sunday for a football fan, and better yet, a fantasy football fan. The constant checking of their lineup is something fantasy football junkies will find themselves doing all the time, as this form of entertainment has circulated through America for over 20 years.
Fantasy football isn't exactly what the name eludes to. It's not "fantasy" players, rather, it's a fantasy or fake team. It's a team of real NFL players being run by a single person digitally.
This works by having an even number of players in a league, and everyone gets together and drafts players prior to the season. It's very similar to the way the NFL draft works. After players have selected their teams, they move people around to adjust their lineup in a way they believe is most fitting. 
Once the season begins, players are matched up against each other every week. There is a large scoring system that determines how points are scored. However, many leagues' scoring systems are different, depending on the discretion of the league manager. 
Players continue matching up against each other every week, and the team whose players score more points takes the win home for the week. In order to better improve their team, players can also trade with other players.  They can pick up free agents throughout the season on the waiver wire as well.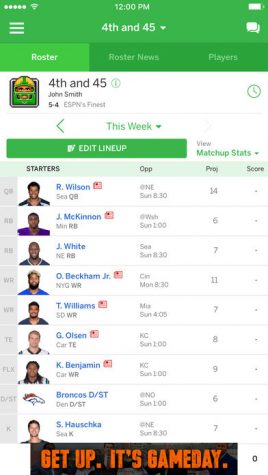 At the end of a fourteen week fantasy season (two weeks less than the normal NFL season), the league will have its playoffs, and that can carry on until the last week of the NFL season to determine the champion of the league.
Fantasy football has become a dominant source of entertainment during football season. Although fantasy basketball, baseball, soccer, and others exist, football is the most popular and well known form of fantasy sports. There is even a college football type, but because there is such a large number of players in college football, the NFL is much easier to follow. 
There are more than 40 million people in the U.S. that play fantasy football, which is roughly 12% of the country's population. The first official fantasy football league dates all the way back to 1962, but was relatively unknown and only played by a small number of people until the 1990s. ESPN began fantasy football in 1995, with CBS following two years later in 1997. Over the last 20 years, with the drastic increase in technology, fantasy football has become widespread across several different platforms.
Fans are excited for this season with the return of normalcy after an altered  2020 season. Many fantasy players had a difficult time last year with the constant benching of players due to COVID-19. This year, however, that should be a minimal aspect of the game.
Going into the 2021 season, players like Christian McCaffery, Davante Adams, Dalvin Cook, and Saquon Barkley are among some of the most anticipated and highly touted players. Drafts have been taking place over the past month, with these guys and many more getting high picks in every draft.
Just as fantasy football stretches across America, it's big here at Elkhorn North too. Junior Kyler Hanson has been playing for seven years. He took Saquon Barkley for the first pick of his draft. 
"We have money on the line and the loser has to wear a dress to school," Hanson said. Many leagues have punishments for the loser and incentives for the winner.
Junior Luke Hunsberger, another veteran of fantasy football, has been playing for eight years. This year he went the funny route, selecting three kickers. Only one kicker can be used at a time, and they usually don't score a whole lot of points, so this decision by Hunsberger would definitely raise eyebrows.
"My team is looking fantastic especially because of my three kicker situation just in case one gets injured (very common)," Hunsberger said.
For a player that wants to win, this is not a great fantasy football strategy. But for some, like Hunsberger, they're just in it for the kicks and giggles, and that's exactly what he did.
Unlike Hunsberger and Hanson, sophomore Brock Marler is a rookie of fantasy football, this year being his first year. Fantasy football takes time to learn, but Marler has been playing football his entire life, so it's not difficult for him to learn the ropes. 
"I am super excited because I think my football knowledge will carry me to victory," Marler said. "I have a fairly good team with plenty of x-factors who will score."
It's a game that encompasses both America and the world, bringing in people from everywhere. Fantasy football has had a sharp incline in users over the years and is more played now than ever before. And with the heat of football season underway, the NFL began its play on Wednesday, September 8, as the fantasy football world watches in anticipation for the season to come.
Leave a Comment
About the Contributor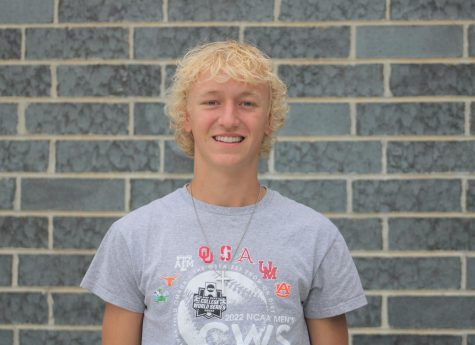 Caleb Polking, Sports Editor
Caleb Polking is a senior in his third year on staff. He's a STRIV guy and helps run the Howler's sports scene. He also loves to jump on desks and put peanut butter in the ceiling.