Student Spotlight: Bailee Rinn
Learn more about this athletes future on the diamond.
The senior softball player, Bailee Rinn, is not only a great student, but also a phenomenal athlete. Rinn has been preparing for college and she is in the first graduating class of Elkhorn North this year. 
Rinn is a hard worker and brings energy to the softball field. 
"Bailee has a strong work ethic, and is always looking to improve her skills," head coach Kelsey Maxell said.  "She is a role model for our younger athletes and a strong senior leader."
Her hard work and leadership is the reason for Rinn's success in school and on the diamond. The support of her teammates helps them succeed on the softball field. 
"Bailee is always very supportive when you make a mistake and is always there to help," teammate Jade Noonan said. 
Positivity and communication is key on and off the field, and Rinn displays this by talking between each pitch and positivity in the dugout, while other teammates are batting. Rinn as a player is a dangerous slapper to the opponent's defense. 
"Bailee has an incredible bat and dangerous speed," Maxell said, "When she puts the ball in play, she is an extremely tough out." 
As for Rinn, softball has influenced her life as a whole.
"Softball has given me an outlet where I don't have to worry or stress about anything except the game itself," Rinn said, "It's opened up many friendships and opportunities that I would have never expected." 
Bailee is an influential softball player who is also preparing for her college plan, which is not too far in the future. 
"I plan on playing at a smaller school (JUCO or NAIA)," Rinn said. "I am debating between some colleges but I won't commit until after this season so I can revisit some schools."
Although she doesn't have an exact plan of action for college, she is well prepared to be a successful student-athlete. 
"Staying on top of my grades has prepared me the most for college," Rinn said. "While going through many application and recruiting processes, it's made clear that everything revolves around grades. Doing campus visits also helps with the decision aspect." 
Making her decision for college will be a hard choice but from a freshman to seniors most people try to maintain good grades, so by the time they are a senior, there is a correlation between grades and the colleges that you are accepted into.
Becoming a senior can bring both happiness and sadness to many students, including Rinn. She is most excited for what college will bring, but will also miss her teammates that she has been playing with for at least the past year.
"I am looking forward to seeing softball from a collegiate perspective and taking a variety of classes that high school can't offer," Rinn said. 
Rinn will definitely be missed by her softball teammates next year. But being a senior means something different when it is the last year of high school and students are forced to move on from school and the sport that they have done for the past four years of high school.
"Being a senior is so bittersweet. I'm sad this is my last season but so excited for the next chapter," Rinn said.                                                                                                                                                                    
Leave a Comment
About the Contributor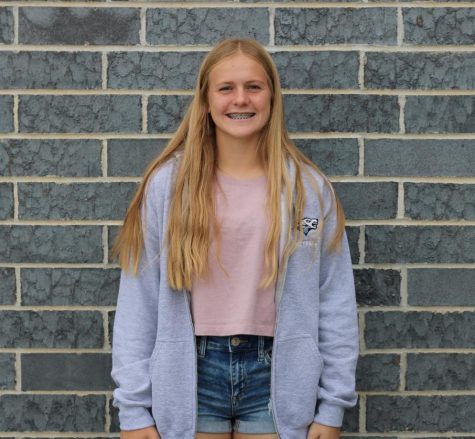 Halle Pribnow, Reporter
Halle Pribnow is a sophomore, and this is her first year on staff. She spends most of her time in sports. She plays softball, basketball, and track.