Committed: Hard Work Pays Off
The process to becoming a college athlete
Athletes around Elkhorn North are getting to live out their childhood dreams. That dream is to be recruited and play at the next level in their sport.
2020 made recruiting difficult for all of the athletes as they couldn't visit any of the colleges due to COVID-19. COVID-19 was just one of many setbacks that the athletes had to persevere through. Injuries also played a big role in the process of becoming a college athlete as the athletes had to overcome their injury to get to the next level.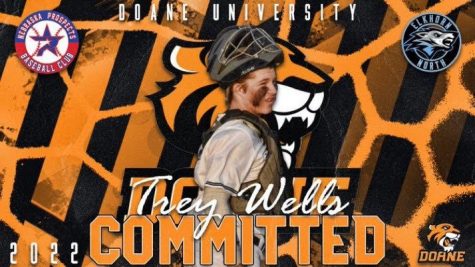 "Freshman year I fractured my growth plate, and had to do physical therapy for 9 months. I didn't know if I was ever going to be able to play again, which was very scary," Senior Trey Wells said.
Wells is the starting catcher for the Wolves baseball team and looks to be the starting catcher at Doane University in Crete, Nebraska. Wells is a versatile player who primarily catches, but he can also play first base and pitch when needed. Wells is not only an athlete, but also a leader in the Wolves' program and for the underclassmen.
Many athletes have also had role models that have helped them succeed to the next level. These role models not only help them throughout their journey, but they help the athletes decide which college is best fit for them. 
"I had a lot of people try and influence me and my decision but definitely my biggest help was my dad. He said from the beginning he didn't care where I went, he just wanted me to be happy, and that was really reassuring," Junior Ryan Harrahill said.
Harrahill's father helped him significantly on and off the field, as he would always support all of the choices Harrahill would make throughout the journey.
Harrahill was the first ever to commit at Elkhorn North, and he will be the first ever division one athlete from Elkhorn North. 
Harrahill also went through some hardships as he didn't get to play his Freshman year of baseball due to COVID-19, but he did not let the loss of his freshman year slow him down. Harrahill got the opportunity to improve his overall ability in the weight room,  and with the loss of his freshman year, he took full advantage of improving his strength.
"The place where I have seen the most improvement is definitely in the weight room. The weight room has helped me separate myself from others my age," Harrahill said.
With Harrahill's big strides in the weight room it has allowed for him to increase his pitching velocity significantly while also improving his batting power.
With the work he has put in, it has allowed for Harrahill to commit to his dream college, Nebraska University. Harrahills process has been time consuming and full of sacrifices that have allowed him to pursue his dream of playing baseball at the next level.
Getting to the next level is a process that takes a lot of time and dedication on and off the field. The practices are just a small part of what goes into becoming a college athlete. All of the offseason practice, and work before and after the games made it possible for these athletes to get to the next level.
"I would hit before and after games and practices until my hands were sometimes blistered," Senior Mitch Baker said. "I also threw balls into the net which helped build my arm strength and improved my accuracy, which helped me reach my maximum potential so I could get to the next level." 
Baker is committed to Grandview University in Des Moines, Iowa. Baker was recruited for his tremendous first base and batting skills while he was also used as a catcher when needed.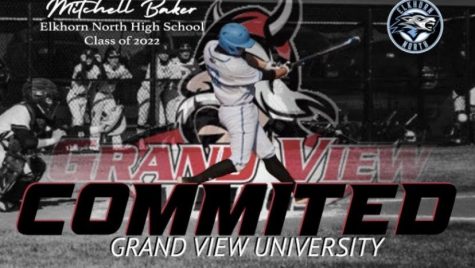 With every player's recruitment, the head coach always plays a big role in helping their athletes reach their maximum potential. Anthony Dunn the head baseball coach at Elkhorn North has personally talked to all of the committed baseball athletes future coaches. Dunn has also spent a lot of time with all of these athletes before school at lifting and after school at practices, while also working in the off-season with most of the players.
"I spent countless hours in the weight room with these guys, watching them grow and get stronger as athletes," Baseball Head coach Anthony Dunn said.
Elkhorn North is full of great athletes that have already committed and have offers for college. Some other athletes that have already committed to colleges already are: Grace Heaney; Purdue University, Drew Broady; Wayne State College, Reilly Palmer; College of St. Mary's, and Easton Mains; Iowa Western.
All of the student athletes have had a vision that they will someday be playing in college, and now they're getting to live out their dreams. All of the hard work and determination that the athletes have put into their sport has paid off in the form of an offer.
Leave a Comment
About the Contributor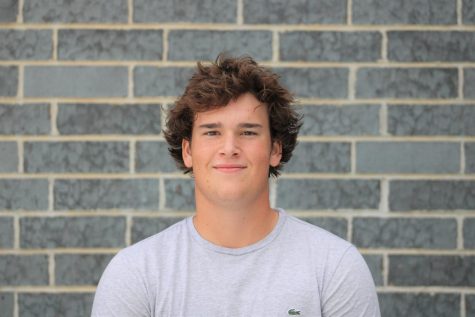 Mason Salisbury, Reporter
This is Mason Salisbury's second year on staff. Outside of newspaper, Mason plays golf for Elkhorn North.