Meanwhile, Under the Sea
The cast and crew of the Little Mermaid are working hard to prepare for the upcoming fall musical.
With COVID restrictions lifting and fall sports wrapping up, the upcoming school musical should be a big hit this fall. The 50+ cast and crew members have been working for weeks to prepare for Elkhorn North's second annual musical. 
"We wanted a show that had high face value so that lots of people wanted to get involved," Director Casey Allen said. Allen has only been in the Elkhorn district for two years, but she has numerous shows and experiences under her belt. 
"We want this to be a traditional and cherished show that people will bring their kids and families to," Allen said.
Along with her co-director Brenda Honliasso, Allen spent three days casting for the show and trying to get as many people involved as they could. This includes Sarah Bachman who was given the opportunity to be the lead role of Ariel as her musical debut. 
"I am so excited and the cast is just great," Bachman said. "We really lift each other up. When someone is down or struggling, there is kind of like a safety net and we help them get back up on their feet." 
The cast started rehearsals in early September and has been rehearsing to memorize lines, songs, and choreography almost everyday, sometimes even until 11 at night.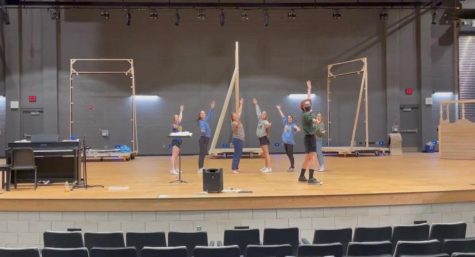 However, the work does not stop with the cast. Mady Pfeil has spent countless hours designing costumes, hair styles, and make-up looks. 
"I made spreadsheets with the different instructions for hair and make up like what the lead needs to have versus what the ensemble needs or where to find items if they don't have it," Pfeil said.
Everything has a strict budget, so the costume crew ordered things off Amazon or hand-made them. 
"We have a bunch of different costumes and our focus is to try to keep it close to the original characters in the movie, but we do have to change some things," Pfeil said. "Trying to make costumes, hair, and make up from an animated film into real life is difficult." 
For hair and makeup, Pfeil used online pictures as inspiration and added her own twist. Since Bachman is blonde, she will be wearing a red wig. 
The sound and lights crew have a significant role in the production as well. Sophomore Brandon Urbano is in charge of lighting and also helps out with the sound crew. It is an immense amount of technical work. 
"So how lighting works is it's all on a computer and you type in the brightness you want for every light in the auditorium. So right now I'm working on queuing up all the lights, which means recording a que that way I can just push a button and the lights will go to those exact settings," Urbano said. 
On top of this, Urbano hands out microphones to the cast at every rehearsal, makes sure they have batteries, and fixes any technical issues they might have. 
"What sound does is basically read through the script and figure out who needs mics and when they need to be turned on and off and when," Urbano said. "But right now I have mostly been working on what lights need to be on during what speaking parts and just making sure that the stage is evenly lit."
Along with the other lighting crew members, Urbano works on special effects and the fog machine. 
This Saturday, November 6th, there is a meet and greet for the cast Elkhorn North at 5:30 PM. The cast encourages families with young kids to come eat pizza, play games, and take pictures with the cast. There will also be a sing along with songs from the show. 
The actual show will take place on November 11th-14th, with all showtimes at 7 PM, except for the November 14th show starting at 2 PM. Tickets are $10 for adults, $7 for students, $5 for children, and free to those five and under. Tickets can be purchased online starting November 1st.