Work To Be Done, Growth Just Beginning
The first ever Elkhorn North football game took place on August 28 at Waverly High School.
By Colin Keith, Reporter
September 9, 2020
Sweat running down faces. Pads hitting pads. This is what was happening all game for ENHS. On Friday, August 28, the brand new Elkhorn North football team showed there is room to improve as they took a blow losing to the No. 2 Waverly Vikings 49-0. Although Elkhorn North was not satisfied with the result of their football debut, they all believe they have already improved and they learned a lot from game one.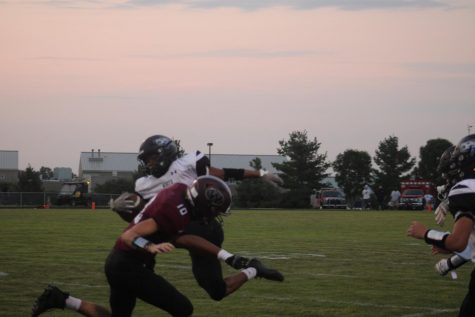 The first ever game for ENHS was in the books with a deep kick. They got the ball for the first time ever in the 1st quarter.
Elkhorn North's offensive line was getting blown up, as the Wolves, having no seniors and not much varsity experience at all, were tasked with handling Waverly's much bigger and much more experienced defensive line. The Wolves got the ball again and running back Christian Young got the ball and ran for a short gain of a couple yards. He did that a couple times before they had to punt the ball again.
The Wolves got the ball and had a 20 yard return from the kick. They made their first complete pass in this drive. 
Elkhorn North's quarterback, Easton Maines, attempted many passes but most missed or were dropped. Then Christian Young made an amazing catch to take the Wolves down the field. They got within 20 yards of the end zone. Although the Wolves mustered a short burst of life, they failed to score and Waverly got the ball again due to a fumble.
The quarter went on and Elkhorn North failed to score again and again. 
Elkhorn North started with the ball to start off the fourth quarter. They had a promising drive down the field with Christian Young running and catching passes. However, things on the line continued to remain the same as the Wolves's offensive-line was stopped by Waverly's line pushing harder every play.
Waverly got the ball and number 5 Johnny Radicia picked off the ball and got about ten yards. He got the Wolves a little burst of energy as they sprinted out onto the field. 
Elkhorn changed their quarterback to number 10 Josh Basilevac late in the fourth quarter. Making his varsity debut, Basilevac handed off the ball for the most part and threw a few times.
Sadly, Elkhorn North lost their first ever football game in football program history 49-0.
The head coach, Sam Stanley, has been working in the Elkhorn district his whole career. "Even though we lost, that doesn't mean that we did nothing to get better, and that we needed this," He said. Stanley thinks that even though they lost they learned things in the game that they wouldn't have learned from practice. He said, "Having no seniors just means that we can get everyone back next season." He is confident they can beat them next year with more experienced players. He knows this score was not ideal but that didn't matter to him. They didn't have any penalties which he thought was amazing; he said, "I've never had any penalties in a game in 30 years." They have many games left in the season, and they can improve each time. 
Brady Vaughn, a starting player, had some things to say too. Vaughn is a junior, and this is going to be his 3rd year playing football in high school. He said, "I'm excited to use the new weight room to get stronger." He can use t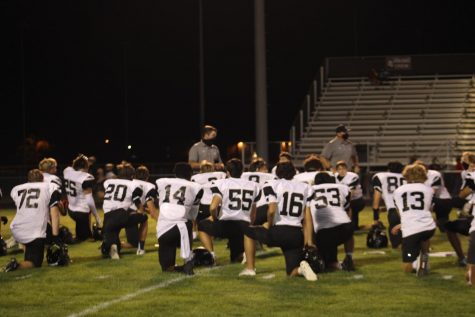 his strength to do his favorite thing, playing wide receiver and making catches. From the game he said, "The team knows how fast/good other teams will play against us and I think we did a good job adjusting in the second half." He said, "We just need to keep practicing and working harder and we will get a win soon." He knows that he needs to work on his position as a wide receiver and defensive back.
The first ever football game for the Wolves started with a defeat, but improvements were made and the program has just begun.