Monday Rewind: A Commanding Win to Start the Season
Elkhorn North opened up the 2022 season by shutting out Hastings 28-0
It was a much needed victory for Elkhorn North. The Wolves, despite having only won two games in two seasons, made progress over those first two years. For many, it seemed like this could be the year that the Wolves really take off. On Friday night, they got off to a good start, running up the score and playing relentless defense all game to defeat the Hastings Tigers 28-0.
The game began with what looked to be a very promising drive for Hastings. Quarterback Chance Vertin was poised in the pocket as head coach Charlie Shoemaker did a nice job of mixing up the passing and running games. Tigers' running back Naz Robinson showcased his elusiveness making life tough on the Wolves' defense.
However, three pass deflections from Sam Thomas including one on a Hastings fourth down attempt in Wolves territory forced a turnover on downs.
Elkhorn North's offense looked great on its first drive, varying between its rushing and passing attacks and draining clock while they were at it. Brand new quarterback Josh Basilevac did a fantastic job marching his team down the field especially on a fourth down attempt in which he hit speedster Jett Tingelhoff on a designed dump pass right over the line of scrimmage resulting in a big gain. 
The drive culminated with a Christian Young touchdown run and a nailed extra point by new kicker Billy Hendryx to give the Wolves a 7-0 lead.
From that point on, Hastings rarely had any momentum to speak of. The Elkhorn North defense didn't skip a beat for most of the game and put constant pressure on both Hastings quarterbacks, Vertin and Tucker Synek. Both Christian Young and Johnny Ferguson were sidelined for short periods of time after limping to the sidelines on defense, but both made it back into the game before too long without any problems.
The Tigers' best drive of the game put them inside the Wolves' ten yard line at the beginning of the fourth quarter, but an interception by linebacker Chris Thiessen forced Hastings to return back to its sideline in disappointment once again.
Offensively, the Wolves dominated all game. Basilevac showcased both his passing and running abilities, establishing himself as an effective dual-threat quarterback. His talent in the passing game especially opened up the Elkhorn North offense to be able to spread the field in ways they had never done before. This included deep strikes of 38 yards and 27 yards to Tommy Meckna and Billy Hendryx, respectively. The Hendryx touchdown was also a beautiful throw by Basilevac between double-coverage. On top of this, a very talented Elkhorn North offensive line unit provided great protection all night for Basilevac to be able to ease into his role. This was a big time key to victory.
The Wolves scored their final touchdown on a Basilevac option-keeper from three yards out to extend the lead to 28-0. Hastings and its contingent of fans left the stadium in dismay as Elkhorn North celebrated its first 1-0 start in the school's three year history. All around Elkhorn Stadium, fans and students clapped and shouted in joy and excitement for their Wolves.
Elkhorn North certainly didn't need a 28-0 victory. All they needed was any kind of victory to get the season going with a win. However, the fact that the Wolves reigned in dominating fashion shows that the trajectory of the program this year may be even higher than presumed before week one. Who knows. There are still eight regular season games to be played. A lot can happen. But Elkhorn North established itself in a fantastic way week one and is primed for newfound success this season.
"It was something special," Hendryx said. "This team is young but is bound for something really great and that game showed the state of what we're made of."
The Wolves will travel to brand new Lincoln Northwest (0-1) this Friday.
Leave a Comment
About the Contributors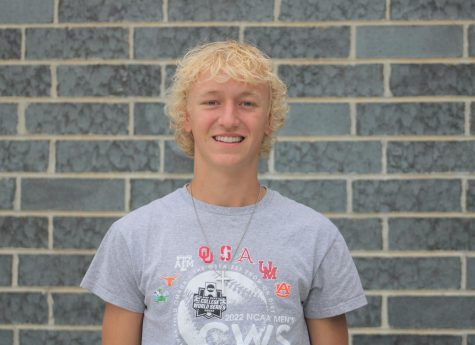 Caleb Polking, Sports Editor
Caleb Polking is a senior in his third year on staff. He's a STRIV guy and helps run the Howler's sports scene. He also loves to jump on desks and put peanut butter in the ceiling.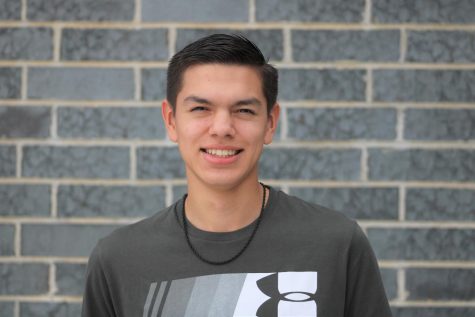 Brandon Urbano, Reporter
Brandon Urbano is back for his second year. He is an experienced photographer and videographer. He spends nearly all his time editing or taking pictures. He is excited to work on sports content this year.