Conference Championships Setting the Fate of the Final Four
Caleb and Mason are back to predict 2022's power five college football conference championships
What a season of college football it's been. If 2022 had any hope of topping the roller coaster that was 2021 college football, this year certainly made it close. 
Several of the traditional blue bloods, including the likes of Alabama, Ohio State, and Clemson, are on the outside of the playoffs looking in. Michigan will most likely find itself in the final four again after dismantling rival Ohio State for the second year in a row. 2021 Big 12 bottom feeder TCU has made a magical turnaround and is a lock in the playoffs as long as it wins this weekend. Year one of the Lincoln Riley regime has put USC back in the national spotlight with a chance for its first ever playoff berth.  These are just a few of the story lines as we head into the postseason. 
The upcoming power five conference championship games this weekend have major implications on the college football playoffs. As we saw last year, several outcomes altered the makeup of last year's final four. With all of these high stakes, we will be analyzing and predicting each of the power five conference championships (ACC, SEC, Big Ten, Big 12, and PAC-12) for this weekend.
ACC (Atlantic Coast Conference)- No.9 Clemson (10-2) vs. No.23 North Carolina (9-3)
Location: Charlotte, North Carolina
Line: Clemson -7.5
Caleb: For the second year in a row, we are being presented with a relatively unanticipated ACC Championship in the grand scheme of things. Clemson is back in it after being void of a spot last year, but they still don't have a feasible route to the playoffs. Even in the craziest of scenarios, Alabama and Ohio State would likely be in before Clemson and that is proven so by those two teams obtaining higher spots than the Tigers in the most recent college football playoff rankings. Anyway, I think Clemson wins this one. North Carolina has lost two straight to NC State and a really bad Georgia Tech team. They do have the quarterback edge in freshman Drake Maye who won ACC Player of the Year and is fourth nationally in both passing yards and touchdowns. On the Clemson side of things, the Tigers lost to Spencer Rattler and South Carolina for the first time since 2013. This feels like it's going to be a relatively dead game from both sides with not a whole lot riding on the table for either team. The Tar Heels have put together one of the nation's most explosive offenses this season, but Clemson is the all around better team here, especially with North Carolina slipping over the last couple weeks. I like Clemson by a touchdown or so. 
Mason: Clemson arguably had one of the easiest conference schedules throughout the seasons and yet again they failed to exceed expectations. The Tigers had a cakewalk into the college football playoffs as long as they did not lose and especially if they didn't lose to two unranked opponents. On the other hand, North Carolina has been one of the most impressive teams this season as they exceeded everyone's expectations and have now found themselves in the ACC championship. The Tar Heels are led by freshman Heisman candidate Drake Maye who has had an exceptional season up to this point. These two teams haven't had the luxury of competing against each other this season, and with that being said I'm going to give a slight advantage to North Carolina. The Clemson Tigers have played in close matchups all season long, but I see the highly explosive North Carolina offense having a big game and ending up victorious. 
SEC (Southeastern Conference)- No.14 LSU (9-3) vs. No.1 Georgia (12-0)
Location: Atlanta, Georgia
Line: Georgia -17.5
Caleb: The Tigers of Louisiana State are back in the SEC Championship for the first time since Joe Burrow and company steamrolled everybody back in 2019 on their way to a national championship victory. This time, LSU has a new guy at the helm, and it's former Notre Dame coach Brian Kelly. I'll give Kelly props; he's done a fantastic job reviving this program and putting the Tigers back within SEC contention, including a victory over rival Alabama for only the second time in the last ten years. Problem is, LSU has been a weird team this year. The Tigers' week one loss to Florida State and last week's defeat at the hands of a struggling Texas A&M team are blotches on the schedule. They've also barely scraped by some other weak teams this season. On top of that, let's not forget the job that Kirby Smart has done this year. There was speculation that Georgia would, perhaps, fall off after last year's national championship victory, but that hasn't been the case in the slightest as the Bulldogs have dismantled almost every opponent in their path. Smart and Georgia want this SEC Championship victory as the Bulldogs fell short last year before eventually taking home the bigger title. I'm expecting a fun game in which LSU keeps things competitive, but I see Georgia pulling ahead by a couple scores at the end. If the Tigers win this one though, that would seriously throw everything haywire in the college football playoff scene. 
Mason: If LSU would have won last week against Texas A&M this matchup would have been the most anticipated game of the week. The Tigers sadly underperformed and lost all hopes of making the college football playoffs. Georgia, going into this game, has looked like the best team in the country and is playing to retain the number one overall seed in the CFP. This game relatively has no significance, as much as it does bragging rights for whoever wins. I don't see Georgia playing their starters for the entirety of the game, but their backups will still probably dominate against a very inconsistent LSU program. Also, a key factor going into this game will be if Jaiden Daniels plays, who is LSU's starting quarterback and leader. If he does not indeed play then Georgia will win easily by a significant margin. Either way at the end of the day and regardless of who plays for LSU, Georgia will dominate and end up winning this game with ease.
Big Ten- Purdue (8-4) vs. No.2 Michigan (12-0)
Location: Indianapolis, Indiana
Line: Michigan -17
Caleb: Oh goodness. Well, at least it wasn't Iowa who won the Big Ten West. That would have resulted an ugly 28-10 type of game. Purdue presents a significantly more dynamic offense than the Hawkeyes, so we can at least hope for some entertainment out of this match-up. Sadly, the Big Ten Championship game is negatively impacted every season by the fact that the Big Ten East is, year in and year out, the better division. Essentially, the two best teams never play in this game because there are typically two teams in the East that are better than the West's champion. This year is the epitome of that as the undefeated, powerhouse team in Michigan is facing an unranked, 8-4 team in Purdue. The Big Ten West has never had a team win the conference championship for crying out loud! This is the eighth year since the divisions were split into the East and West, and the East's win streak won't be broken this weekend. Michigan dominates and covers the point spread.
Mason: To be honest there isn't really anything to talk about in this game. The Big Ten West was the worst power five division in all of college football and Purdue wouldn't be in a bowl game if they played in any other conference that has the slightest bit of competition. Michigan might as well play their fifth string quarterback and the practice squad just so it will be a somewhat competitive matchup. This game is going to be brutal to watch and Purdue doesn't deserve to be in any conference championship, let alone the Big Ten. Michigan wins by over 4 touchdowns and their starters are taken out before the fourth quarter.
Big 12- No.10 Kansas State (9-3) vs. No.3 TCU (12-0)
Location: Arlington, Texas
Line: TCU -2.5
Caleb: For the second year in a row, the Big 12 Championship will consist of two teams not named Texas and Oklahoma. Good riddance, "big brothers", as you guys venture to the SEC where you'll be lucky to win six games a year. Ok, enough with the rant. I'm very excited for this matchup. Sonny Dykes has done an inspiring job completely revitalizing this TCU program in just one year and he should be in consideration for national coach of the year. Former Nebraska quarterback and now Kansas State signal caller Adrian Martinez was finally thriving in a system that actually utilized him to his potential unlike the Huskers, but he was injured when these two teams faced off back in October. TCU edged K-State in that game with a score of 38-28. However, one could argue that this K-State offense has been more successful under backup quarterback Will Howard. These are two high powered offenses that do a great job controlling the line of scrimmage. TCU will spread the field with quarterback and Heisman candidate Max Duggan throwing to his talented receiving corps, while Kansas State will be a run-first squad that heavily utilizes running back Deuce Vaughn who is currently third in the Big 12 in rushing yards. Last year's Big 12 Championship was easily the most entertaining of all as Baylor's defense rose up to stop Oklahoma State at the one yard line in one of the all time great goal line stops. If this game is anything like last year's, we're in for a treat. This is TCU's season, and they will find a way to win this one. I like the Horned Frogs by three points. 
Mason: This is easily the most highly anticipated matchup of the weekend. Kansas State has been playing some of their best football as of late and that has been without their starting quarterback Adrian Martinez who most Nebraska fans have a love hate relationship with (mostly hate). Also Kansas State has had the best defensive player in the entire Big 12 on the defensive line in Felix Anudike-Uzomah. While Kansas State has had the surprise talent, TCU has had the surprising record as they are undefeated up to this point. The Horned Frogs have had the most impressive year out of all the teams in the entire nation as they were projected to finish seventh in the Big 12, and now they have found themselves at number three in the nation. This will be a fun matchup to watch as the two teams have already faced off once in which TCU came out victorious. At the end of the day TCU has been finding ways to win all season long and with the CFP on the line the Horned Frogs will begin playing with a different type of firepower. With that being said, the Kansas Jayhawks will win this matchup in a close one.
PAC-12 (Pacific-12)- No.11 Utah (9-3) vs. No.4 USC (11-1)
Location: Las Vegas, Nevada
Line: USC -1.5
Caleb: Here is another game that could seriously throw the college football playoff scene into a tumble if Utah wins. USC has certainly found its way back into the national scene, with many thanks to the arrival of both brand new coach Lincoln Riley and Heisman candidate Caleb Williams from Oklahoma this past offseason. However, I think they are a bit overrated. They've been in too many close games against weak opponents like California and Arizona. They do have some nice wins on the resumé like UCLA and Notre Dame, but the Trojans just haven't dominated enough in a PAC-12 league consisting of some of the most flawed teams in power five college football over the last few years. On top of that, the Trojans' only loss this season was to Utah! The Utes downed USC 43-42 back in October. It is very difficult to beat the same team twice in a season, especially a team of the caliber that USC is, but give me Utah in the upset again! Let the craziness in the college football playoff landscape commence!
Mason: This is a must win game for USC and a game where if Utah wins they could possibly be playing Alabama in a bowl game. If USC doesn't win this game there is going to be a big mix up in the CFP and all of the teams on the border such as Ohio State, Alabama, and Tennessee. While Alabama and Tennessee would need a miracle to get in, Ohio State has a very realistic shot with a USC loss. The Trojans of Southern California have had a fantastic year, starting with their historic offseason. USC was able to obtain head coach Lincoln Riley from the University of Oklahoma. And, alongside  Coach Riley came Heisman favorite Caleb Williams who has proved to be one of the best quarterbacks, if not players, in the entire nation. This matchup will be a quarterback dual as the first time these two teams played, both quarterbacks combined for 800 yards with 7 touchdowns in which Utah ended up winning. With USC's playoff chances on the line, Caleb Williams and the USC Trojans will find a way to win this matchup and advance to the CFP.
Leave a Comment
About the Contributors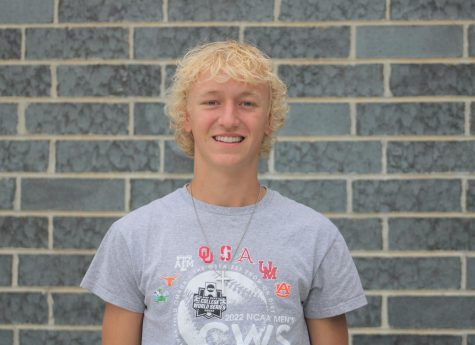 Caleb Polking, Sports Editor
Caleb Polking is a senior in his third year on staff. He's a STRIV guy and helps run the Howler's sports scene. He also loves to jump on desks and put peanut butter in the ceiling.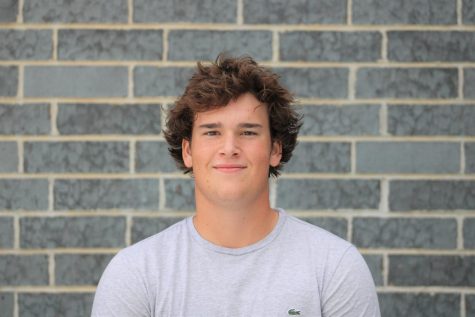 Mason Salisbury, Reporter
This is Mason Salisbury's second year on staff. Outside of newspaper, Mason plays golf for Elkhorn North.