Teacher Feature: Reyne Armbrust
Science teacher Reyne Armbrust blossoms into life as a Nebraskan.
A chemistry teacher with grit, work ethic, and a smile that can brighten anyone's day is Reyne Armbrust. She is one of the sweetest souls at Elkhorn North. Armbrust has two boys, Ian who is in 11th grade and Brody in 8th grade. 
Armbrust grew up in Wisconsin with her four younger siblings. Together they did a lot of fishing, camping, and waterskiing. She went to the University of North Dakota where she fell upon teaching by accident. She took a class with a friend called Exploring Teaching only thinking of that class as another credit. Low and behold she loved that class and began taking other teaching classes. While living in North Dakota, she met her husband Dominic.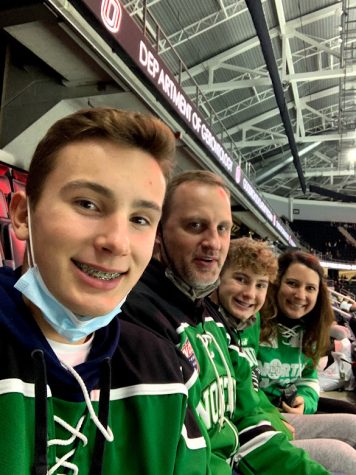 "I was out with my friends for my birthday and was talking with one of my college classmates who was also out that night. He introduced me to Dominic who said, 'it's my birthday too'… I thought it was a cheesy pick-up line. We stayed in touch and started dating about two years later," Armbrust said. 
A few years later, Armbrust and her family moved to Nebraska. The transition was nerve racking because she had no idea what it would be like teaching in a totally different state. Nebraska has been very welcoming to her and her family. She also expressed how insanely cold it was in North Dakota compared to Nebraska. 
"We had winters in North Dakota where the temperature never got above zero for 75 days in a row," Armbrust said. "It is crazy cold there." 
Armbrust was a cheerleader in high school which kept her fit. Her favorite sports team is the Green Bay Packers because her high school marching band performed for them during the halftime shows on a regular basis. 
The chemistry teacher expressed that she loves the problem solving aspect of chemistry. There is not much memorization, and solving puzzles keeps it entertaining. She also likes watching students get into the lab while grasping the concept of experimenting. 
Armbrust loves her job; she could not imagine doing anything else. During the COVID-19 pandemic, it was hard for her since she was not able to interact with her students. She loves her students and loves supporting them in anything they do. 
"She's had a big impact on me as a student in chemistry and now in AP chemistry. She helps me understand what I am doing wrong and is always encouraging," senior Kenzie Heedum said.
A cool aspect about Mrs. Armbrust is that she was able to fly with the Blue Angels in an airshow for being a "positive influence on young Americans." She expressed her gratitude and honor for being able to be on that flight. 
Not only did she get to fly with the Blue Angels, but she also assisted scientists on a research study in Washington state. The conditions were a bit unusual to say the least.
"I lived on a glacier with them for 2 weeks. I'm glad I experienced it but I will never do that again. I missed showering, cheeseburgers, and being warm when I slept. It was also so scary and treacherous," Armbrust said.
Most importantly, Armbrust's biggest goal is to create a happy life with her family. She hopes that she can give her kids everything they need in order to be successful in life. Now that her husband is done with dental school she would really like to start traveling again. 
Overall, Armbrust is passionate about her life, and she is very successful and outgoing. Armbrust is open-minded and a great support to her students.
"She always seems to be in a great mood and makes me smile. Her attitude is contagious and she inspires me to carry this energy with me," senior Savannah Bishop said.
View Comments (1)
About the Contributor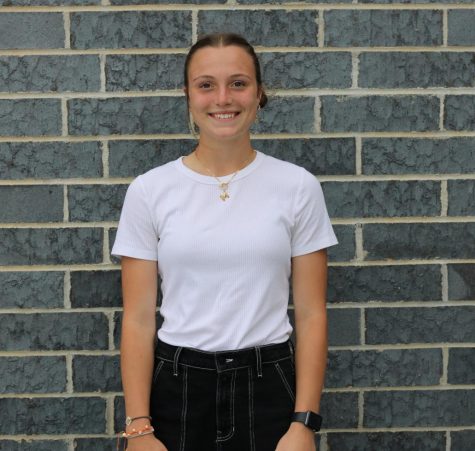 Molly Bruggeman, Reporter
Molly Bruggeman is a senior, and this is her first year on staff. Molly enjoys writing stories while also partaking in softball, basketball, and track.