Beauty Beyond the Grave
Día de los Muertos offers a unique perspective on death.
Día de los Muertos, or Day of the Dead, is a festive holiday celebrating and honoring the remembrance of all loved ones who have passed beginning November 1 and ending November 2. 
Día de los Muertos originates from the old traditions of the Aztecs in which they used skulls to communicate with the dead. After the Spanish conquered the Aztecs, the Catholic Church implemented an All-Saints Day that combined the Aztecs' belief of the afterlife with the Spanish practice of commemoration ("What Are the Origins?"). 
While the title may not sound familiar, one might recognize colorful sugar skulls and skeletons or even movies like "The Book of Life" and "Coco," all of which represent the magnificent holiday. 
But what exactly is Día de los Muertos? Besides the skulls and the movies, what does the holiday itself represent within Latin-American culture? 
"Day of the Dead is a holiday similar to Halloween, with the spooky aspects, but more in a spiritual way," junior David Ramirez said. "It is recognized as a day to remember those who have passed away in your family, a remembrance day."
While death or the passing of a loved one is usually followed by grief and mourning, Latin-American cultures have developed a positive outlook on such. 
"Instead of being sad, you would think about how you would honor them or celebrate them," freshman Bianca Hernandez said. 
This unique perspective stems from the belief that by celebrating one's death, the positive remembrance helps to keep their spirit alive. But it is said if they are neither remembered nor celebrated, then their souls will be lost. 
"The festivities are not the same things as you would see during Halloween, there is not as much gore," Ramirez said. "It's more of a celebration than it is intended to frighten people."
In efforts to preserve the passed souls, skulls and skeletons are decorated with bright colors to contradict the frightful and depressing message they originally symbolize.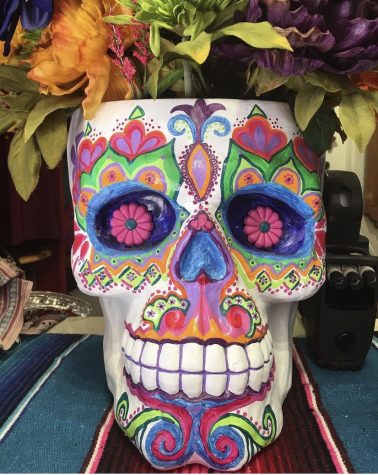 By suppressing dark messages of death with joyful symbols of remembrance, Día de los Muertos fosters a happy environment surrounding the passing of a loved one. 
"We get together with all of our family," Hernandez said. "Most of my family lives in California, so we have a big party with a bunch of food and music." 
Hernandez and her family use Día de los Muertos to not only commemorate the loss of loved ones, but to also catch up with family they have not seen in a while. 
"There is usually a ceremonial place with pictures of ancestors or those who have passed with some cultural events," Ramirez said. "You make their favorite food or some of their favorite things." 
Traditionally, ofrendas, or ceremonial structures dedicated to those who have passed, are decorated in such a way that the loved one can be identified from its unique commemoration.
Despite the holiday's cultural and religious roots, it can be practiced by anyone, even those not associated with the Latino or Catholic culture. 
"If you see it more as a gathering and remembrance of a loved one's existence, rather than an end to all things, then it can be widely accepted," Ramirez said. 
Encouraging the practice of Día de los Muertos can help change the way death is viewed anywhere. The holiday's beautiful traditions such as the art, festivities, and food are individualized to express the beauty of one's life after passing. 
"If you have not celebrated it, I definitely recommend looking into it. It's very fun and you can try something new," Hernandez said.
Leave a Comment
Your donation will support the student journalists of Elkhorn North High School. Your contribution will allow us to purchase equipment and cover our annual website hosting costs.
About the Writer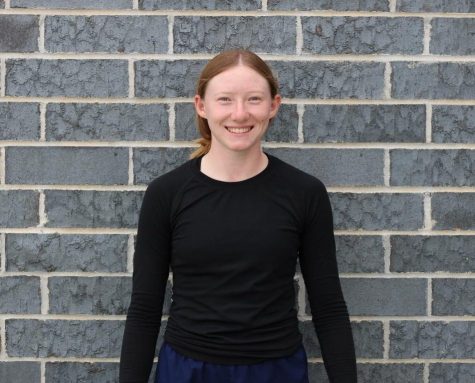 Corinne Mead, Reporter
Corinne Mead is a senior and it is her first year on staff. She runs track and cross country for the school and enjoys watching FRIENDS after school.